We use affiliate links. If you buy something through the links on this page, we may earn a commission at no cost to you. Learn more.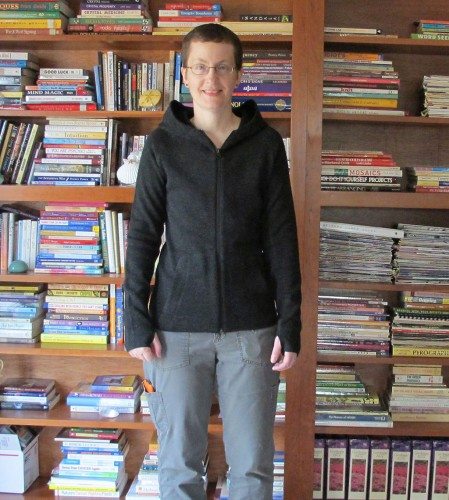 Triple Aught Design aka TAD recently offered to send me one of their Women's Artemis Hoodies for review. I happily accepted because I've been wanting to try something made from Merino wool for quite a while. This particular jacket takes its name from the fearless female hunter of Greek mythology who used her bow and arrow to kill a Cyclops. Unlike Artemis, I don't have a bow or an arrow, so I don't know how worthy I am to wear this hoodie, but let's check it out anyway.
Note: Images can be clicked to view a larger size.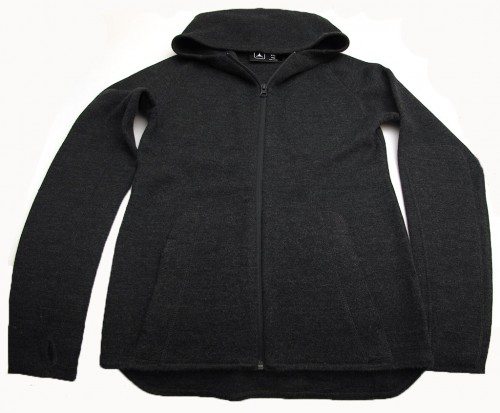 The Artemis Hoodie is made of 100% Merino wool. This fiber has the benefit of being able to regulate body temperature, wick moisture,  protect against odor and is even fire retardant. It does all this while remaining lightweight and comfortable.
This jacket is available in 3 colors: Black, Charcoal Heather Grey and Loden Heather Green. I was sent the Grey version. It comes in sizes Small through Extra Large. I choose size Medium although I normally wear Small.  I was told that the jacket was designed with a snug fit, so I ordered the next larger size in case I wanted to wear it over another shirt. I found that even the Medium size was a little too snug (mainly in the arms) to comfortably wear over a long sleeved knit top. So for most of my testing, I ended up wearing it with nothing underneath. Surprisingly, I didn't find it to be scratchy or itchy against my skin like you would think wool might be. It's actually really comfortable to wear.
It looks nice too. It features a flattering shape as the sides don't go straight down like normal unisex hoodie jackets. This one has tapered with princess style seams.  The sleeves have a double thickness of material from the inside wrist up past the elbows for added durability.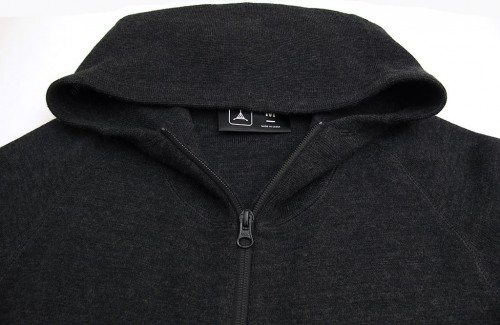 TAD's Aero style hood lays flat on your back when it's not protecting your head and the YKK zipper works smoothly.
Note: the hood doesn't have a drawstring to cinch it around your face.
See the TAD logo peeking out from under the hood in the picture above? That tag (along with another one) is the only branding on this jacket. So if you hate feeling like a billboard, this jacket takes care of that problem.
The 2nd tag inside the jacket has cleaning instructions. I was surprised to see that this jacket can be machine washed and does not require dry cleaning. You can't dry it in the dryer though, it has to be dried flat. But another advantage of Merino wool is that it dries really quickly.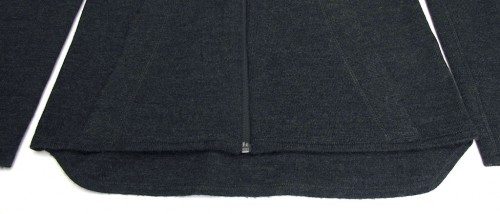 The back edge (tail) of the Artemis Hoodie is longer than the front. This helps prevent drafts from blowing up your back when you're leaning over or squatting.
There are two pockets on the front of the jacket which are mainly good for keeping your hands warm. If you're a really active person, I wouldn't suggesting putting anything valuable / important in the pockets because they can't be zipped or secured any in way. I really wish the jacket offered at least one secure pocket with a zipper or snap.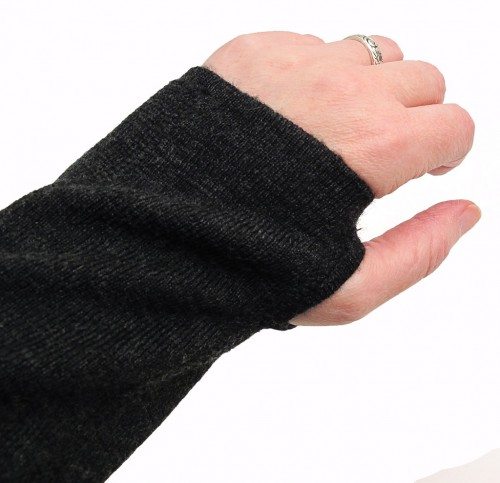 The sleeves do not have a cuff at the wrist, but they do have a thumb hole which keeps the sleeves from riding up your arms.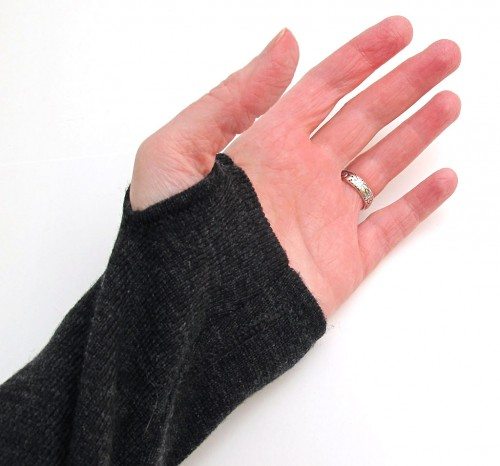 Using the thumb hole isn't uncomfortable, but I probably wouldn't use that feature all the time… But it might come in handy while hunting cyclops. Having sleeves ride up your arms while hunting one-eyed monsters can be a real drag.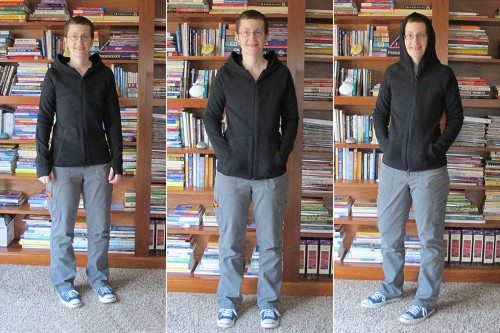 Like I mentioned, this jacket is meant to have a snug fit so that it acts as a 2nd skin. I never found it to be tight or restrictive though. The weave of the material allows it to stretch in all directions, so it's always comfortable and moves with you.
My experience with Merino wool has taught me that it is warm. When I wear this jacket indoors, it's sometimes actually too warm for me. It works great when worn outside though. I wore it under another jacket when we had single digit temps a couple weeks ago and it kept me super toasty.
The Triple Aught Design Artemis Hoodie is a high end jacket, not only due to the price, but also the construction and materials. Merino wool is expensive. There's really no getting around that. In the past when I've shopped for Merino socks, I never purchased any because I figured I could get a whole bag of Hanes socks from Walmart for what one pair of Merino socks would cost me. 😉 They say you get what you pay for though and I can understand that when I wear this jacket. Although I don't hunt, hike that often or do other extreme outdoor activities, which this jacket might be suited for, I've enjoyed wearing it for my everyday geek activities.
Product Information
Price:
$169.00
Manufacturer:
Triple Aught Design
Pros:

Warm
Flattering shape
Does not require dry cleaning

Cons:

Need at least one pocket with a zipper