We use affiliate links. If you buy something through the links on this page, we may earn a commission at no cost to you. Learn more.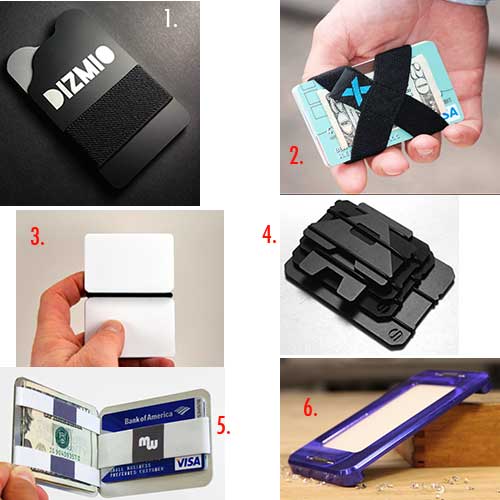 Hello boys and girls. It's time for another episode of the Skinny Wallet Show. Since our last episode (see related link section at the bottom of this post), I've come across several more wallets for those of you who like to keep your pocket contents as minimal as possible.
1. Dizmio – This is a Kickstarter project which is seeking $15,000 in funding. The Dizmio is made of 2 anodized aluminum plates that are held together with a wide elastic band. This style of "wallet" is a current trend in minimalist wallet tech which make me scratch my head and ask why… I just don't get it. But I must be in the minority because this style of wallet is popping up all over the place lately. This particular one features tabs which make it easier to access the sandwiched cards. It also shields against RFID skimming. Price: $24 with anticipated shipping in April if their funding goal is reached. 
2. XBand – We originally introduced  you to the XBand back in the fall of 2011. They've recently updated the materials to make the band stronger and longer lasting. The band itself has changed from Polyester to a softer, stronger Nylon and the inside rubber gripping material has been changed to silicone to last longer. Price: $8.99 which includes free US shipping.
3. Plex – This is another plate style wallet seeking $10,000 funding through Kickstarter. Instead of aluminum, the Plex uses CNC milled plexiglass and features one plate with an O-ring that will hold your cards on one side and cash on the other. Price: $15 – $20.
4. Aluminum Plate Wallet System – Available as both a Kickstarter project (which has already reached 4x their funding goal) and for sale through their online store, this wallet is made of aluminum and is similar to the Plex shown above.  It uses O-Rings, but features 2 plates of various sizes and shapes so that you can choose the type of wallet that will work best for you. One of the plates has a built in bottle opener. Price: $20 – $164.
5. Magic Wallet – If I was going to help fund any of the Kickstarter wallet projects show here, this would be the one I'd pick. The Magic Wallet is not a new design. Most of you have probably seen it before. But this one is made of… you guessed it, aluminum plates. Silicone bands holds the two plates together in a unique way that allows you to fold and unfold the plates to access the cards and money inside. You'll have to watch the video to see how it works. Different styles will be offered including carbon fiber, leather and even your own Instagram images or other custom art printed on the aluminum plates. This project is seeking $25,000 and they are already over halfway to their goal. Price: $45 – $60.
6. Vέoς – Of all the aluminum wallets shown here today, this one looks the most interesting. It's available in different colors and capacities and offers an I.D. picture window, two elastic bands and a slide out card EasySwipe feature. It's also waterproof and RFID theft proof. Price: $39 – $49.