We use affiliate links. If you buy something through the links on this page, we may earn a commission at no cost to you. Learn more.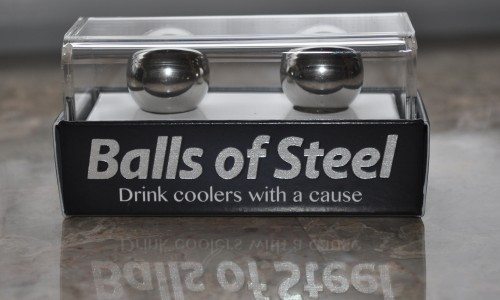 I will admit, when I saw Janet's news item a few weeks ago for Balls of Steel, I probably giggled.  Then when I visited the official website, ripe with double entendres, it was clear that that was the point.  Balls of Steel's main objective is to create a community providing support, hope, and maybe even a few laughs for men, their families, and loved ones who are struggling with testicular cancer.
Yes, Balls of Steel is a physical product (which I'll get to in a moment), but it's also a cause, an area for fellow survivors and men battling cancer to gain support from each other, vent, and feel not quite so alone.  Those community-driven areas are still under construction on their website, but they have both an active Twitter address as well as a Facebook page up and running.
Now onto the Balls!  And yes, I warn you ahead of time, you are in for more of that.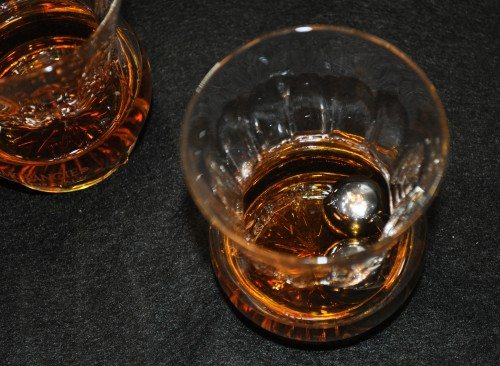 Some people might argue that the only true way to drink bourbon or whiskey is neat or maybe, just maybe, with a splash of water.  Ask for it on the rocks and you're in for some heckling, if not from the bartender then from your friend the whiskey snob.  A splash of water can bring out some of the nuanced characteristics of the whiskey, however a glass full of melted ice mixed with your whiskey is going to kill it.
A few years ago, whiskey stones were the gift of choice for imbibers.  The stones are cube-shaped pieces of soapstone that are frozen, then tossed in the glass in place of ice to cool the whiskey.  I have a set of these myself and stopped using them after the first attempt.  Despite promises to the contrary, I just can't help but taste my freezer and a dirty rock/mineral taste in the glass.
I am always up for trying something new, especially if it provides me an excuse to break into my bourbon collection.  So even though whiskey stones failed me, I decided to give the Balls a try.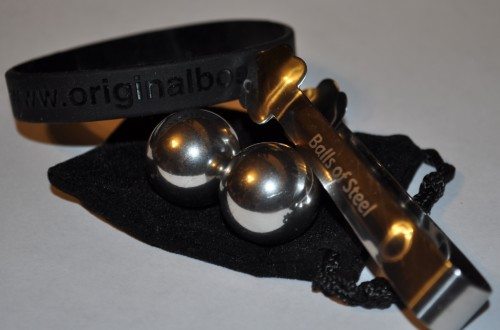 The full set of Balls of Steel includes:
Two stainless steel balls
Carrying/storage pouch
Silicone Wristband
Mini tongs
Instruction booklet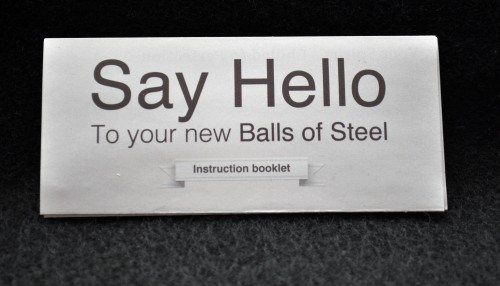 Hello, indeed!  My first impression was just how heavy a pair of stainless steel balls are–a solid four ounces.  They will absolutely take out a tooth if they're not removed from your glass prior to drinking.  This will be my first of two warnings to anyone using these.  Don't be like me and even attempt it (teeth still intact–but it was a close one).
Working from room temperature, Balls of Steel (BOS) only need about four hours in the freezer prior to use.  Word to the wise–put the BOS in their storage pouch prior to placing in the freezer, otherwise the game Marble Madness will be reenacted in the kitchen.
Once "frozen" the balls should then be gently added to a whiskey glass with about 1-2 ounces of liquid, roughly the amount of a shot.  I think I used just a little bit more the first time, and my results were a little iffy.  Definitely no more than 2 ounces, not enough to fully cover the balls.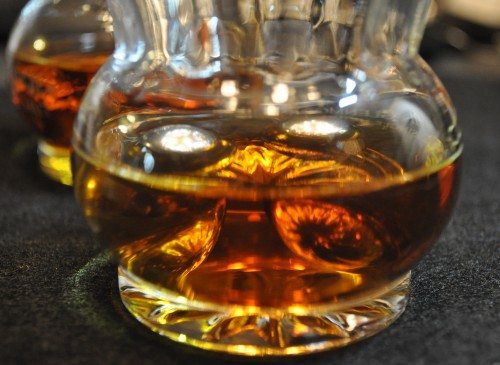 To help the chilling process and "activate the power of the Balls" (direct quote, BOS website), the instructions say to gently swirl the glass, getting as much whiskey in contact with the cold steel as possible.
Again, gentle is the key.  The balls make quite a racket hitting into both each other and the sides of the glass.  I wouldn't use them with a Riedel glass or any leaded crystal; there's just too great a chance of cracking or chipping delicate glassware.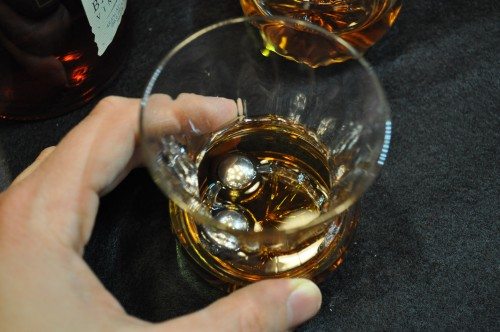 One more note on these "chiller" stones/balls/discs–they're only meant to get your liquid just a bit below room temperature.  They're not a true replacement if you're looking for ice cold bourbon or white wine.  They provide a subtle difference.  On a winter's night, it might not be distinguishable, but on a hot summer afternoon, those few degrees difference will feel like night and day.
I swirled my glass around for maybe a minute or so until the glass was cool to the touch.  As I said earlier, no one should attempt to sip their drink with the balls still inside.  BOS has a set of handy mini tongs that should be used to extract the balls.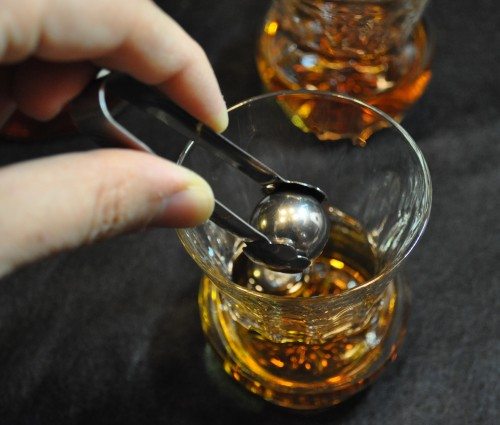 The tongs are slightly rounded to better grip the wet BOS.  Seemed to work as intended; I never dropped a wet  ball.
Once removed, it was time to imbibe!  And the result?  Yeah, it was a little cooler than my other glass of room temperature bourbon.  It wasn't an earth-shattering difference, but it was slightly cooler without being watered down.  More importantly, there was no freezer, dirt, rock, or other unpleasant residual taste left behind by the balls.
What if you're not a whiskey/bourbon/scotch drinker?  BOS might not be for you.  They're not large enough to chill a full glass of white wine, and likewise would have next to no impact on a glass of beer, soda, or water.  However, if your drink of choice can be sipped in 2oz pours and doesn't need to be ice cold, Balls of Steel could definitely work for you.
Balls of Steel are available through the Original Balls of Steel and cost $19.99 per set.  They are made in the USA with 15% of all the net sales going toward testicular cancer research and community support groups.  For that alone, this set of balls beats out a bag of stones any day.
Product Information
Price:
$19.99
Manufacturer:
Original Balls of Steel
Retailer:
Original Balls of Steel
Requirements:

Freezer, whiskey beverage

Pros:

Cools drink to slightly under room temp
Supports testicular cancer research and support

Cons:

Does not chill drink as cold as ice can
Steel balls can damage glassware if not careful