We use affiliate links. If you buy something through the links on this page, we may earn a commission at no cost to you. Learn more.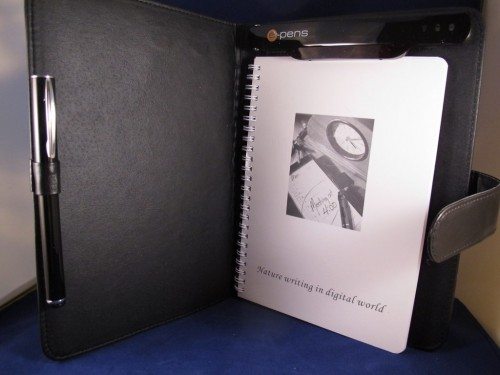 I imagine there are still some people around that actually take notes using paper and pen.  I admit I do on occasion in my role as secretary for a local club.  For the times I take the minutes, I've always wanted a way to convert my pen strokes to digital text so I don't have to retype everything I write.  The mobile digipad pro  by e-pens has allowed me to input my script directly to the PC and then publish a document, eliminating a major step.  I could see where others could benefit from this device, so I thought it was worth checking out.
Features:
Remotely captures handwritten notes, signatures, maps & sketches
Bluetooth connection to PC, Blackberry & Android devices
No need for batteries; recharge the digital pen and folder via USB
Once captured, plug in and convert handwritten notes to typed text thanks to the FULL MyScript software included
MyScript learns your handwriting
Stores 100 full pages of A4 text
Export or copy into MS Word® and other applications
Annotate Microsoft Office documents
Annotate personalized sketches or .jpg pictures then share on Facebook, Flickr etc.
Small, portable and simple to use
Use pen as a mouse/stylus
Tablet PC and inking features with MS Vista™ and Windows 7™
Use with ordinary paper and ink
Create a backup of your notes
Converts in 30 languages
Email notes quickly
MSN Messenger compatible, hand-write messages and sketches
Recycle your used paper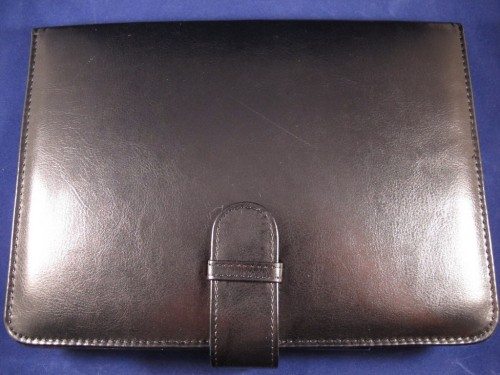 The notebook itself looks and feels good, even though it's of vinyl construction.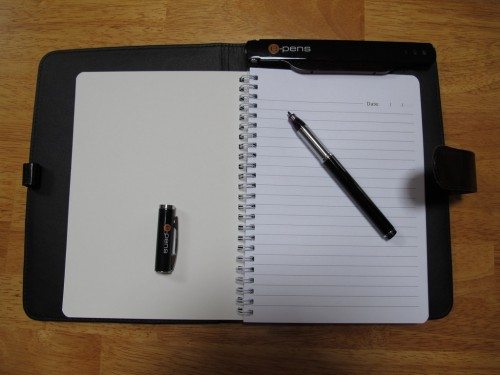 At the top of the notebook is the receiver.  An A5 notepad slides into the notebook and the pen has a holder on the left.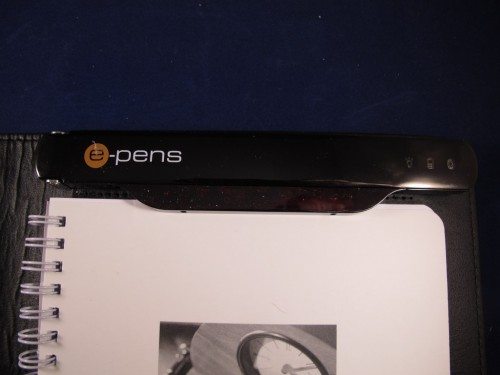 The receiver is hinged on the left and can be flipped to either side of an open notebook.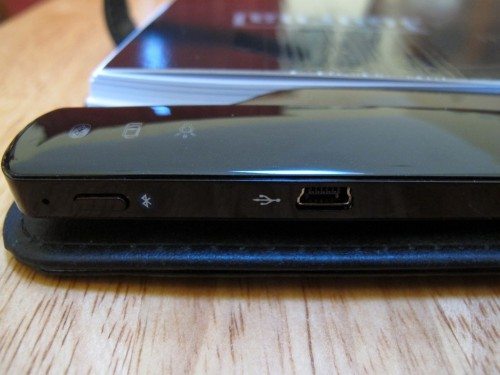 The receiver has a mini USB port to provide power for charging the internal battery and connecting to the computer.  To the left is a button that initiates a Bluetooth connection with a supported device.  On the face of the receiver are several lights that show battery and connection status.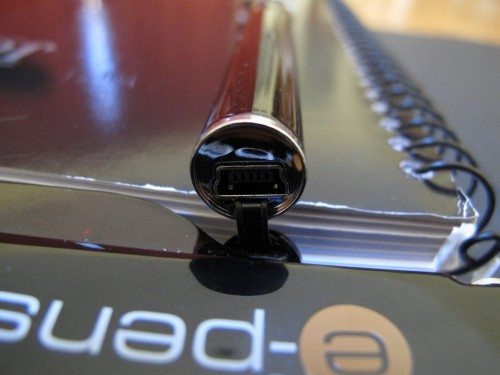 The pen also has a mini USB port to allow charging of the battery.
Before I did anything with the unit, I went shopping to find a replacement for the paper notebook that came with the digipad.  I was a little concerned that I might not find one easily, because it is a European sized A5.  After some searching both online and at retail shops, I did find an A5 paper notebook at Staples.  The good news is that this device uses plain paper and doesn't need special sheets, as in some similar type devices.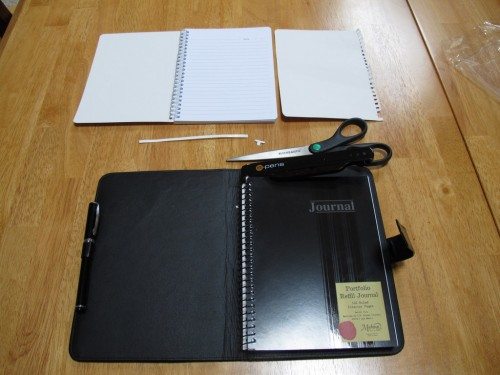 Unfortunately, I ruined the included notebook taking it out of the vinyl jacket.  The paper cover seemed fused to the vinyl and I tore it off taking it out.  Too insure this didn't happen with the new paper A5 pad, I cut the back cover down so it would slide in easily.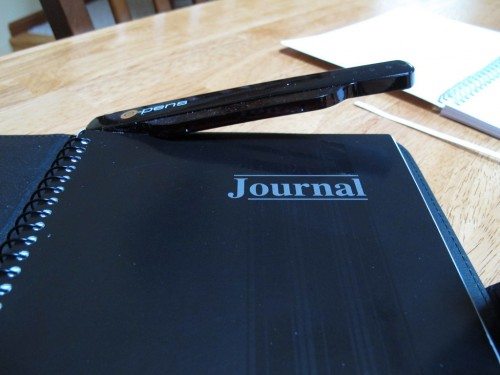 There was one problem however.  Now the receiver wouldn't lie flat across the top of the page.  I opted to use it that way anyhow, not wanting to tear out pages to make it lie flat.
After charging both the receiver and the pen, I could start taking notes, however, I couldn't do anything with them.  So, the next step was to install the included Note Manager software.  This was easily done.  I also installed the included MyScript handwriting recognition software.  Again, this was simple, but I did need to get a registration code to activate it.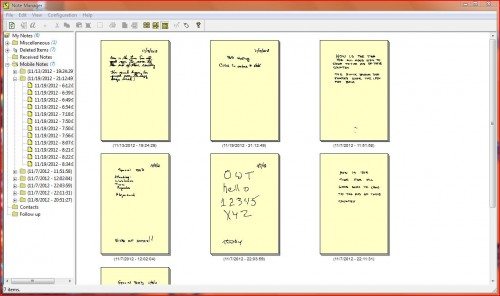 When you attach the digipad to the PC via the USB cable or  Bluetooth and start Note Manager, you can download the notes to the PC.  The screen for Note Manager follows the Windows format.  Thumbnails are displayed and can be double clicked to drill down through them.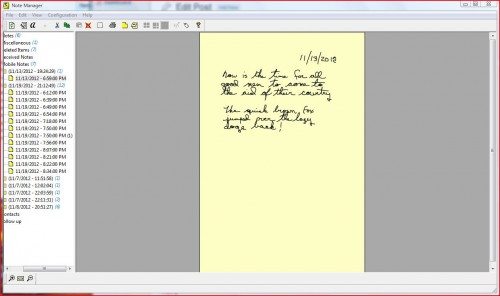 Here I've expanded one page from the digipad download.  There are several actions that can be performed on the note, such as cut/copy, or display as sticky note or paper holder.  Sticky notes can be left on your desktop like the paper counterpart.  A paper holder displays a window with the note in a transparent frame.  You can use this to refer to the actual handwritten information while you're writing an email, etc.  Another interesting feature is the ability to set a reminder on the note to pop up at a specific time.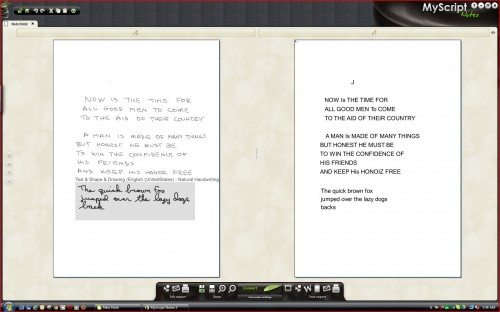 Of course the most important function of the digipad is  the conversion of your writing to text.  Here's where the MyScript software comes into play.  On the left side are my handwritten words.  On the right is the conversion.  There are several parameters that can be changed to increase the accuracy of the conversion.  You can stipulate hand print, all caps and natural handwriting (cursive).  I have examples of two styles above.
On the left side I made a selection, the gray box, which I designated as natural handwriting.  The rest of the page was all upper case.  After conversion the text can be emailed, copied to the clipboard, printed or sent to Microsoft Word.  The conversion accuracy is very good, and surprisingly it does better with my cursive than the printing, which is really amazing because I stopped writing in cursive many years ago.  One thing I learned about my writing is that it's inconsistent, which led to a decrease in accuracy with seven pages of notes I took at a recent meeting.  I tend to mix cursive, printed and uppercase characters randomly.  However, with a little effort I was able use the same style in my writing, which made the conversion more accurate.  There is a handwriting-learning application included, but I opted to clean up my writing instead.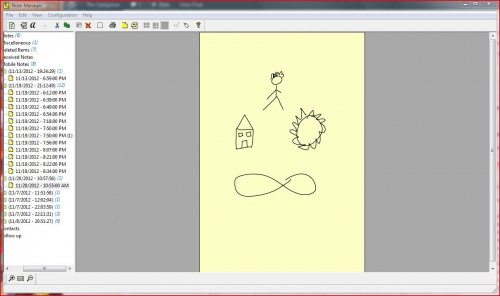 And you can draw graphics in your notebook and download them to the computer.  I'm not much of an artist, but I think you get the idea.
The Note Manager program also has a mouse mode, where the pen acts as a mouse.  I played with this a little and it does work, but there is a learning curve to overcome.  Perhaps pen input users would find it easier to use,  which leads me to the fact that the digipad is recognized as a pen input device by Windows Vista and 7.  I found this feature very helpful.  I could use the digipad as the ink device in Word to draw graphics or mark up documents.  It also works in Outlook and probably other applications.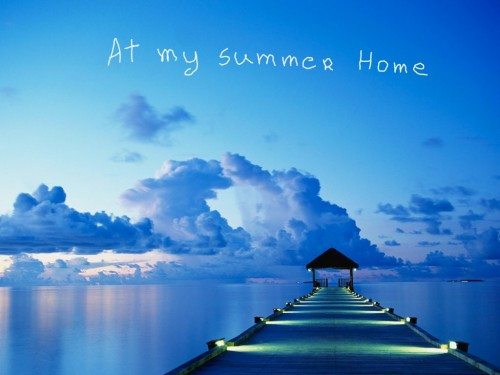 Another included application is Photo Sketcher.  You can write on your photos.
The digipad pro is a useful device for those who still write with pen and paper.  One thing this review taught me is that except for twice a month meetings where I'm the Secretary, I rarely communicate using a pen.  Most of what I do is via a keyboard.  However, using the digipad did make recording the minutes of the meetings much easier.  I didn't have to retype everything I wrote.  I'm sure there are many people who could benefit from the ability to download and convert their notes and drawings to a PC for subsequent distribution via email or social networks.  The digipad pro is a device that does it very well.
Product Information
Price:
$233.41
Manufacturer:
e-pens
Retailer:
digitalpenshop.com
Requirements:

Microsoft Windows® 2000, XP, Vista or 7 (32 or 64 bit)
Android OS 2.1 and above
BlackBerry 4.6 and above

Pros:

Easy saving of handwritten notes
Fairly accurate conversion of notes to text
Uses plain paper
Can be used as pen input device in WIndows

Cons:

Difficulty in finding replacement paper