We use affiliate links. If you buy something through the links on this page, we may earn a commission at no cost to you. Learn more.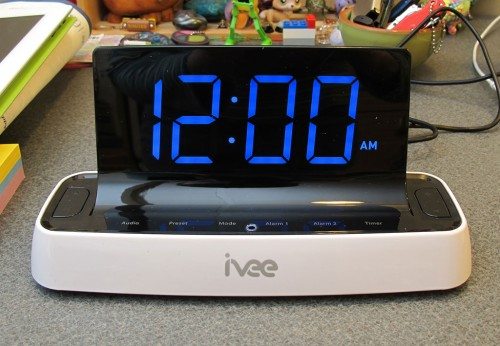 If you're still changing the settings on your alarm clock with buttons and switches, then you need to elevate your gadget game by checking out the ivee Flex Voice Controlled Talking Alarm Clock Radio. ivee can listen and then respond to your commands so that you'll never need to fumble around trying to find the snooze button in the wee hours of the morning.
Note: Images can be clicked to view a larger size.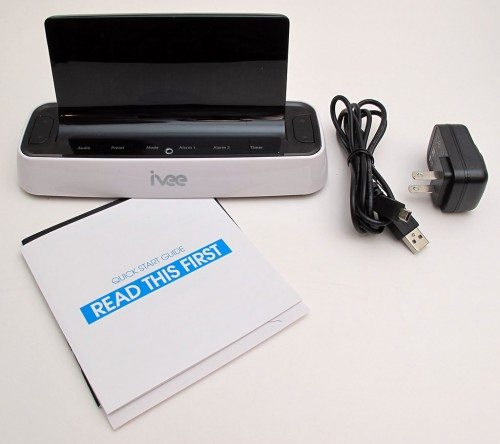 Package Contents
ivee Flex Clock Radio
USB AC Adapter
USB Cable
CR2032 backup battery
Quick Start Guide
Manual
If this clock seems familiar to you, it's because I reviewed a similar one a few years ago – The original Moshi Voice Control Alarm Clock. The same company that made the Moshi has rebranded, and revamped their product into the ivee alarm clock. ivee is available in White or Black. They sent me the White version.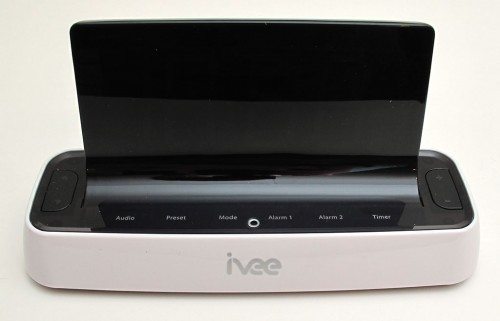 The clock features a 5″ LED display with large easy to see numbers. It also features a digital FM radio, 6 alarm sounds, 6 sleep sounds, 9 minute snooze and a timer that can be set up to 10hrs.
Although ivee's settings can be configured by using your voice, a few settings such as date and radio station tuning use scroll buttons on either side of the display. Touch sensitive buttons below the display allow you quick access to the radio, timer and alarms.
The display itself can also be used as a snooze button, but it never worked that well for me… and I'm not the type that keeps hitting the snooze button anyway.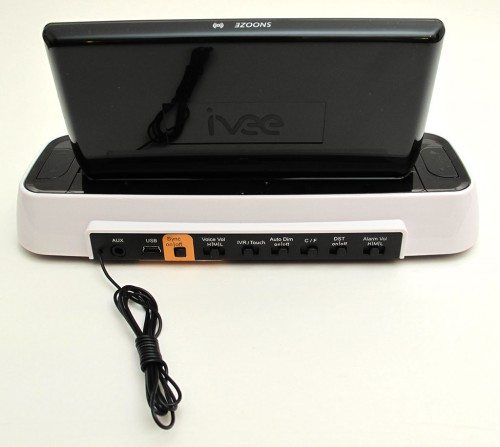 On the back of the clock you'll find an attached FM radio antenna wire, Aux, USB, Sync, Voice Volume, Voice/Touch toggle, Auto Dim On/Off, Celsius/Fahrenheit toggle, Daylight Savings Time toggle, Alarm Volume. If you're confused by the lack of an AC adapter port, that's because the ivee is powered with a USB cable and AC adapter. ivee also has a coin cell battery backup that will save your settings in the event of a power loss.
The USB connection on the back also allows you to connect the ivee to your computer for firmware updates. The Sync switch has to be turned on to allow for firmware updates. Note: Apple / Mac users are not able to update the firmware.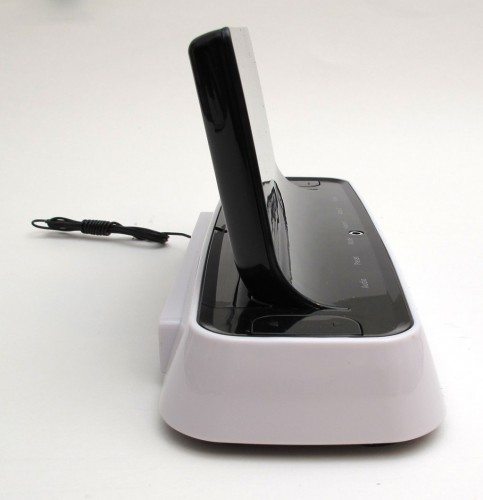 ivee is a modern style clock which may not match every home decor style, but it is nice looking and should blend in.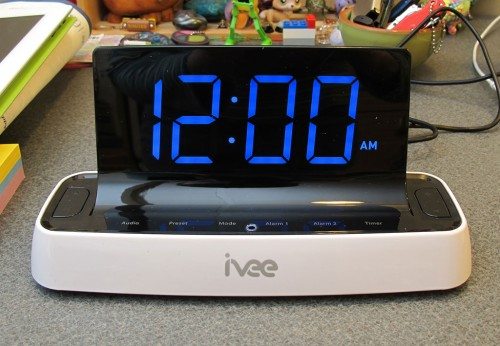 ivee can understand over 30 voice commands and requires no training thanks to its Natural Language Processor (NLP). Commands are natural English commands that are easy to remember. For example, if you want to set an alarm, you just say "hello ivee", wait for her to say "command please" and then you say "Set Alarm 1." She (yes, the voice is female… a British female) will then ask you what time you want to set the alarm.
Alarms can be set to turn on the radio to your favorite station or your choice of 6 different alarm sounds that include a ringer, beeper, and different tunes from lively to soothing.
When an alarm goes off, you can just say "turn off alarm" and ivee will tell you the time, date, and temperature. If you don't care to hear the time, date and temp when you turn off alarms, you have the option to turn that feature off.
In addition to helping you wake up in the morning, ivee can also help you go to sleep at night. There are 6 different sleep sounds like outdoor bugs chrips, ocean sounds, and soothing tunes that can be played for a specified length of time to help you relax and doze off.
I've been using the updated Moshi Voice Control Alarm Clock (which doesn't seem to be available any more) since I reviewed it back in 2010, so I'm used to talking to my clock. ivee feels like the same clock with a different voice and different alarm sounds. The voice commands are almost identical and the voice recognition performance is the same as well. It's interesting that the clock even responded when I accidentally called it Moshi instead of ivee.
One thing that would keep me from wanting to use ivee as my alarm clock is the bright display. Even with the dimming switch set to On, it barely dims when you turn off the lights. The problem is that this light from the display may keep you awake because it will light up the room too much. With the Moshi clock you can turn the display almost completely off so it doesn't emit much light at all. That said, if you actually like a bright bedroom, you can toggle on the night light, which causes an extra light on the base of the clock to glow in addition to the time display.
The ivee is a unique alarm clock that lets you use your voice to set and turn off alarms. After using a similar clock for years, I'm a big fan. Minus the blinding LED display though…
Product Information
Price:
$59.99
Manufacturer:
ivee
Pros:

Program alarms with your voice
Easy to use
2 separate alarms

Cons:

Display is too bright, dim feature barely helps
Apple/Mac users can not update firmware