We use affiliate links. If you buy something through the links on this page, we may earn a commission at no cost to you. Learn more.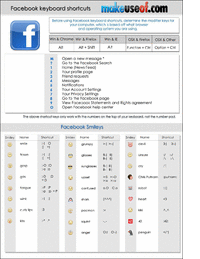 Facebook Keyboard Shortcuts [affiliate link] will help make your time on Facebook more efficient by giving you a collection of handy shortcuts. Some example shortcuts include Alt+1 which will take you to your home page and Alt+M which will take you to a new message screen. This guide also includes codes for adding emoticons into your posts. Everyone needs a smiley now and then right? 🙂
There are a few hoops to jump through to get this guide, but it helps The Gadgeteer to earn some some affiliate fees that can help us to bring you more cool product reviews.