We use affiliate links. If you buy something through the links on this page, we may earn a commission at no cost to you. Learn more.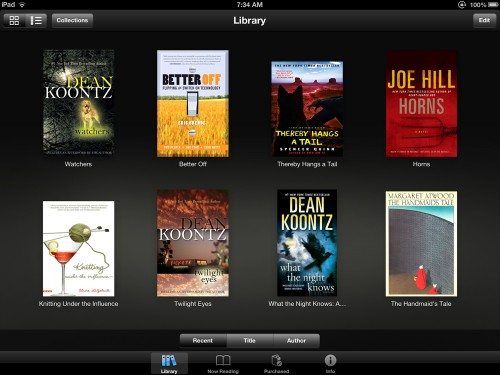 Some time ago, Sony released an Android app that allows you to read ebooks purchased from the Sony Reader Store on your smartphone or tablet.  They didn't issue a reader app for iOS at the time; they were too busy whining that Apple was suddenly enforcing their price-splitting policies for in-app purchases.  I was greatly disappointed that they didn't just change their reader as Amazon did with their Kindle reader app, so that you bought the books from a browser and downloaded purchases in the app.  I've had Sony readers since the original PRS-500 model, and I have a large library of ebook purchases (more than 450 books), so I really wanted an iOS app.  Finally, the wait is over.  I got an email from Sony yesterday announcing the Reader for iPhone, iPad, and iPod was finally in the Apple App store.
The software was apparently developed in conjunction with the BlueReader company, and it's a universal app that works with all Apple iOS devices.  The app is free; I had a bit of trouble signing into my Sony Reader Store account at first, but the problem was quickly corrected.  The app lets you see a list of all your purchases, and downloads were quick and trouble-free.  Reading is a lot like using any other iOS reader app.  You can change font sizes, choose a day or nighttime reading scheme, arrange books in collections, create and edit bookmarks, change margin sizes, and select a page-turning method.  It doesn't have the skeuomorphic bookshelves and open-book reading screen of iBooks.
I haven't had a lot of time using the Reader app on my iPad yet, but I really like what I've seen so far.  The Reader app is free in the iTunes App store.  You'll receive a free Kim Harrison short story when you install the app.