We use affiliate links. If you buy something through the links on this page, we may earn a commission at no cost to you. Learn more.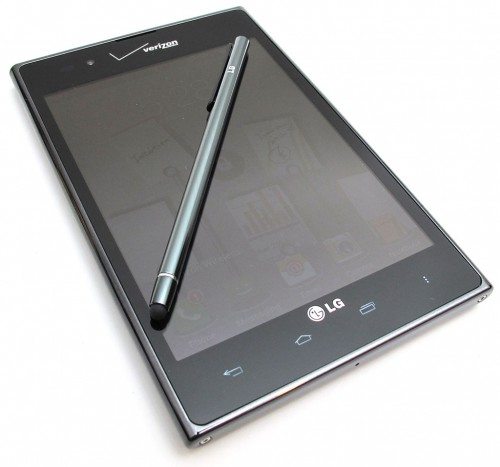 What do you get when you take a smartphone and a tablet and put them in a dark room with some Barry White music on the stereo? A bouncing baby Phablet, that's what. Phablet's are becoming pretty popular lately. Just look at the oversized smartphones like the Samsung GALAXY Note and Note 2. But what about a phone like the LG Intuition, which looks much less like a phone and more like a mini tablet?  Verizon Wireless sent me one to try for a few days. Here are some quick thoughts.
Note: Images can be clicked to view a larger size.
Hardware Specs
OS: Android Ice Cream Sandwich
Processor: 1.5 GHz Dual–Core Processor & 1GB RAM
Memory: 32GB internal memory
Display: 5.0″ XGA IPS Display, 16.7M Color TFT, 1024 x 768 Pixels
Wi–Fi Connectivity: 802.11 b/g/n
Bluetooth v3.0 + HS
8 Megapixel Rear–Facing Camera, 1.3 Megapixel Front–Facing Camera
Battery: 2080 mAh
Dimensions:5.50″ (H) x 3.56″ (W) x 0.33″ (D)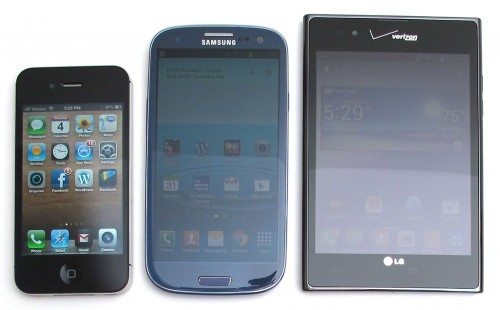 Hardware Tour
For size reference, we see an iPhone 4S on the left, Samsung Galaxy S3 in the center and the LG Intuition on the right.
I've not had the chance to try a Samsung Galaxy Note 2, but I've seen images and know that it looks like an oversized SGS3. The LG Intuition on the other hand doesn't look like a phone at all. It's form factor will either attract you to this device or completely turn you off.
Form factor aside, the Intuition does feel good in hand. It's a solid little device with rounded sides and a great textured rubberized skin on the back cover. BTW: this is a sealed device, so you will be unable to swap batteries. This can be a problem give that even with only a few days of trying this device, I found  the battery life to be pretty short. More on that later.
Never miss one of our posts again. Sent MON, WED, and FRI with the latest gadget reviews and news!
The front of the LG has no physical buttons. Just a large 5in 1024 x 768 pixel IPS display with 4 capacitive touch buttons below it. I found myself missing not having a dedicated home button. I've been spoiled by the iPhone and Samsung Galaxy S3.

The right edge of the Intuition has separate volume buttons and the opposite side (not pictured) has the micro-SIM slot.

The top has the power button, micro USB sync/charge connector, screen capture button, microphone and earphone jack.

The micro USB connector is protected with a sliding cover.

The bottom edge is bare except for another microphone.
What's missing is a micro SD card slot. Although the device does have 32GB of memory, not having any other expansion capability is a concern.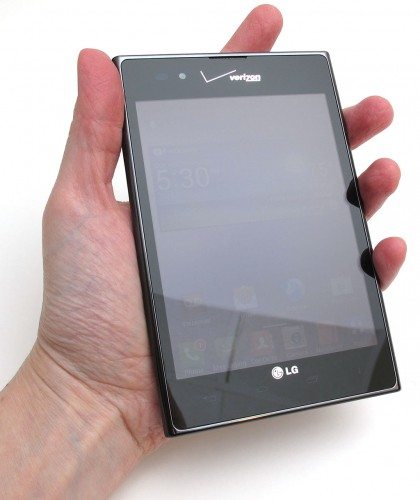 This device is solid and passes the Gadgeteer squeeze, shake and flex tests with absolutely no problems. I like the look of the device and the feel in my hand when using it as a mini tablet. That said, I felt really self conscious using the Intuition as a phone. Holding this large device up your ear to make calls just looks ridiculous in my opinion.  It's also much too wide to feel comfortable and useable with one handed operation. Unless you have abnormally long fingers, holding it in one hand, you'll not be able to reach all the icons/controls to easily make a call.
Of course I did test out the telephony capabilities  of the device and it does work just fine making and receiving calls.
Camera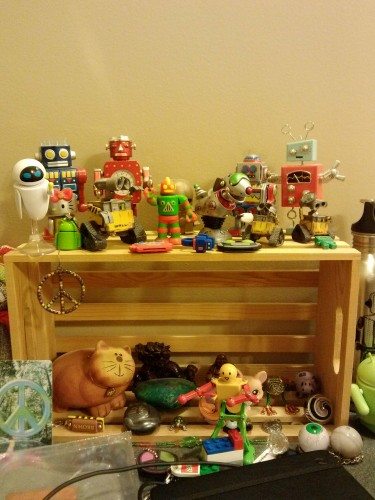 There's nothing really that special about the 8MP camera built in to the Intuition. It does an "ok" job as you can see here. The coolest thing about the camera is the software features like voice activation. If you say "Say Cheese", it will snap a picture. That way you can position the device and get into the frame before snapping a photo. It can also do face tracking where it will automatically find and focus on faces.
Display and Software
The LG Intuition's 5 inch 4:3 aspect ratio display is generously large, bright and clear. It's not as crisp as the iPhone's retina display or an AMOLED display, but it's still very nice, at least for browsing and reading. Some apps not made for this size display look a little wonky. If you watch a lot of videos, you'll find that they are letter boxed.
Even with a larger display, I still had to zoom in to read text on webpages that feature multiple columns of text like The Gadgeteer. So I'm not sure there's a huge advantage to this sized screen if your main activity is browsing. eBook reading on the other hand is great.

I've been wanting to try the Samsung Galaxy Note's special S-pen stylus for a long time, so I was really curious when I saw that the LG Intuition also featured a stylus. Unfortunately, the Rubberdium Stylus isn't special like the Samsung Galaxy Note 2's stylus. Although, it has an impressive (weird) name, it's just a skinny capacitive stylus with no special powers. Bummer.
Even though the stylus doesn't offer any special features, the device does have some inking goodies worth mentioning. First of all, there is a dedicated screen capture button on the top edge of the device. When you press this button, it makes a screen snap and allows you to draw on it with the stylus. You can then save the annotated image to your picture gallery, share with your social networks or email it.
There's also a Notebook application that you can use to keep notes with pasted images, drawings, and inked text. Nice, but still a little disappointing because even though I haven't had the opportunity to try the Galaxy Note, I am sure its ink features are far superior to the Intuition's.
The software bundle included on the Intuition has all default Android apps, along with some added Verizon junk (sorry Verizon) like a Zappos app, a couple game demos (Real Racing 2 and Shark Dash) and NFLmobile.
NFC (Near Field Communication)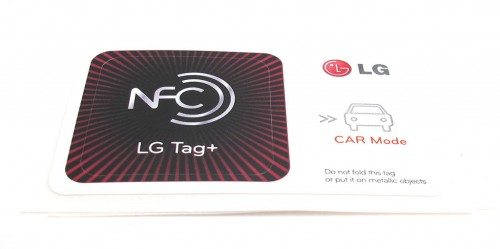 My SGS3 has NFC, but the Intuition has been my first taste of actually playing with it. Included with the LG Intuition are 2 stickers that have been pre-programmed with special settings. When you place the device over the sticker, its settings are updated automatically.
The phone comes with 2 stickers which have been programmed for Office and Car settings. You can re-program them via an app on the phone to turn on/off various settings such as sound, music, navigation, brightness. Additional NFC stickers can be purchased on Amazon if you wish to trick out your house, office and car.
Would I buy one?
I will be blunt and say that I would not buy the LG Intuition for myself. There are some things I like about it such as the screen capture button, USB cover, rubber back, NFC, and large display. But the form factor isn't for me. It isn't pocket friendly or one-handed phone call friendly. The battery life is the worst I've experienced in awhile. I was lucky to get a full day of very limited use from the device before it was complaining that it needed to be charged. I also found the performance to be a little sluggish. Although I do like large screened devices – I am using an SGS3 right now, this one just doesn't do it for me. Sorry LG. Maybe next time…
I'd be curious to hear from anyone that is using the LG Intuition. What made you decide to buy it and would you buy it again?
Product Information
Price:
$199.99 (with 2yr contract), $599.99 (without 2yr contract)
Manufacturer:
LG
Retailer:
Verizon Wireless
Pros:

5 inch display
NFC stickers for easy settings changes
Screen capture button

Cons:

Large for a phone
Stylus doesn't do anything special
Battery isn't user accessible
No microSD card slot