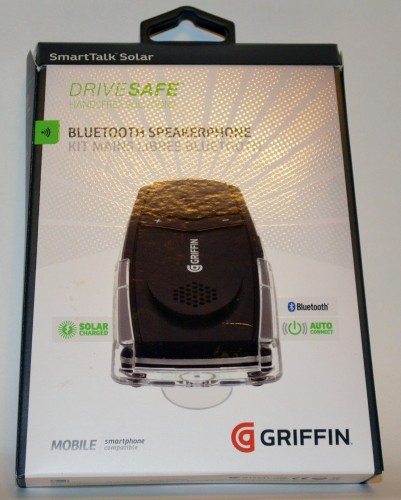 It's not illegal yet to talk on your phone while driving in North Carolina, but it's still difficult and dangerous to juggle a phone while you're trying to drive.  My Subaru Outback didn't come equipped with a built-in hands-free Bluetooth system, and I find most Bluetooth headsets uncomfortable to wear.  Plus, I find trying to answer or disconnect a call without being able to see the controls on my headset even more distracting than using the phone itself.  So when Griffin offered the SmartTalk Solar Bluetooth Speakerphone and Julie sent it to me for review, I hoped it would find a permanent place in my car.
All images in this review can be clicked for a bigger view.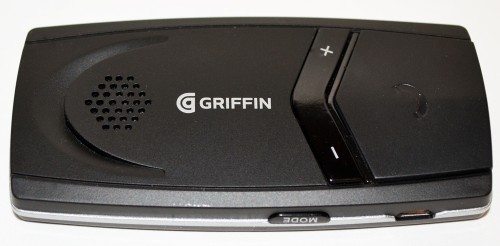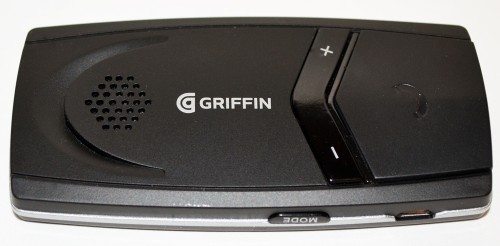 The SmartTalk Solar is made of black plastic.  The front has a speaker grill, multi-function + and – buttons, and a multi-function button (the big button with the old-fashioned phone handset embossed on it) for pairing devices and controlling phone calls.  There are also two LEDs near the + and – buttons that indicate status.
It uses Bluetooth 2.1 + EDR and supports the HFP profile and MultiPoint pairing and connection.  It supports all iPhones operating on iOS 3.0 or later and all smartphones and mobile phones using Bluetooth's handsfree profiles.
The + and – buttons are used to adjust the speakerphone's volume, of course, but they have another function, too.  Press the two simultaneously to switch the call from the speakerphone back to the phone or vice versa.
The blue LED under the + blinks every three seconds to indicate you are connected to a phone and idle; blinking every six seconds indicates you are on a call.  The red LED under the – indicates charging status.  And of course, they are used to indicate pairing mode while you are connecting a phone.  The red light can blink to let you know your charge is low, but there is no metering system to let you see what your battery charge level is otherwise.
The multi-function button is used to answer/end calls, put them on hold, and redial the last number used.  It can also be used to connect to Siri on an iPhone.


The Mode button on the side is used to mute/unmute a call.  You'll also see a microUSB port to the left of the mode button that's also used for charging the device.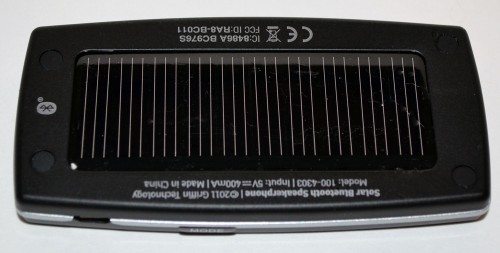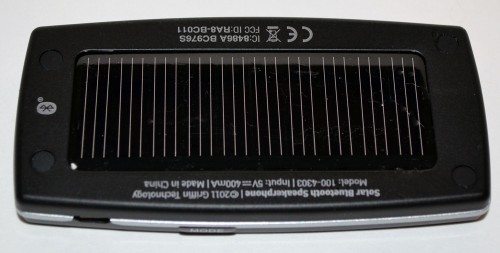 And here's the reason this device is called the SmartTalk Solar.  There's a small solar panel built into the back.  It's capable of charging the battery in about nine hours of full sun, or it can keep the battery topped off to prolong your talk time.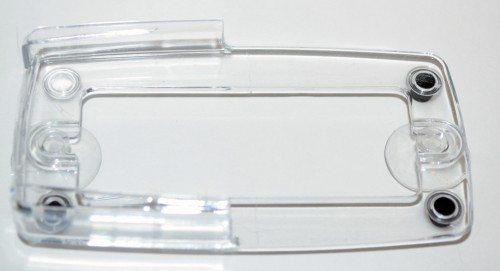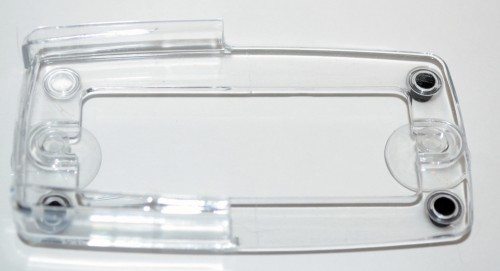 To ensure the solar panel is always exposed to the sun, you hang the SmartTalk Solar on your car windshield using the included clear plastic holster.  You'll notice there are two suction cups on the back of this holster.  There are also four rubber feet in the corners, but you'll notice I'm missing one of these feet.  That doesn't seem to have any negative impact on using the holster in my windshield, though.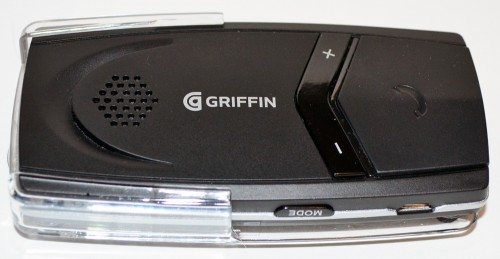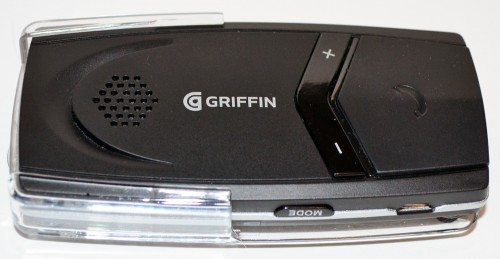 Here's the SmartTalk Solar in the holster and ready for installation in my car.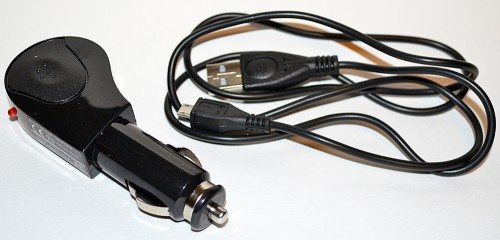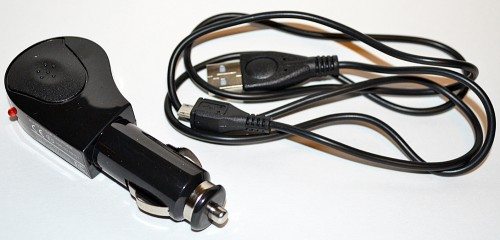 When you have heavily cloudy or rainy days (or in Antarctica in the winter, as the manual warns!), you'll need to use the included car charger and USB to microUSB cable to charge the device.  I actually used the included cable and a USB charger in my house to charge the Griffin speakerphone initially.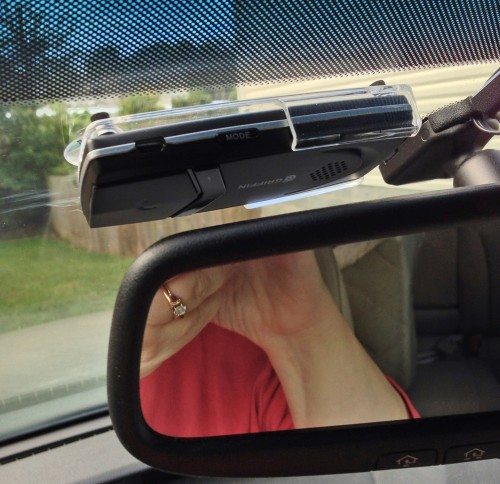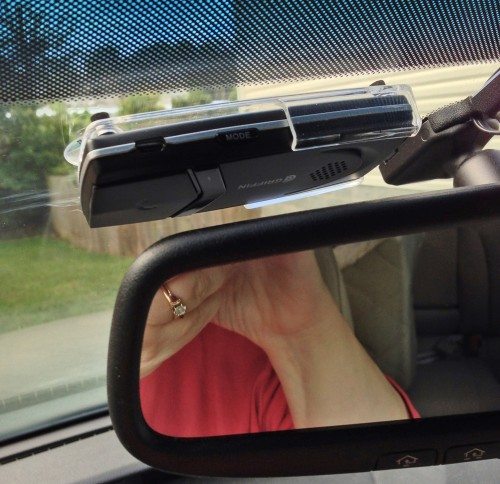 I wanted to place the SmartTalk speakerphone to my right at the top of the windshield, but you can see my Outback has some heavy-duty sun-shading there.  I decided to place it just behind the rear-view mirror with the multi-function button pointing to the driver's seat.  You can see that the speaker grill is behind the mirror, but I found this didn't interfere with me hearing my caller or the caller hearing me.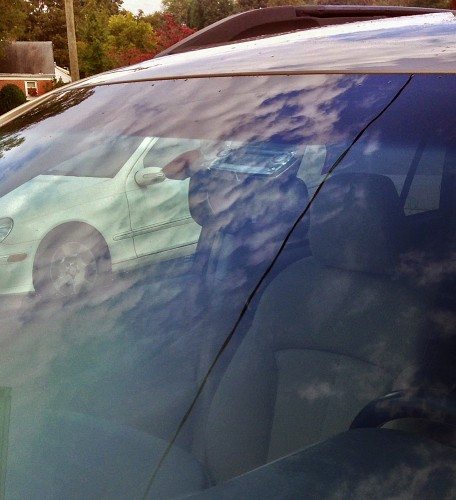 I also hoped that placing the speakerphone behind the mirror would make it less visible to would-be thieves.  I tried to show how it blends with the mirror, but you can see that we were experiencing yet another cloudy day here.  With all the cloudy and rainy days we've had lately, it's a good thing Griffin included the car charger!
So how does it work?  I found the location I chose for installation worked great for me.  It was easy to reach the button to answer and end calls, and it is big enough that I didn't have to search around blindly to find the button.  The speaker and microphone worked well.  Sound on my end of the conversation was clear and static-free, although I did notice the sound was a little flat.  Still, it sounded great for a phone call.  Sound on the other end of the conversation was also reported to be clear, and my callers didn't notice any traffic noise or sounds from the air conditioner I was blasting.  Griffin equipped the SmartTalk Solar with an echo-suppressing DriveSafe Mic, that I assume was responsible for the clear sound heard by my caller.  I was very happy with call sound quality.
I was able to connect to Siri on my iPhone 5 by pressing the multi-function button.  It connected with Siri easily, but Siri and I don't work well together.  She pretends to not understand me half the time, and even the speakerphone wasn't able to make her function any better.  This was not the fault of the SmartTalk Solar, though.
The SmartTalk Solar has Bluetooth's MultiPoint connectivity, which means it can pair with two phones simultaneously.  That means my husband can use the speakerphone when he's driving my car, and we can both be connected and receive or make calls when we're riding in the car together.
The SmartTalk Solar has an auto-connect function that makes my life easier.  After the initial pairing, and so long as Bluetooth is enabled on your phone, the Griffin will reconnect with your phone when you get into your car.  Best of all, it has a motion sensor that will put the speakerphone into standby after two minutes of sensing no movement in the car to extend the battery life.  When you get back in, the speakerphone senses your movement and wakes up and connects automatically to your phone.  This works great, and I've never had it fail to reconnect.
I did have a minor problem with this auto-connect function.  Turns out that my car is close enough to my house when parked in the driveway that I don't automatically drop the Bluetooth connection when I go into the house – at least while I'm still in the living room.  After two minutes or when I move further into the house, the SmartTalk Solar drops the Bluetooth connection with my iPhone 5.  At that point, my phone connects with my V-tech Bluetooth home phone system.  When I go back to my car, I'm still connected to the V-tech phone until I back out of my driveway, at which point my phone connects immediately to the Griffin.  Works great!  And I don't have to remember to turn things on and off.
I think the Griffin SmartTalk Solar is a great hands-free Bluetooth solution for my car.  The sound is good on both sides of the call, and making and receiving calls is a snap with the simple one-button design.  I like that the SmartTalk Solar automatically remembers to turn itself off and to pair with my phone so I don't have to do it, and I like that my husband and/or I can use it.  At $70, it's a very cost effective alternative to having the local Subaru dealer install their Bluetooth system in my Outback.
Some of our links in posts like this one are affiliate links, which means that we may receive a small commission on purchases at no cost to you.
Product Information
Price:
$69.99
Manufacturer:
Griffin
Retailer:
Griffin
Requirements:

Bluetooth-enabled phone or smartphone

Pros:

- Good sound quality
- Motion sensor puts the speakerphone in standby mode after two minutes of sensing no motion and reconnects to your phone automatically when you get in the car
- MultiPoint function means you can connect with two phones simultaneously
- Solar panel can keep the internal battery charged, but a car charger is included for cloudy or rainy days

Cons:

- No battery level meter other than a red blinking light to let you know when the charge is low