We use affiliate links. If you buy something through the links on this page, we may earn a commission at no cost to you. Learn more.

If plain old SMS or MMS text messages just aren't doing it for you anymore, Samsung's ChatON app adds a whole host of features to keep you and your buddies entertained. The ChatON app is free for iOS, Android and Blackberry devices. You can find it through the ChatON website or in the appropriate app stores for each platform. ChatON is sort of like Yahoo or MSN messenger (does anyone even use those anymore?) on your desktop. In this app, you and one or more of your friends can chat in real time. Just like with desktop chat applications, you will be able to tell when they are typing.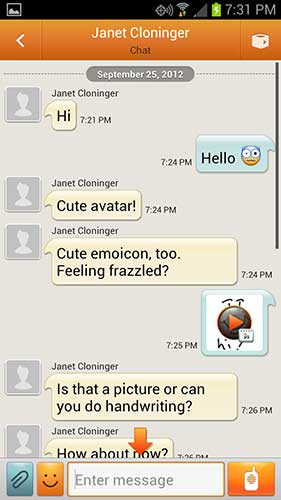 There is a nice sized collection of emoticons that can be used to spice up your messages, but what really makes ChatON fun is that you can also attach pictures, videos, audio messages and even your own drawn animations. The built in drawing feature will record you as you draw or write and will convert your artwork or written message into a playable video that you can watch in real time.
ChatON will save the images and drawings that have been used in your chats into what is called the "Trunk". You and your friends can then leave comments on these items.
Janet and I had fun testing ChatON between my Samsung Galaxy S III and her iPhone 5. I liked the audio record feature. It reminded me a little bit of using a walkie talkie… but the audio is saved so you can go back and listen to the clips again later. ChatON is a fun app. It's free; so go try it out and let us know what you think of it.
https://web.samsungchaton.com/