We use affiliate links. If you buy something through the links on this page, we may earn a commission at no cost to you. Learn more.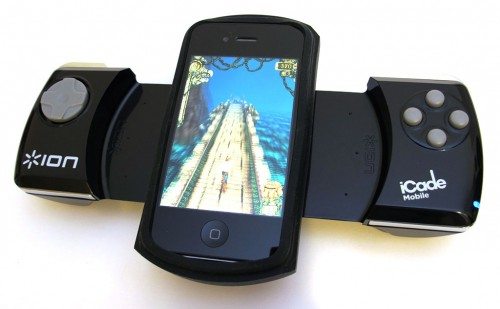 There's no denying the fact that people love playing games on the iPhone and iPod Touch. Using the capacitive touch screen to play puzzle and word games on these devices is fun and easy. But playing action games using an on screen touch controller is less fun and less easy. At least for me… I find that I really miss using a good old fashioned joystick and the control that it offers. That's why I was excited to try the iCade Mobile Gaming Controller from ION. Does the iCade turn your iPhone into a Gameboy-like video gaming system? Let's see.
Note: Images can be clicked to view a larger size.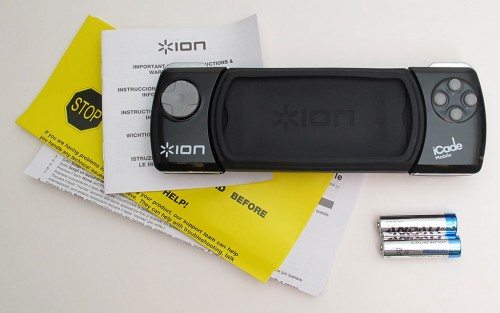 Package Contents
iCade Mobile Gaming Controller
2 AA batteries
Quick start guide

The iCade is made of a hard plastic with a 4-way D-pad on the left and 4 buttons on the right. In the center is a silicone holder for your iPhone or iPod Touch.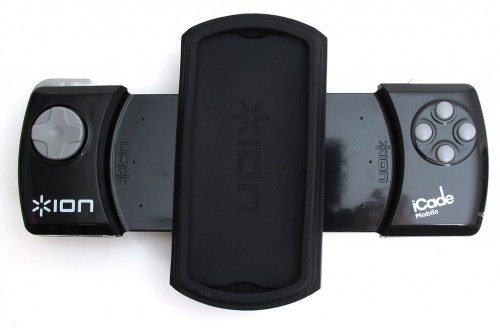 This holder has the ability to rotate 90 degrees for games that require a portrait orientation.

In addition to the D-pad and 4 buttons on the face of the controller, there are 2 sets of shoulder buttons on the top edge of the iCade. These buttons may not work for every compatible game, it just depends on the game.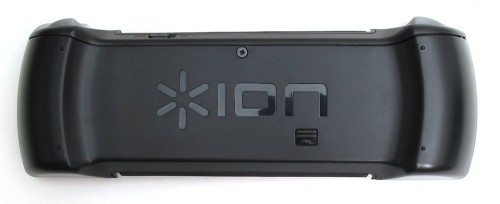 The iCade features two grips that allow you to easily hold on to the controller while you're playing games.
To start using the iCade, you first have to load 2 AA batteries. This requires you to remove the small screw on the bottom of the controller and then slide off the cover.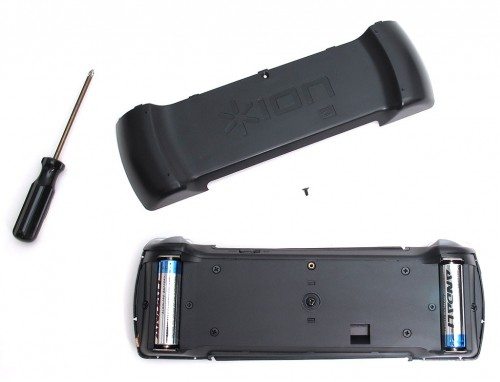 The small Philips screwdriver is not included with the iCade.
After the batteries are loaded and the cover is snapped back in place, you can pair the iCade with your iPhone or iPod Touch. First make sure you have Bluetooth enabled on the iOS device and then by holding a certain button combination on the controller, you'll be in pairing mode. A popup window on the device will ask you to press some of the keys on the iCade and after doing so, you're connected and ready to play.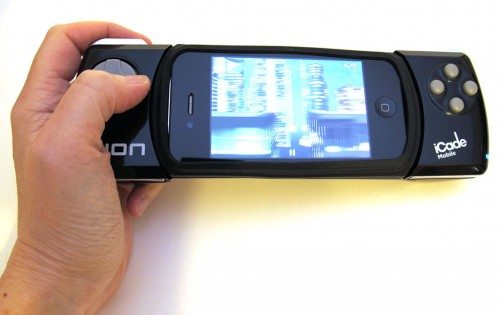 The iCade controller feels natural (if you've ever used a joystick or played with a Gameboy) to hold and use. It works well in landscape orientation.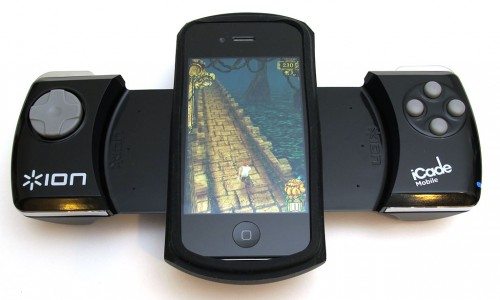 And also works well in portrait orientation. It makes action games a LOT more enjoyable. BUT, here's the problem… the iCade is not compatible with 1000's of exiting games in the app store. However, it will work with 100's of games. But 99% of those games you've probably never seen before. It also seems that the games that will work with this device are very old school. iCade has a list of compatible games with links to them in the app store. You're not going to find Angry Birds or Cut the Rope there. The only game I found on their list that was new and popular was Temple Run. As a result, I did most of my testing with the iCade using this game. I was horrible at this game before the iCade, and with the iCade it's fun and kind of addictive. I found the controls to work great. No problem with buttons sticking or presses not being recognized. However, it would be nice if the 4 small buttons were rubber instead of hard plastic as I noticed my thumb getting a little sore after a particularly long session playing Temple Run.
Will the iCade make you better at action games on your iPhone or iPod Touch? Yes, definitely. If only it worked with all your favorite games (and Android devices)… If you're a big fan of retro games, you'll love the iCade. But if you're a gamer that likes the latest and greatest games, I think you'll be disappointed.
Product Information
Price:
$59.99
Manufacturer:
ION
Requirements:
Pros:

Provides physical joystick controls
Can be used in portrait or landscape orientation

Cons:

Not compatible with all games
Not compatible with Android