We use affiliate links. If you buy something through the links on this page, we may earn a commission at no cost to you. Learn more.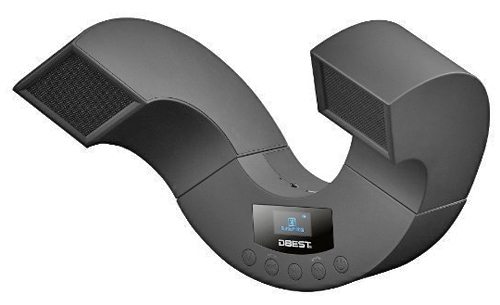 The London-based company DBEST London has announced the US retail availability of their Transformative Bluetooth HiFi System.  In addition to Bluetooth 2.1 + EDR connectivity, you can also connect your computer, MP3 player, phone, Playstation, or other audio device via a 3.5mm input cable.  The Transformative system is 9.8 x 3.4 x 9.9 inches and weighs 1.2 pounds.  With it's 1700mAh lithium-polymer internal battery, it makes a great portable system with up to 50 hours playback time between charges.  It has two 3W amps to drive the speakers, and it reproduces 180-20,000Hz.  It works as a standalone MP3 player, too; it has a microSD card reader so you can play MP3 and WMA files.  And it has a built-in microphone, so you can use the system as a speakerphone with your phone.  You can twist the speaker sections into a multitude of shapes to best fill your space with sound.
The Transformative Bluetooth HiFi System is available in the US at Amazon for $214.07, and it's eligible for Prime shipping.