We use affiliate links. If you buy something through the links on this page, we may earn a commission at no cost to you. Learn more.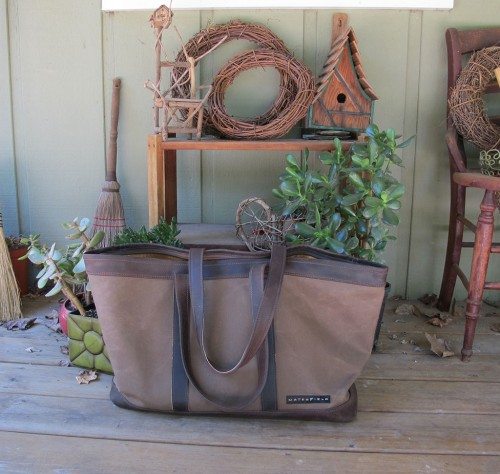 The Outback Tote from WaterField Designs is one of the newer offerings from this company who have long been known for their high quality gear bags and pouches. Designed to hold whatever you need to carry, this bag may look rugged, but it is really like a comfortable pair of jeans. Let's take a closer look.
Note: Images can be clicked to view a larger size.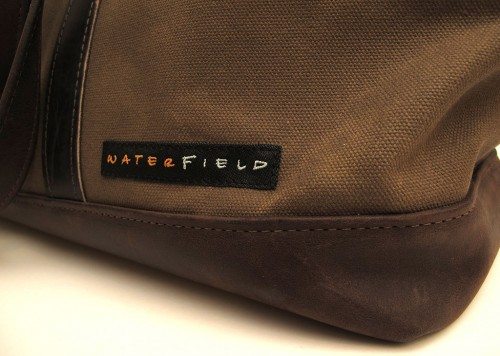 WaterField's Outback Tote is available in two sizes: Daily and Weekender. They are made of waxed canvas with distressed leather trim which is available in either Grizzly or Chocolate. I was sent the larger weekender version with the darker leather trim (Chocolate).
Daily Outback Tote – 13.75″ to 19″ x 14″ x 5.5″
Weekender Outback Tote – 18.5″ to 24″ x 13.5″ x 6″
The Outback Tote is only my 2nd bag to feature waxed canvas. I have to say that I'm starting to cultivate a real fondness for this type of material. It sounds and looks like it might be stiff, rough and blah, but it's a  material that develops a great patina like leather as you use the bag. It does not feel waxy to the touch and scraping the material with your fingernail will not cause wax to flake off… I always wondered about that.
Tote bags by their nature, are designed to tote around a wide variety of items. These types of bags are usually made to resemble a large cloth bucket, with few if any pockets or organization.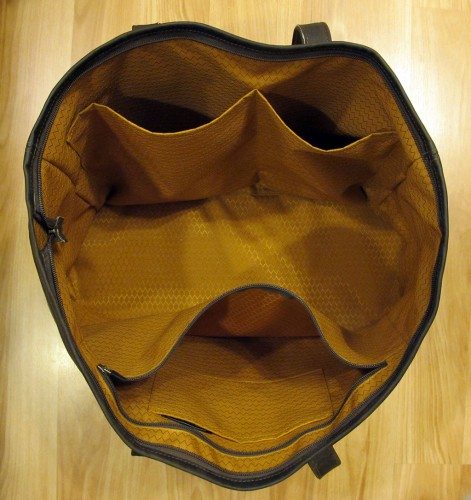 The Outback Tote takes tote bags to a new level. Inside you'll find WaterField's signature Orange liner, which makes it easier to see items at the bottom of the bag and pockets. The interior is very roomy, so you'll be able to carry large items. But, the front and back have pockets to help you organize your gear. On the inside of the front, there's a large zippered pocket with two other flat pockets sewn into the the back. On the opposite side are two large open topped pockets – the larger one can easily hold an iPad.
It's important to note that this bag does not offer any padding, so it might not be the best choice for carrying your laptop unless you have a padded sleeve to store it in.
The Outback Tote can be left open or zipped closed as you see here.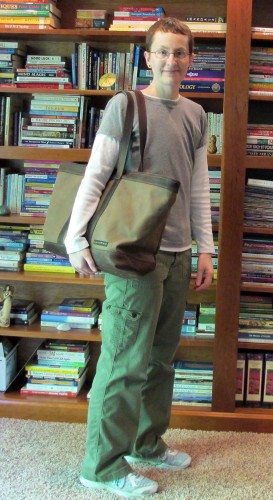 Here I am carrying the weekender sized version of this bag. I am 5'6″ tall.
The dual leather shoulder straps are comfortable and are the perfect length to carry the bag on your shoulder. I usually prefer to wear my bags bandolier style across my chest, but was happy to find that the straps on this bag almost feel like rubber. They don't slip off my shoulder like some straps do.  And even though I'm not very tall, I can also carry this bag by the straps and it will not drag the ground as I do.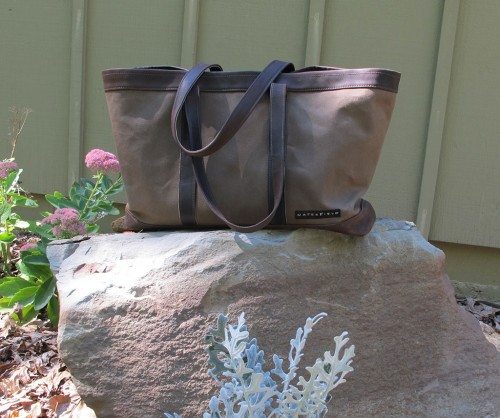 Speaking of the ground, the bottom of the tote is covered in leather, so it should be rugged enough to survive many years of scooting across the top of your desk, floor of a bus, train, subway or plane.
The only thing I'd change about the WaterField Designs Outback Tote, would be to add two pockets to the outside of the bag between the straps. It seems like a perfect place to add even more storage. But as is, this is a very well made waxed canvas and leather bag that will last for years and years.
Update 09/27/16
Jeanne inherited this tote bag from me after the review and has been using it for the last four years. She carries a LOT of stuff to and from work in this bag. I've picked it up before and I would guess that it weighs almost 20 lbs. She likes the bag but sometimes complains that it doesn't have enough organization / pockets.

Product Information
Price:
$149 - $159
Manufacturer:
WaterField Designs
Pros:

Tons of storage
Pockets to organize gear
Zippered top

Cons: