We use affiliate links. If you buy something through the links on this page, we may earn a commission at no cost to you. Learn more.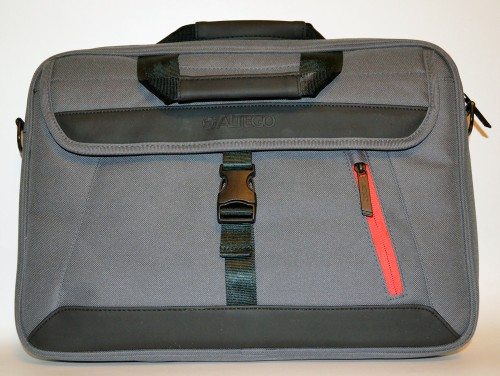 If you don't need a laptop bag that's big enough to live out of, you could just use a simple laptop sleeve.  If you'd like a smaller laptop bag that still has some room for your phone, an external drive, cables, chargers, and just a few other things, you might like the 15″ Laptop Slipcase from the Channel Stitched Ruby Series from Altego.  I was selected to give a closer look at the Slipcase when Altego sent a review sample to The Gadgeteer.
All pictures in this review can be clicked for an enlargement.
As you see in the top photo, the front has a large flap that closes with a plastic buckle.  There's also a slash pocket with a red zipper closure.  The zipper looks like the water-resistant zippers I've seen used in other bags.
The stitching was done in color-matched thread, and it was very even and straight.  There were no loose threads.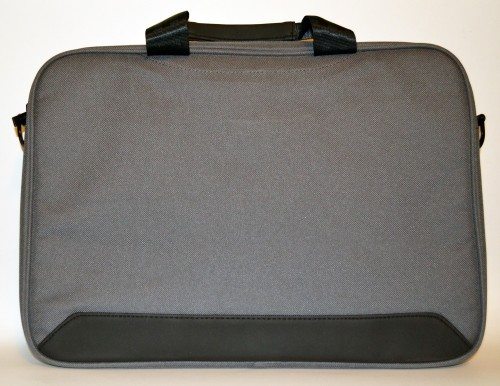 There isn't a lot of information about the construction materials for this bag.  According to the website, the bag is made of "poly material", and it has what seems to be black vinyl strips along the front and back bottom and one strip along the pocket flap that's been embossed with the Altego name.  The bag measures 14.4" x 10.1" x 1.25" and weighs 1 pound 9.5 ounces.
You can see in the above picture that the shoulder strap rings are very close to the top of the bag.  That means that the zipper doesn't open very far along the sides.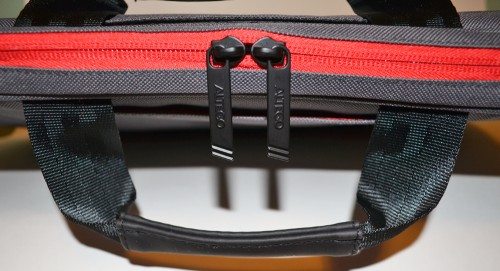 The top of the bag also closes with a red water-resistant-type zipper.  There are two metal zipper pulls with the Altego logo on them.  There are also two grab handles made of 1.5″-wide belting that has been cinched in the middle with vinyl straps.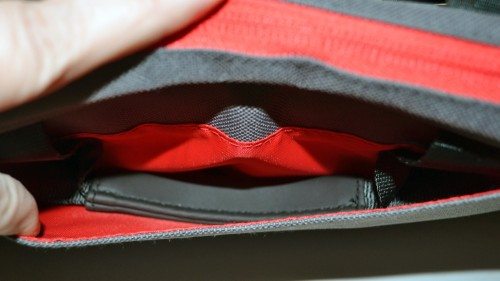 There are pockets on the front and back sides of the bag where you can stash the grab handles, if you don't want to use them.  The back pocket could be used to store some cables or something else that doesn't need to be secured in a closed pocket.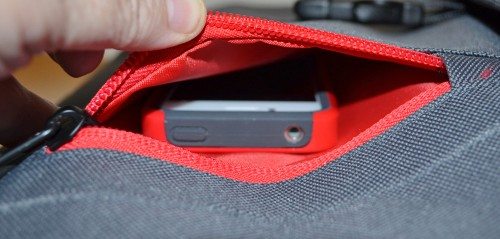 The red slash pocket on the front of the bag is big enough to hold a smartphone.  It easily held my iPhone 4 in its Musubo Retro case.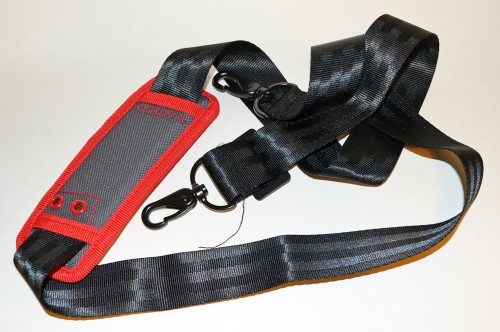 The bag has a removable shoulder strap.  It's made of a 1.5″ wide belting that adjusts from about 32″ to 57.5″ (including the buckles).  The belting is flexible with soft edges that aren't scratchy.  It has a removable, padded strap pad that's 2.5″ wide X 7″ long.  The pad is extremely comfortable on my neck and shoulder.  The red binding is very soft and comfortable, even when I tried scrubbing it against my neck.  The padding helps spread out the weight of a fully-loaded bag.  The strap pad also has a rubberized, non-slip bottom to keep the strap in place on your shoulder.
There was one long thread "tail" on one end of the strap.  The stitching looked strong and secure, and the tail could be nipped away with some scissors.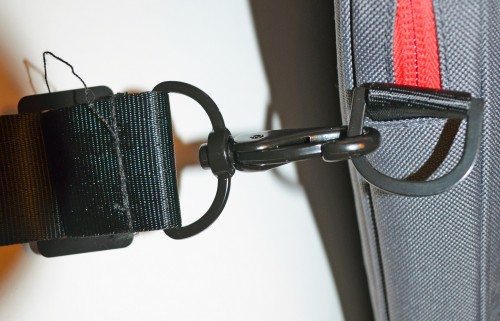 The strap has a metal adjustment buckle and dog-leash clips.  It connects to large metal D-rings on the sides of the bags.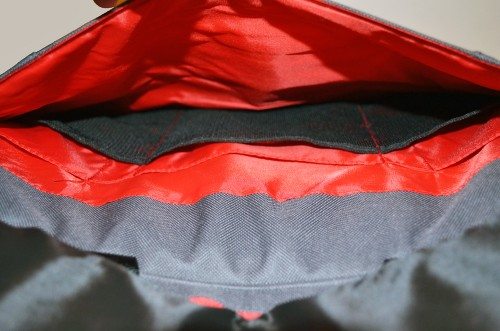 Under the front flap is a full-width organizer pocket.  There are two rows of pockets.  The top layer is made of black mesh; the second layer is made of the same red nylon-like fabric that lines the other pockets we've discussed.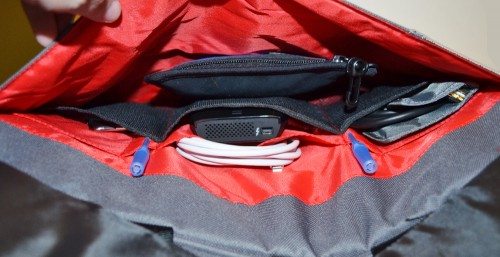 I loaded up several of the pockets with gear that I might need for a day out with my laptop.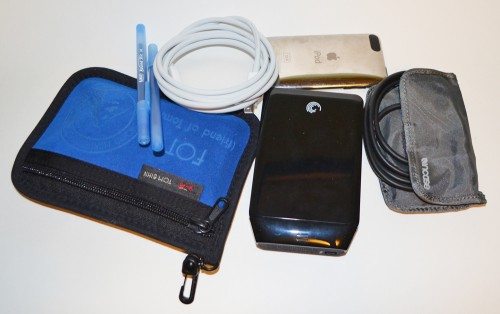 I had a loaded up "Friends of Tom" organizer pouch from Tom Bihn, 2 Bic pens, a long Apple Thunderbolt cable, a Seagate GoFlex Thunderbolt adapter on a 500GB Seagate FreeAgent GoFlex hard drive, a 2nd gen iPod touch, and the Incase USB mini cable kit with a 3-ft USB extension cable.  I had plenty of room in the front pocket for more.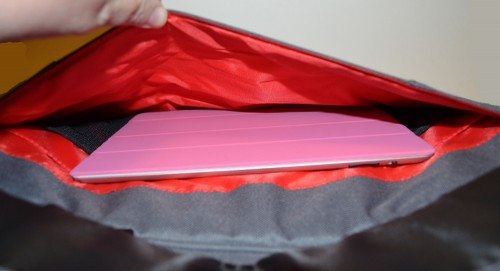 If you need to carry an iPad with you, it will fit in the organizer pocket.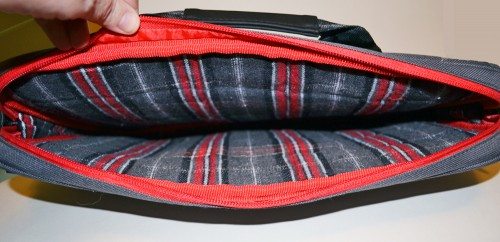 The laptop compartment is lined with a flannel fabric in a gray/black/white/red plaid design.  The laptop compartment is nicely padded and lightly quilted.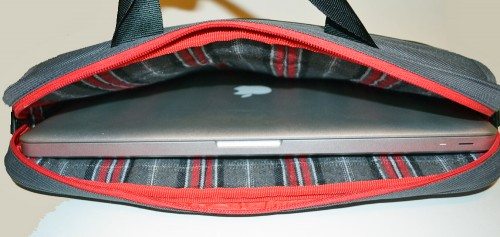 This bag was designed for a 15″ laptop, and it held my husband's work 15″ MacBook Pro.  The width was a perfect fit for the size of the 15″ MBP, but there was a little extra depth, so you could fit some papers or even your iPad in this compartment along with the laptop.  Of course, it worked with my personal 13″ MBP, too.
The Channel Stitched Ruby Series 15″ Laptop Slipcase is a very nice bag.  It's well constructed, and the materials look sturdy.  I love the color scheme (the only color choice available), as it uses all four of my favorite colors.  It's a minimal bag, so you won't be carrying everything plus the kitchen sink, but it has plenty of room for the peripherals you'll need for a day out with your laptop.  It would work well as a work bag or as your "coffee shop" bag.  Although it's designed for a 15″ laptop, it would work just as well for a smaller laptop, if you don't mind a little extra room inside.  At $40, I think you'd be hard pressed to find a better bag.

Product Information
Price:
$39.99
Manufacturer:
Altego
Pros:

Lightweight and compact
Plenty of storage pockets to hold peripherals
Padded, well-fitted laptop compartment
Front zipper pocket to keep your phone handy

Cons: