We use affiliate links. If you buy something through the links on this page, we may earn a commission at no cost to you. Learn more.
This post brought to you by GFI. All opinions are 100% mine.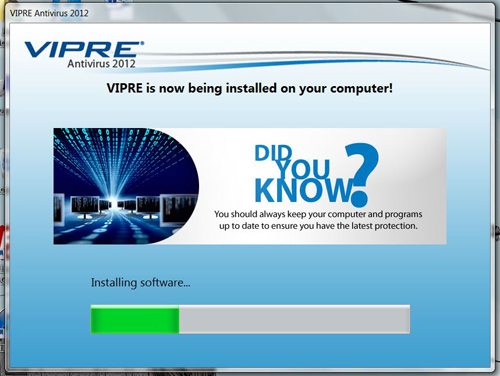 If you have a PC, you have to protect yourself from viruses that you can pick up from surfing the internet or even just opening a seemingly innocent email.  There are a lot of anti-virus products out there.  Some don't really protect your PC; some cost as much as your PC did; some others seem to take over your CPU, churning away so much that you can't really do anything else. VIPRE Antivirus software offers comprehensive, real-time protection for your computer without slowing it down.  I was recently able to download and try a copy of VIPRE Antivirus on my Windows netbook. 
I went to the VIPRE website and downloaded the Antivirus software.  It quickly downloaded and installed on my HP netbook.  It did its first scan during the installation.  It checked my disk and running applications for malicious software, and I was happy to see my computer was virus-free.  With VIPRE Antivirus running in the background, I can trust that I won't get viruses in the future, because VIPRE will be constantly checking for possible infections.  With antivirus and anti-spyware included in one package, my computer will be protected by a single product that will guard against hackers, virus infections, spammers, and identity thieves.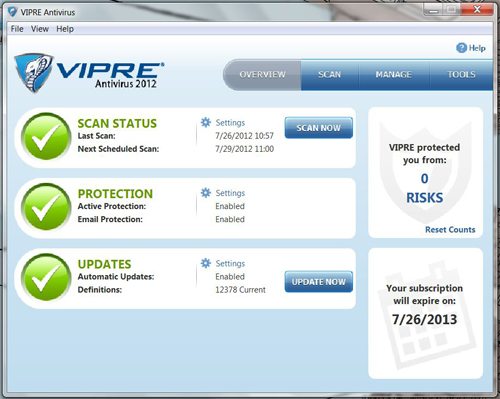 VIPRE Antivirus detects and remediates viruses, spyware, rootkits, bots, Trojans and other malware.  It finds and disables malicious hidden processes, threats, modules, services, files and alternate data streams (ADS) on user systems, and it monitors Outlook, Outlook Express, Windows Mail, or any email program that uses POP3 and SMTP for incoming viruses and phishing scams.  It also automatically updates virus definition files, so you'll be protected against the multitude of new malware that's unleashed each month.
I use my Windows netbook for my other job as a technical editor for how-to books for the iPad and iTunes.  I can't risk having my files corrupted or lost, so it's important to know that my computer is safe from malware.  Because I work on a tight timetable when I'm editing chapters, I can't risk having my computer so bogged down that my editing grinds to a halt.  I like that I can trust VIPRE Antivirus to protect my computer without slowing things down so much that I can't do my work.
No matter what you use your computer for, you have files that are important to you – work documents, tax forms, financial information, photos, and the like.  You need to protect these files, so you should go to the VIPRE website and download a free trial of their Antivirus software.  You'll find the software is very reasonably priced:  $39.95 for one computer for one year, $49.95 for two computers for one year, or $59.95 for a year's protection of up to 10 computers.
Visit https://www.facebook.com/GFIVIPREAntivirus for more info.
VIPRE has graciously offered The Gadgeteer a copy of their Antivirus software for one of our readers. For a chance to win a copy, simply follow the contest rules.
Prize:
Free 1 year download of Vipre Software ($39.95 value)
To enter:
Between now and Midnight EST 08/07/2012, leave a comment under this post listing the most important files you need to protect.
At some point on 08/08/2012, Julie will pick 1 random winner using random.org. The winner will be contacted by email and will have 48 hrs to accept their prize. If the winner doesn't respond within 48 hours, another drawing will select a new winner.
Update: The winner is #9 p51d007.