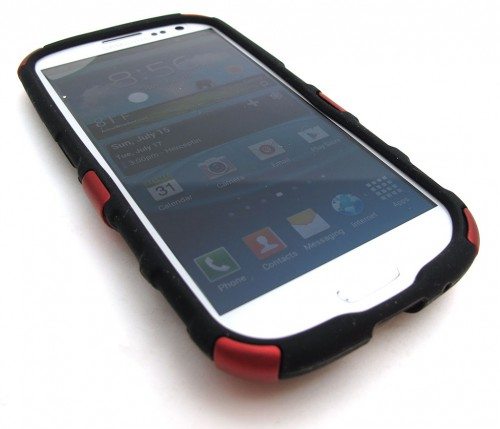 Congrats on buying that brand new Samsung Galaxy S III. Now you probably want a case to protect it. I have 2 cases from Seidio for your consideration. They are the ACTIVE and SURFACE cases, which are available in multiple colors, with or without belt holsters and one even comes with a kickstand.
Note: Click the images in this review to see a larger view.
I'm going to start with the ACTIVE case, which comes with or without a kickstand and with or without a belt holster. I was sent the combo version with both the kickstand and holster.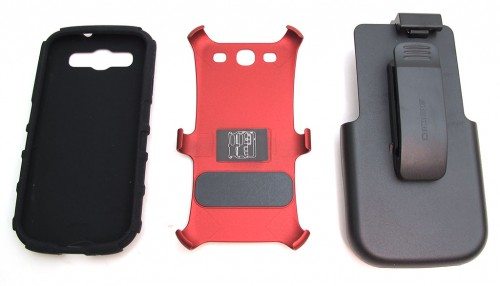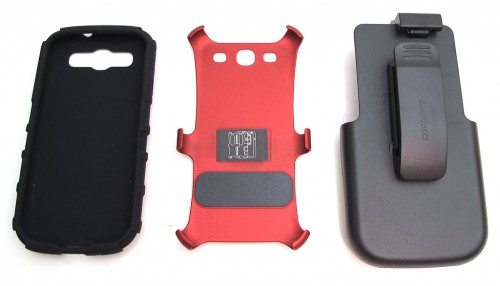 The ACTIVE case is a two layer case that consists of a soft Black silicon skin style case and a more rigid snap on back cover that is available in 5 colors (Red, Black, Blue, Purple and White).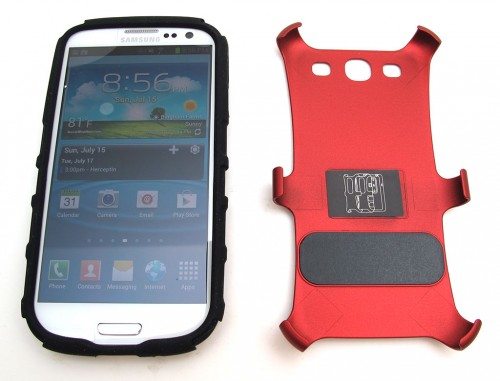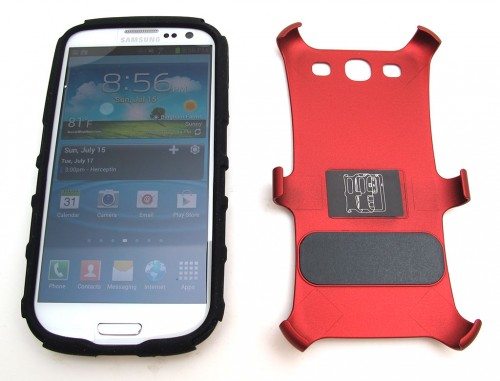 The interior skin is soft to the touch and provides shock absorbing protection. It takes little effort to install or remove. I should note that the volume and power buttons are covered by the sides of the skin. Special "buttons" molded into the skin allow you to access the features without difficulty.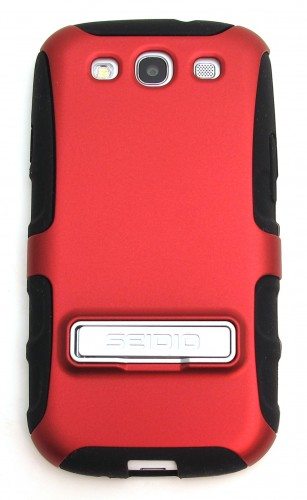 You could use the SGS3 with just this skin if you wanted to. But snapping on the rubber coated back cover adds some extra protection and is easy to install and remove.


Cutouts for the camera lens, LED flash, microphone, earphone and USB connector allow you to use all the features of the phone while it is in this case.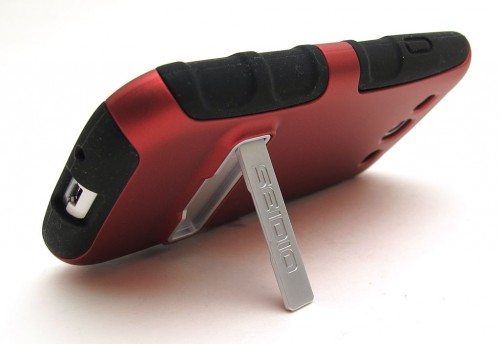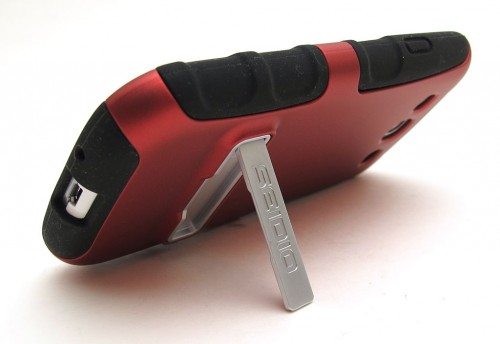 The back cover is available with or without the kickstand feature. It's an aluminum leg that folds out to prop up the SGS3 in landscape orientation. However, it is not designed to hold the phone in portrait orientation. A magnet embedded into the back side of the kickstand keeps it securely seated when not being used.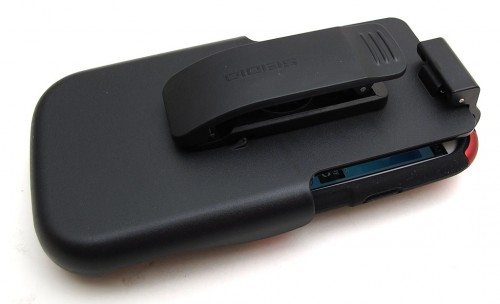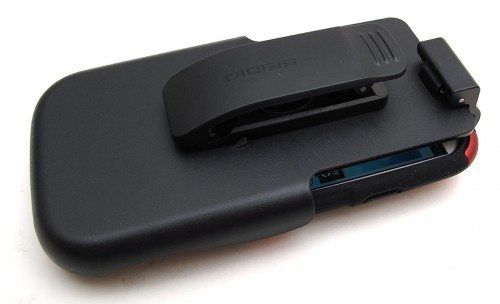 Available separately or with the Combo version of the ACTIVE, is the plastic belt clip holster. This is a full sized felt lined holster that holds the phone face-in. The strong spring belt clip can be rotated so that you can wear it as shown above or horizontally.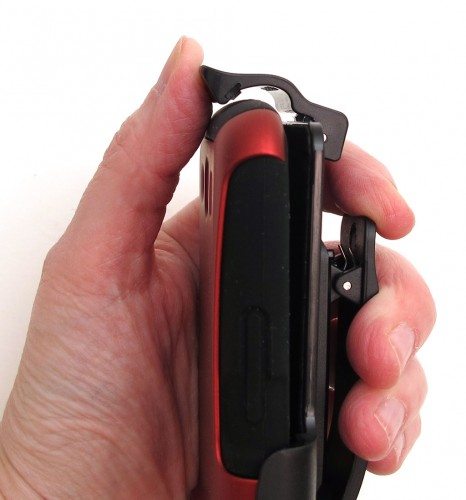 Another spring loaded clip at the top holds the phone securely in the holster while also providing an easy way to remove the phone.
As reviewed, the ACTIVE combo version of case is priced at $54.95.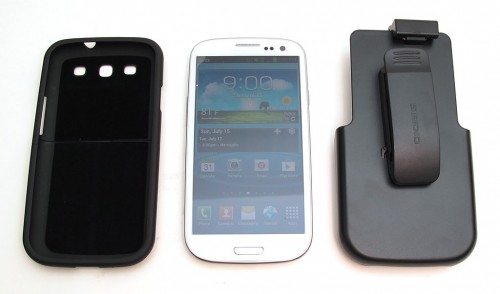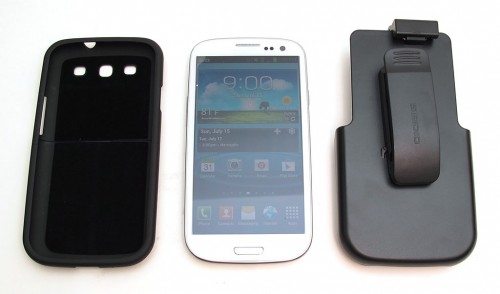 The SURFACE case also comes with or without the belt holster, which is the same holster used with the ACTIVE case.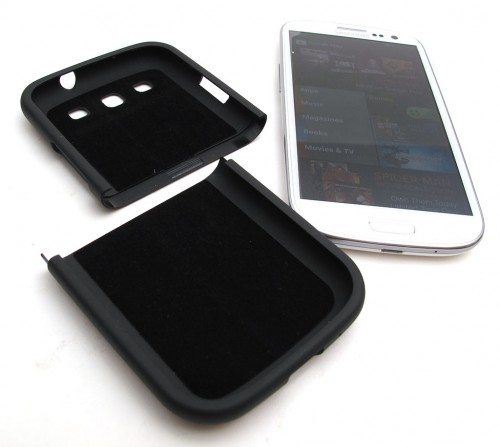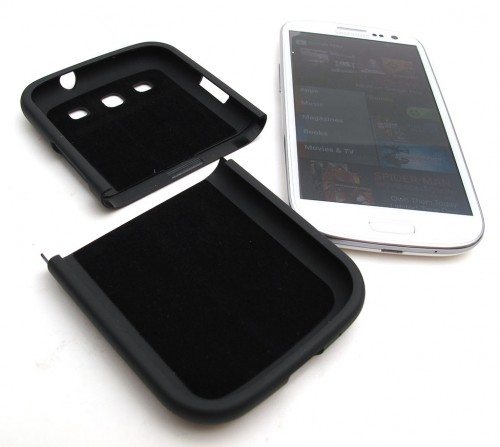 This case is comprised of two pieces that snap together. The case is rigid, but has a soft touch coating. The interior is lined in velvet.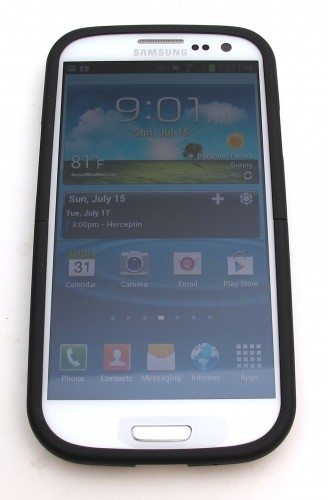 To install the case, you just slide the bottom half on the phone, slide on the top half and snap them together. Easy right? Yeah I thought so too…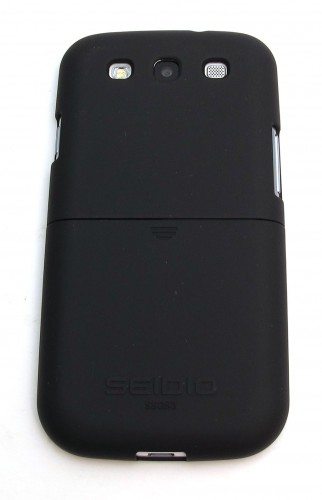 The SURFACE case is available in the same 5 colors as the ACTIVE case (Black, White, Red, Blue and Purple). I was sent the Black version. I liked this case and thought that if I ended up buying an SGS3 for myself, I might use this case with it full time. It adds very little bulk, while providing extra grip.

All the buttons and ports are accessible and the camera lens has some extra protection.
I liked this case a lot until it came time to take it off so that I could box up the loaner phone to send it back to Verizon. Since the case was so easy to install, I didn't think it would be hard to remove. Boy was I wrong. I tugged, pulled, huffed, puffed and almost resorted to using screw driver to pry the pieces apart. I finally gave up and gave it to Jeanne to see if she could get the case to come apart. She had no luck either. I will say that the Samsung Galaxy S3 is one tough phone for putting up with the man handling that we gave it. Even though it feels a little too plasticy for my liking, it's pretty darned rugged. I finally gave it to my friend Bill and after a few minutes of grunting, he managed to get the case to come apart. Whew!
So even though I like this case, I wouldn't recommend one because they are just too hard to remove.
As reviewed, the SURFACE combo version of case is priced at $49.95. If you don't care about a belt holster, both cases are priced at $29.95 when purchased without one.
Some of our links in posts like this one are affiliate links, which means that we may receive a small commission on purchases at no cost to you.
Product Information
Price:
$29.95 - $54.95
Manufacturer:
Seidio
Requirements:

Samsung Galaxy S3 Smartphone

Pros:

ACTIVE is available with or without a kickstand
Belt holsters are rugged and can be worn in portrait or landscape orientation

Cons:

SURFACE case is much too hard to remove