We use affiliate links. If you buy something through the links on this page, we may earn a commission at no cost to you. Learn more.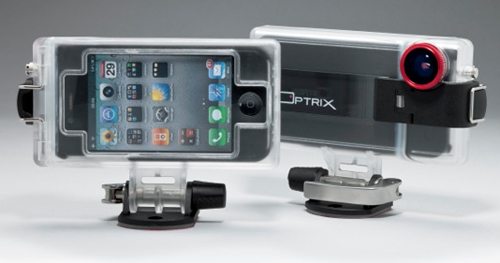 With this case from Optrix, you can change your iPhone or iPod touch into a rugged sports action camera.  The Optrix XD encases your iPhone 4/4S or iPod touch (with an optional adapter) in a protective case that conforms to MIL-STD-810F (meaning it meets requirements for drop-, particle-, and water-resistance).  It has a 0.5mm-thick touchscreen membrane that allows you to operate your iOS device without removing it from the case.  Optrix says the XD case "enhances the stunning 1080p HD video of the iPhone by adding an all glass, three element, 175 degree wide-angle lens. Your action sports will look like they were professionally shot with solid hardware."
It comes with both a flat and a curved mounting plate; they attach with 3M industrial adhesive, so you can safely mount them most anywhere.  Additional mounting plates are available as a separate purchase.  Even when the iPhone isn't in the case, it will be protected in the Optrix rubberized sled case.  An optional sled case for the iPod touch (4th gen) allows it to be used in the Optrix XD case.  It's $99 from Optrix; it should also be available from Apple.