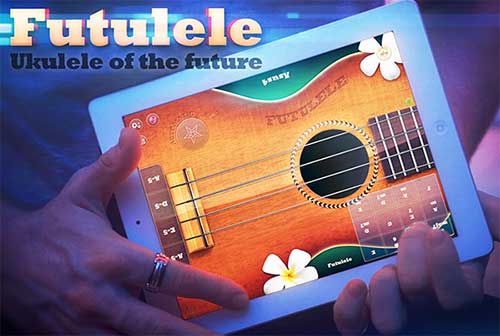 I've tried all kinds of iPad apps that can turn the tablet into a musical instrument. There are piano apps, drum apps, guitar apps, etc. They are all fun to play with, but this is the first time I've actually been thoroughly impressed with one. Ian told us about the Futulele app a few months ago, but I was just able to try it today. Futulele turns your iPad into a digital ukulele. Don't laugh, it really does and it is easier to play than any other pseudo stringed instrument app that I've used. Holding the iPad like you would a uke, there's a chord board in the lower left corner. Press the chord you want to play and strum the strings. You'll be amazed at how real it sounds and how addicting it is to play. You can customize the chord board to just hold the chord sets you need for a song. The app even has a dozen or so popular song chord sets to choose from with songs like I'm Yours, Hotel California and Over the Rainbow.  By itself, the Futulele app is cool and well worth the $4.99 price. But it may get even more exciting when you can pair your iPad with your iPhone and use the iPhone as a separate fretting pad. Apparently the remote app for the iPhone isn't available yet though.  I'm keeping my eyes open for it.
Support The Gadgeteer
:
We may earn a small affiliate commission from purchases made from buying through links on our site. As an Amazon Associate I earn from qualifying purchases. Learn more.