We use affiliate links. If you buy something through the links on this page, we may earn a commission at no cost to you. Learn more.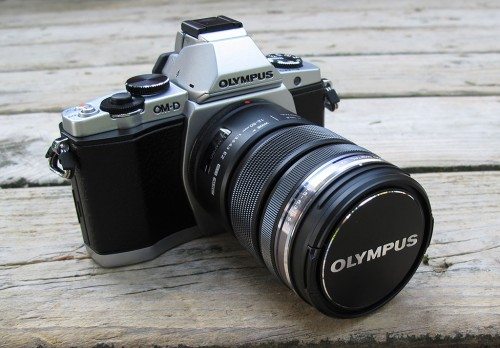 I hope everyone is having a very relaxing and reflective Memorial Day. I am because I'm currently on vacation in Fennville, Michigan. We're staying right on the lake in a log cabin. It's gorgeous here, with perfect weather so far. I was very excited to go on this vacation because I haven't been very far out of Columbus, IN for over a year and a half. We usually go on vacation 2x a year, but last year put a damper on any plans due to my cancer adventure. To prepare for this vacation, I decided that I absolutely needed a new camera. I've been thinking about getting one of the newer micro 4/3rds interchangeable lens cameras for quite a long time, so a vacation was an excellent excuse to do the deed.
I've been using a Canon G11 point and shoot for all my gadgeteer review pix for a couple years. It does a great job and I have no complaints about it. But I thought a new camera would have to be better, so I started researching several weeks ago. I narrowed down my choices to my first choice of the new Olympus OM-D EM-5 and second choice of the Sony NEX-7. When it came time to place my order, I could not find any shops on line that had the Olympus in stock. So I settled on the Sony. It arrived and I played with it for a couple weeks. Right out of the box I found that my G11 took better macro shots than the Sony with the 18-55mm kit lens. I think this was mainly due to not having a good flash setup for the Sony like I do with the Canon.
As I contemplated buying an external flash and a wireless trigger for the Sony, I made the mistake of checking Amazon for the Olympus OM-D EM-5 and noticed that one store had 2 in stock. I couldn't help myself, I ordered one with the 12-50mm kit lens. Yes, I'm crazy… With only 2 days till vacation, I received the Olympus and had a short time to try it out. My first impression was that it felt even bigger than the Sony NEX-7, wasn't as comfortable to grip and had a confusing and overly complex menu system. I decided to leave the Sony home and bring the Olympus on vacation with me so I'd be forced to learn to use it.
It only took me 1 day to figure out that neither the Sony or the Olympus are the best camera for me. Walking around with the Olympus around my neck felt like an anchor. Yes, it is smaller than a full sized DSLR, but it's still bulky and awkward to carry. Taking it down to the beach for an hour to take a few shots was one thing, but carrying it around for a full day of shopping at the shops in Saugatuck, MI was another. I ended up leaving the Olympus back in the cabin and using my iPhone 4S instead.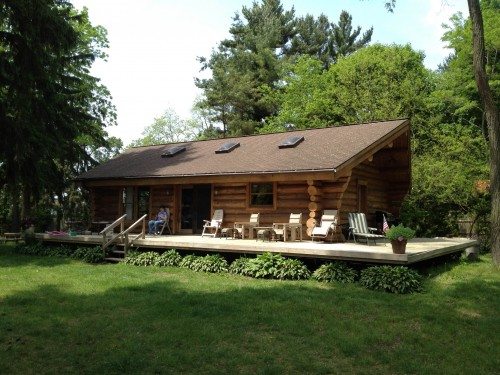 What to know something funny? The first day we got here to the lake, I snapped 2 pictures of the cabin and sent them to Janet. She responded that my new camera took great shots. I had to laugh when I wrote back telling her the images were from the iPhone 4S, not the Olympus!
I've come to realize that for me, the best vacation camera is the one in my pocket, which just happens to be the iPhone. The Olympus (and the Sony) can take some amazing pics, but if I don't want to carry them around with me, they turn into a pricey paperweight. I've pretty much decided that I'll be returning both cameras as soon as I get home. I'll stick with using the iPhone or some other small pocket friendly camera when I'm traveling and will continue to use the Canon G11 (or maybe I'll get the latest version…) for my gadgeteer product shots. If it works don't break it right?