We use affiliate links. If you buy something through the links on this page, we may earn a commission at no cost to you. Learn more.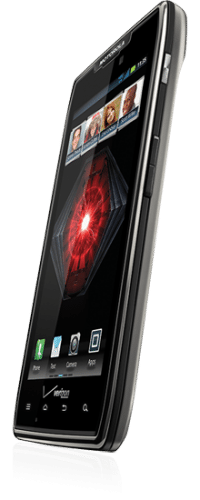 I recently spent two weeks with the Droid RAZR MAXX by Motorola. This phone runs on Verizon's 4G LTE and its claim to fame is battery life. It is very similar to the recently released RAZR, just thicker to accommodate the larger battery. I can't tell you how excited I am that someone finally designed a phone with battery life in mind.
I always approach every phone review with trepidation. Will this be the phone that makes me disappointed with my current everyday phone, the Droid X? Let's see.
First off, in theory, you sacrifice some thickness for the increased battery life. I managed to talk a RAZR owner into letting me get a shot of the two phones together:

As you can see, not a big sacrifice. They smooth out the bump a little. Frankly, I can't even bring myself to see this is a disadvantage. The size difference is almost indistinguishable, and the increased battery life is very welcome.
The Specs:
4G LTE
Dual-core 1.2 GHz processor
8 MP rear-facing camera 1080p HD video capture
1.3 MP front facing camera with 720 HD video capture
130.7 x 68.9 x 8.99 mm
4.3-in., Super AMOLED Advanced qHD(540 x 960)
145 grams
Made with Dupont™ KEVLAR® fiber and scratch-resistant Corning® Gorilla® Glass
MicroUSB, HDMI Micro and 3.5mm headphone jack
This is definitely a high-end phone, even as high-end evolves. It comes with a 16 GB microSD card as well. The back is not removable (so no changing the battery), so they provide a door on the side to inset the SD card and the SIM card.
They moved the ports to the top of the phone. Here you see the headphone, MicroUSB and Micro-HDMI ports:

The power and volume buttons are on the right side of the phone. I did not care for the buttons. Part of it was adjusting to having the power button on the side, rather than the top, but the bigger issue was the size and feel of the buttons. It does not feel like a lot of thought was put into the functionality of these buttons.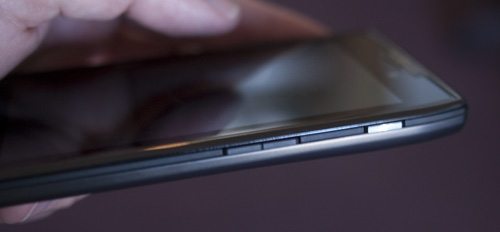 In addition to the rear-facing camera, this phone comes with a 1.3 MP front-facing camera. You can see it just below the A in Motorola: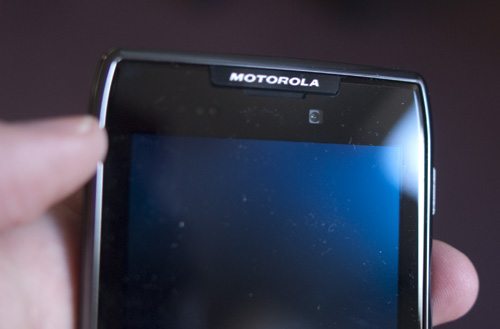 The back side has the 8MP camera and an LED light for taking pictures. I am never impressed by the LED-enhanced pictures, but I always like having it for the shots that just won't work without the light, and for the convenience of turning your phone into a flashlight. The camera quality is OK. I would not mind seeing a phone that did not obsess on MP and focused on image quality instead, but I think the camera is in line with other phones in its class.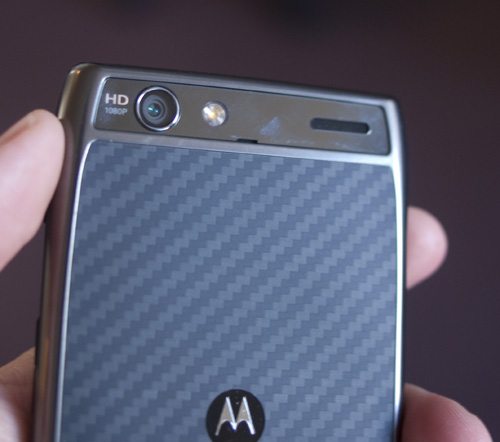 Performance
I'm not a big benchmark fan, but I did find the phone noticeably more responsive than my Droid X. In addition, you will definitely tell the difference with 4G speeds if you live in a 4G area. Like I said, I noticed the increased performance, but was not blown away by it while using the phone. However, I think I learned something about myself: I am less sensitive to increased performance than decreased performance. It took me about one day back with my Droid X for the performance boost to hit home. I really miss this phone.
Battery Life
Did I mention battery life? They pack a nice sized battery in this phone, and it shows. After over 14 hours with the phone, using it a lot, I still had 20% battery life. Not mind-blowing, but significant for a 4G phone under heavy use. That will get me through an entire day easy.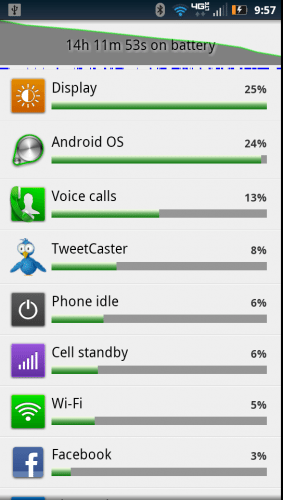 In fact, later in my time using the phone, I was well into day 2 before the battery got low.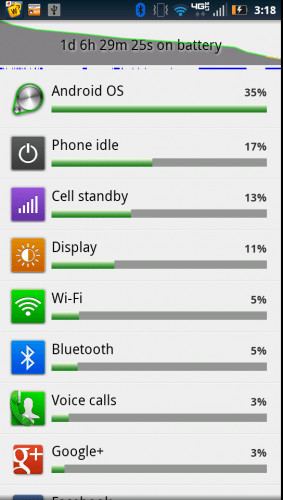 Keep in mind, this is dual-core processor and 4G network. I feel guilty saying just over a day is great, but, well… just over a day IS great with a high-powered smartphone on a 4G network. In fact, if I had to pick just one pro for this phone, it would be the battery. I truly hope this phone represents a turn of the corner for phone manufacturers.  We don't want thin phones that last half a day, we want phones that have some battery life.
Conclusion
This is the first phone since I got my Droid X that has been hard to return. I like the looks, the use of Gorilla glass, and, oh yeah, the battery life. This is the first 4G phone I would consider owning. I don't like that the battery is not user-replaceable, and many won't consider it because of Motorola's use of a boot-loader to prevent rooting, but I am OK with these compromises. I love the concept of rooting an Android phone, but I have owned an Android since the G1, and have never actually considered rooting that much. If that is important to you, though, look for a different phone. Me, I'd take this in a heartbeat. Now to check when I qualify for my next phone upgrade.
Product Information
Price:
$199.99 (with 2-year Contract)
Manufacturer:
Motorola
Retailer:
Verizon Wireless
Pros:

Long battery life
Large display
Gorilla Glass
Kevlar Case
Micro SD slot

Cons:

Battery not user-replaceable
Boot Loader locked (not easily rooted)