We use affiliate links. If you buy something through the links on this page, we may earn a commission at no cost to you. Learn more.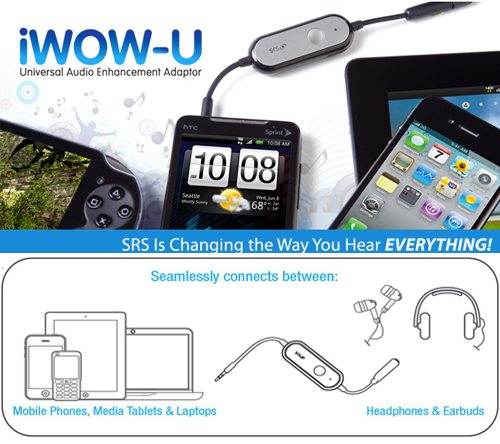 If you love everything about your tablet or smartphone or computer except for its wimpy sound, the iWOW Universal from SRS Labs is an inexpensive way to boost your sound quality.  Last year, we reviewed the Apple-specific iWOW 3D audio enhancer, and SRS Labs responded to the request for a non-device specific enhancer.  The iWOW-U hardware device connects between the 3.5mm audio-out connector on your mobile device, tablet, or computer and the 3.5mm audio plug on your headphones or earbuds "to offer an amazing HD-quality listening experience for all music, movies, games or other audio tracks."
Delivers natural and immersive HD-quality sound with substantial bass enhancement
Dynamically locates and restores audio details buried in source material
Support for inline answer / end toggle buttons and other basic inline playback function controls
Professionally tuned presets let you adjust the audio settings to your liking and select speaker settings – headphones or car/external speakers
Internal long-life Lithium-polymer battery provides up to 6 hours of battery life
Standard mini-USB charging port, for convenient charging
The iWOW Universal is $69.99.  The iWOW-UF with changeable colored faceplates is $79.99.