The Gadgeteer is supported by readers like you! If you buy something through links on our site, we may earn an affiliate commission. Thank you! Learn more.
This post brought to you by
Lenovo
. All opinions are 100% mine.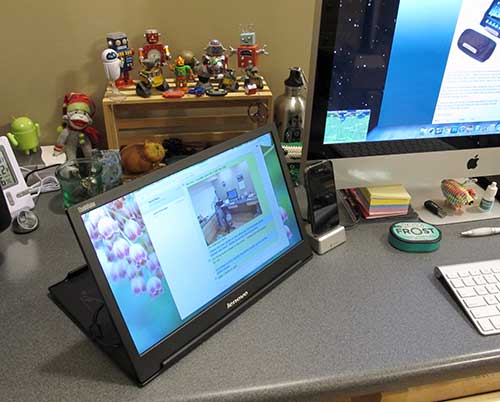 Is it possible to have a computer monitor that is too large? I think not! More is always better when it comes to screen real estate. But adding a 2nd monitor to your desktop or your laptop setup can be a hassle because they require a power cable and a video cable, not to mention that they are usually heavy and bulky. The
Lenovo ThinkVision
LT1421 14″ LCD monitor with Plastic Cover solves both of these problems beautifully. You can even carry it with you in your gear bag because it's so portable.
Note: Click the images in this review to see a larger view.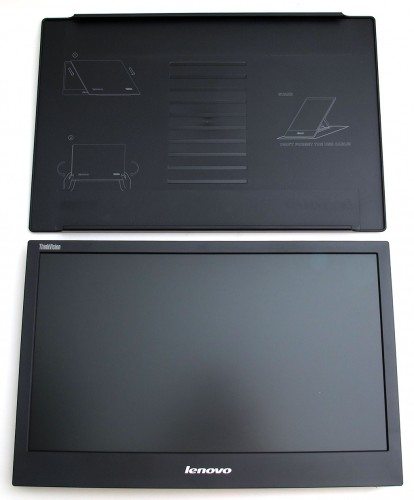 I'm familiar with Lenovo's high quality products as that is the brand of laptops, desktops and workstations that we use at my day job (Cummins Inc.). The ThinkVision LT1421 is a 14″ widescreen LCD monitor that is considerably different than other LCD monitors that I've used because it has been designed with extreme portability in mind. It almost looks like a tablet computer doesn't it?
It comes with a plastic cover that snaps on the front to protect the display when you're carrying it with you, and doubles as a tray for the adjustable stand built into the back of the monitor.
Together, the monitor and the cover only weigh 2.25 lbs, so it is very portable.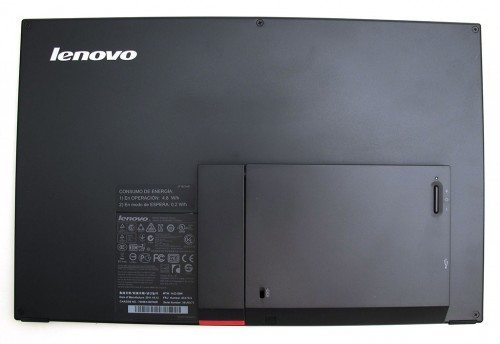 On the back of the monitor, you'll find a Kensington lock slot, and a brightness adjustment button for 16 level brightness. The only connector is a USB 2.0 connection on the left side of the display when you're facing it. That's right, the LT1421 does not have a video cable connector or even a power cord connector. Both video and power use a simple USB cable.
This monitor lacks a VESA mount, so it's designed just for use on a flat surface instead of mounting to a wall or a specialized bracket.
Notice the Red strip at the bottom center? That's the foot of the adjustable stand.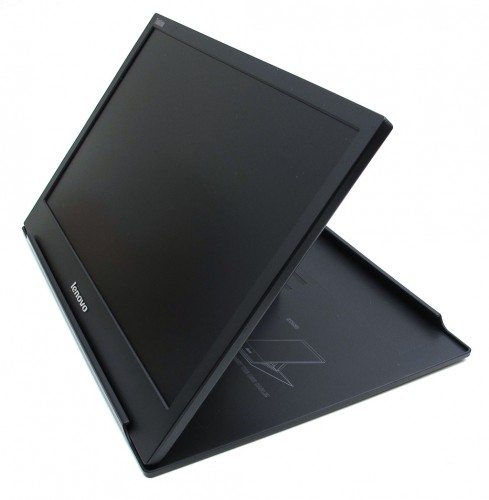 The monitor can be used with or without the plastic cover, but it's nice to have a place to put it when it's not protecting the display.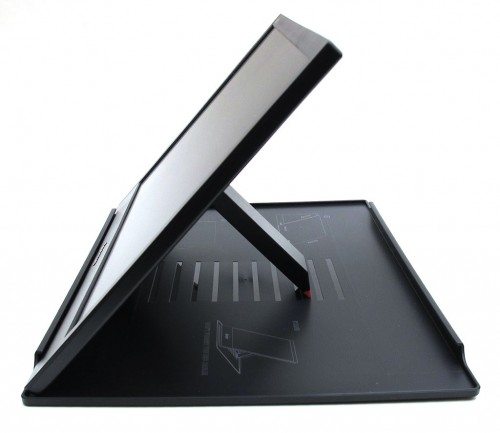 The inside of the cover has slots that match up with the stand to provide a 12 degree – 40 degree adjustable viewing angle.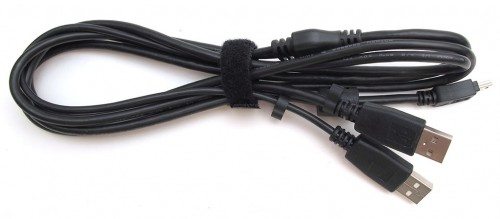 Connecting the LT1421 to your desktop or laptop is easy. Using the included USB Y cable, you can connect one end to the monitor and one (or 2) of the other ends into 1 or 2 USB ports on your computer.   I tested the monitor with my 27″ iMac, which only required one USB connection, but if you use this monitor with a laptop, it will most likely require that you plugin both cables. It's also important to note that the LT1421 can draw as much as 5 watts of power, which may be a significant drain on your laptop's battery.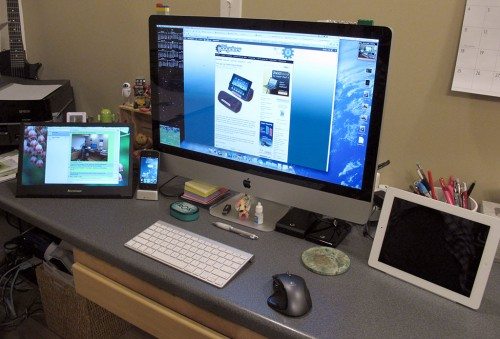 The Lenovo ThinkVision LT1421 isn't exactly plug and play. It comes with a driver CD that has to be installed first. I was a bit worried when I found out that the CD contains Windows XP, Vista and 7 drivers, but does not include Mac OS X drivers. Luckily I found that Mac drivers can be downloaded easily from DisplayLink, who is the manufacturer of the controller.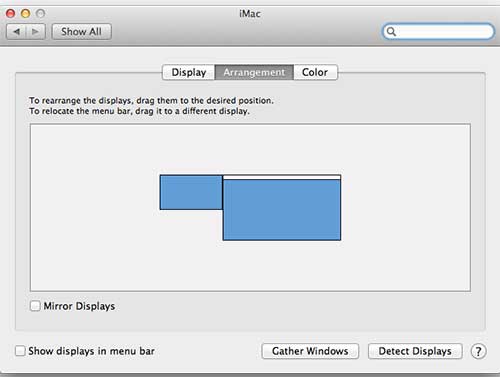 Once installed, you will see both displays and can arrange them and set the Lenovo to be a mirror of the desktop or as an extended desktop. I use mine as extended so I can put my iMessages app and Dropcam live viewer on it.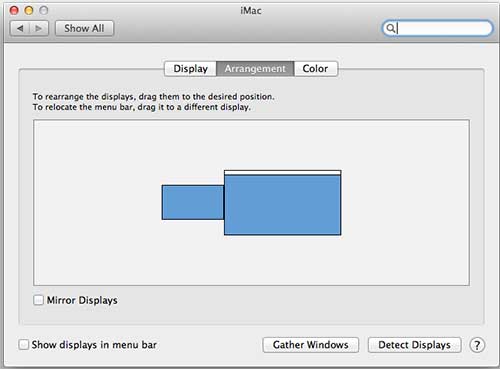 I have the LT1421 on the left side of my iMac. If I decide to move it to the right side, I can go into the settings and move the smaller box to the right side.
At first I didn't realize that it made a difference if I had the smaller box at the top, center (as in the image above) or on the bottom, until I tried to move my mouse from the edge the iMac's display into the LT1421's display and it kept stopping at the edge. Setting as you see above allows me to move my mouse to the center edge of the iMac's display so it will go "into" the Lenovo's display.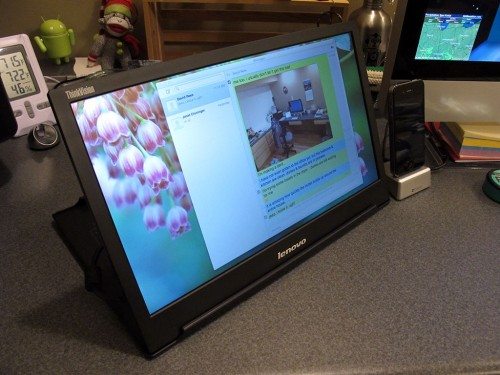 The Lenovo ThinkVision LT1421 14″ LCD monitor has a max resolution of 1366 x 768. It has an anti-glare matte surface, good colors and decent brightness. I tend to have it set the to max brightness level which you see here. It's not as vibrant as my iMac's display, but it's perfect for what I use it for. I've also been impressed with the viewing angle as I can read text on the display even when I'm at a right angle to it.
I think the Lenovo ThinkVision LT1421 14″ LCD monitor makes an handy companion for desktop and laptop computers. It's especially convenient for the mobile warrior for presentations and other uses.
You can get a 10% discount on the Lenovo ThinkVision LT1421 14″ LCD monitor with Plastic Cover when ordered online using:
CODE: LENOVOMOMS (if you have a mom blog) or LENOVOTECHIES (if your blog is tech related).
Discount codes are valid 3/1/12 – 3/31/12 for part number 1452DS6
Support The Gadgeteer
:
The Gadgeteer is supported by readers like you! If you buy something through the links on our site, we may earn a small affiliate commission. Thank you! Learn more.
Product Information
Price:
$199.99
Manufacturer:
Lenovo
Pros:

Very portable
Great viewing angle
Connects via USB
Does not require an AC adapter or power cord

Cons:

Screen rotation feature wouldn't work with my 27" iMac
No VESA mount