We use affiliate links. If you buy something through the links on this page, we may earn a commission at no cost to you. Learn more.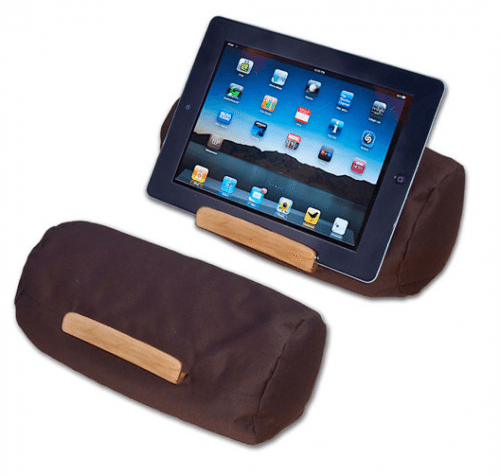 If you own an iPad, then there's a plethora of stands available in whatever material and style you want.  Those of us who don't use the iPad aren't treated quite as well when it comes to peripherals so when I was offered the chance to review the Lap Log Tablet Stand, I leapt at the chance.
"We handcraft eco-friendly organic tablet accessories that are comfortable and functional. Our first product is the Lap Log iPad stand which is 100% recyclable and made from all natural organic materials. We are confident you will love it as much as we do."
Though the description on Lap Log's home page describes it as an iPad stand, this stand will work with almost any tablet or ereader. How well does it work? Find out after the jump.
The Lap Log isn't some mass-produced item out of South East Asia; it's hand-made in the US. Manufactured from organic hemp and cotton fabrics, salvaged or sustainably grown wood, and naturally-grown buckwheat hull filling, everything used in the construction is eco-friendly and 100%  recyclable. No plastic parts that are going to snap off in this product.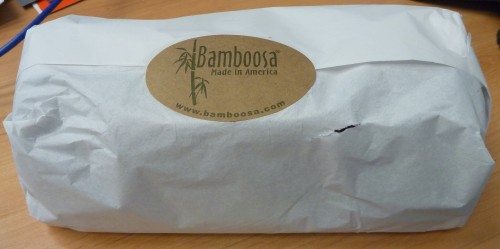 My Lap Log arrived in a nice sturdy box, and when I opened it up, I got a pleasant suprise.  The Log was nicely wrapped in tissue paper with a discreet recycled paper sticker on it. (I wonder if I can contract them to wrap my Christmas presents :))  Because the Lap Log comes in a variety of colours and this was a review unit that I didn't get a chance to choose, it was going to be a bit of a suprise as to what colour I got. (It was actually a bit like Christmas.) Inside was a Dark Brown Lap Log. (Sorry, the picture below doesn't show the true color).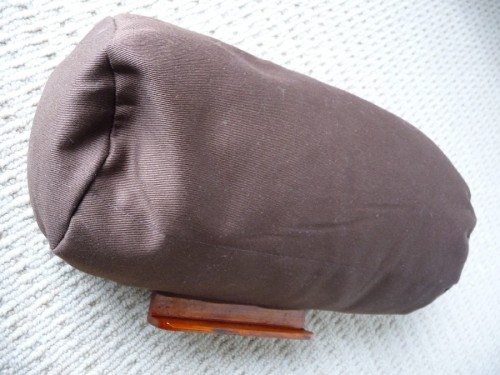 Each Lap Log is around 11″ X 6″, though the dimensions may vary slightly because they are handmade. The width of the interior of the wooden insert is 0.625 inches, so anything under that will fit, including many tablets with cases – which is often a problem with stands.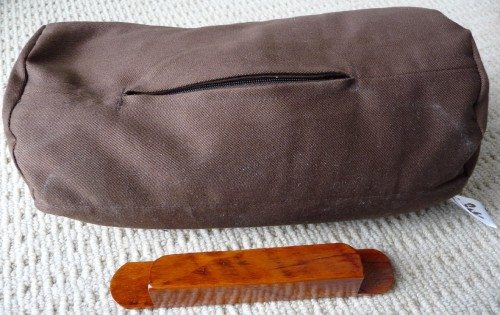 The wood insert is removable.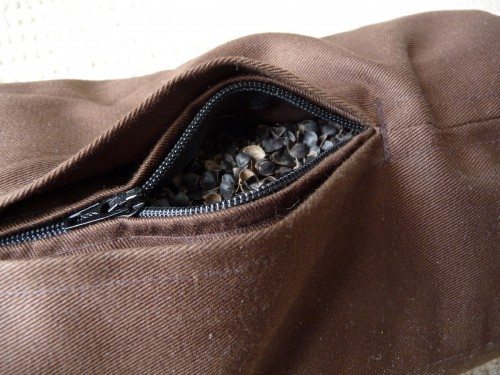 The zipper to access the filling is under the insert, so there's no chance of the zip scratching your tablet. If your pillow gets dirty, you can just remove the wooden insert, empty out the hulls and wash the pillow, dry, re-assemble, and you're good to go again. Stitching is nice and clean with no loose threads and looks strong.  Here's hoping it is, or someone will be cleaning up wheat hulls 🙂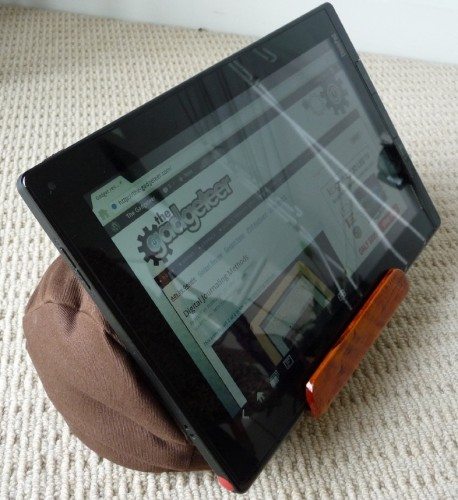 So here it is with my Lenovo Thinkpad Tablet.   This tablet is thicker than most tablets because of the full size USB port, and you can see it fits just fine, so other tablets certainly shouldn't be an issue, even in a case.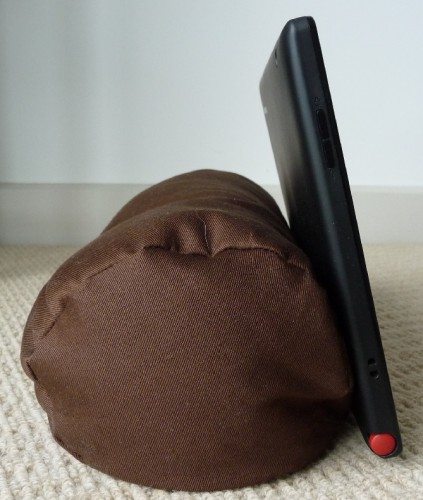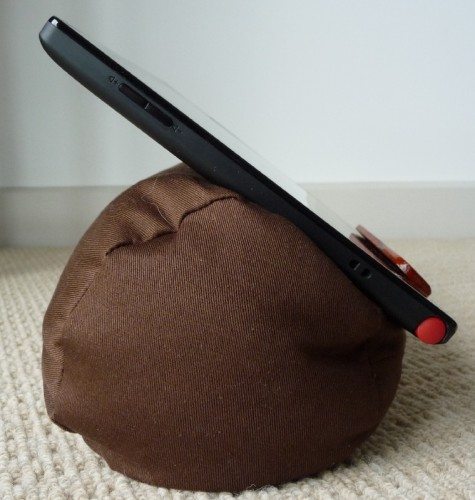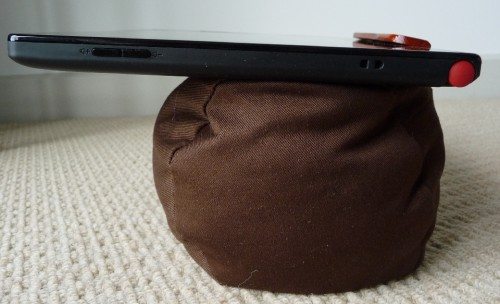 By moulding the pillow you can make your tablet sit at any angle from horizontal to vertical and anything in between.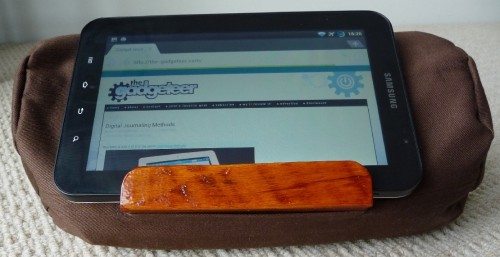 As mentioned above, it's not a custom fit for any particular tablet.  Here it is with a Samsung Galaxy Tab 7″.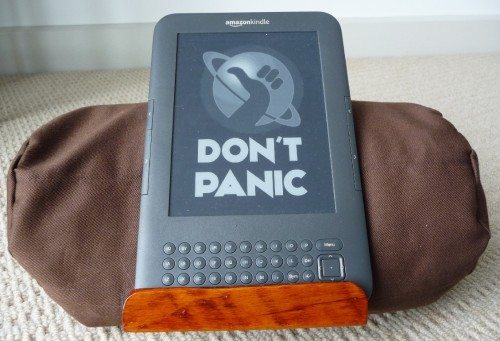 And here it is with a Kindle for hands-free reading.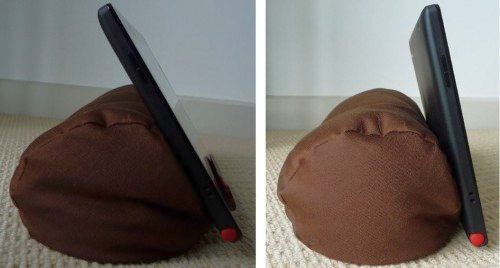 I think whoever manufactured this Lap Log got a bit over-zealous with the wheat hulls.  I found that when I put it on my lap, it wouldn't mould to my lap properly.  It was just too "solid" and kept rolling around. It was an easy fix, though; I removed a handful or so of the hulls which made the pillow a bit floppier.  You can see the difference in the pictures above: on the left is the "modified" and on the right is the "original". It may well be that as the pillow gets used more it will become floppier as the hulls compress and break, and I'll be able to restore the removed hulls.
In terms of portability, it's nice and light; however, the bag itself is a bit bulky and does take up a fair amount of space in your gadget bag. Lap Log suggests that you can even use the stand as a neck pillow when you travel, which is a nice idea, but it's a bit hard still at the moment – but again, the hulls may break down and soften up after some use.
In and around the house, the Lap Log has proved itself extremely useful. It's been used on laps, on tables, on beds and benches, and not just by me. On the lap it never gets uncomfortable, and your lap doesn't get sweaty or anything like that because of the cotton construction.  Viewing angle is never an issue because it's got almost infinite adjustability (not infinite improbability..let's see who gets that reference 🙂 ). I've thrown it on the dashboard of the car while waiting for kids to finish activities, something that was always a pain to do with other stands, normally because of trying to achieve the correct viewing angle coupled with making sure your tablet doesn't fall off the dash.
One thing worth pointing out, and it'll probably only effect those who are a bit "OCDish" about their toys, is that there's no padding on the insert.  Some people may worry about it scratching or denting their device.
And the price…..yes I know it's hand made in the US, yes I know it's 100% recyclable natural materials, but $46 might be considered a bit much for a piece of wood, some cotton fabric, and a bag full of wheat hulls.
If you're looking for a high-tech and portable stand, then the Lap Log isn't for you. If however you're after a versatile, "semi-portable" solution mainly for around the house, then the Lap Log might well  be worth you having a look at.  Its comfort on the lap and versatility in stability, viewing angle, and orientation are great, and the fact that you can use it for numerous electronic devices is just cream on top.

Product Information
Price:
$46
Manufacturer:
Lap Log
Retailer:
Bamboosa
Pros:

Versatile - fits many different devices
Can be used on many different surfaces ( including your lap )
Infinite screen angle adjustment
100% recycled materials and 100% recyclable
Easily cleaned

Cons:

Bit pricey for what it is
Bit bulky for portability