We use affiliate links. If you buy something through the links on this page, we may earn a commission at no cost to you. Learn more.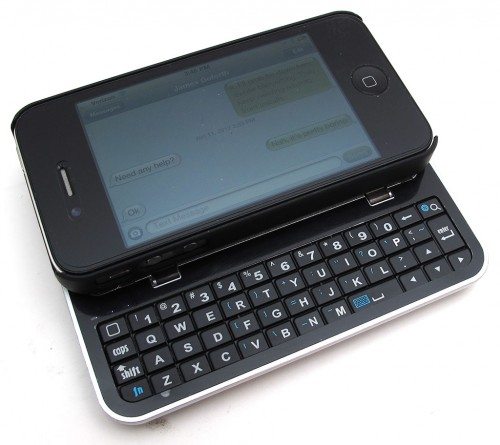 Sometimes when I'm being nostalgic and remembering how much I loved the Palm Treo smartphone, I start wishing my iPhone had a physical keyboard. Real keys beat touchscreen keyboard keys any day right? I decided to find out by trying the iPhone 4/4S Sliding Bluetooth Keyboard Case and Stand Combo from CELLMACS, which adds a slide out keyboard to your iPhone.
Note: Click the images in this review to see a larger view.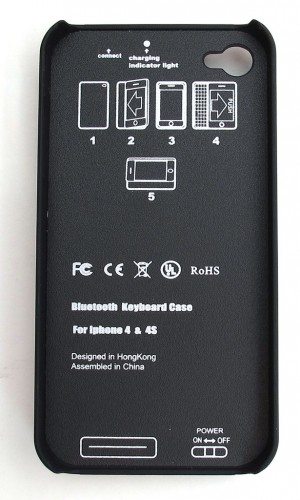 The keyboard case is comprised of two parts. The top part is a snap on plastic case that is made specifically for the iPhone 4 or 4S.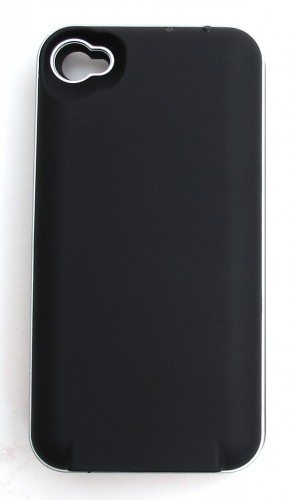 It provides a cutout for the camera lens and LED flash.

It also allows access to the mute and volume buttons.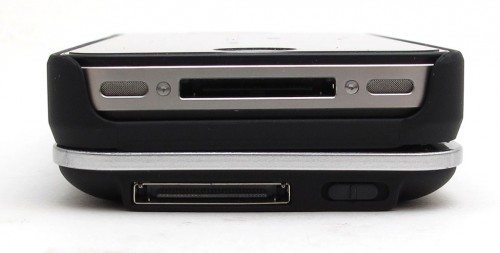 The speakers and docking port are easily accessible. You'll also notice a 2nd docking port connector and a power switch on the lower half of the keyboard case. This is how you charge the keyboard. Since it's Bluetooth and does not have a physical connection to the iPhone, it requires its own battery. You can you use your iPhone cables to charge this keyboard.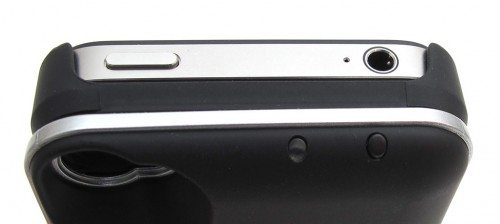 When the keyboard is charging, the status LED will light up in Red and will turn off when charging is completed. Next to the LED is a small button that is used to initiate pairing mode.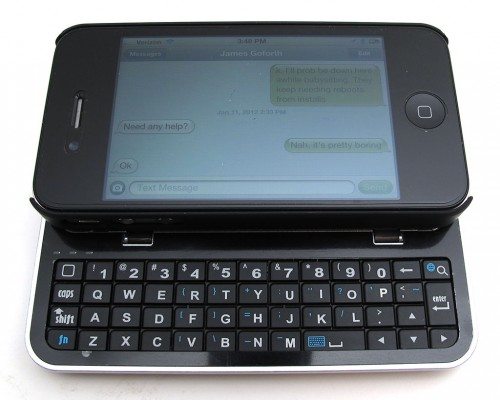 To use the keyboard, you slide the power switch to the On position, pair it with the iPhone and then slide out the keyboard. It has a nice spring loaded sliding mechanism that feels sturdy.
The QWERTY keyboard is flat, but the keys have good physical and audible feedback when pressed.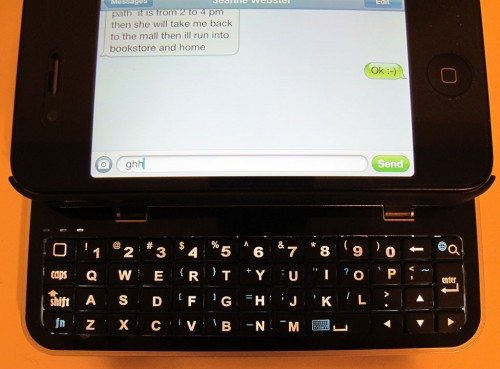 The keys are are also backlit, which is a nice feature.
The layout is ok. It's obviously not a full sized keyboard that you can touch type on, so it's hard to criticize it for being small. I do like that there's a row of dedicated number keys and that access to punctuation symbols isn't too difficult. What I don't particularly like is the location of the space bar. I'd rather it was in the bottom center instead of off to the right.
The only iOS specific key is a home button in the upper left corner.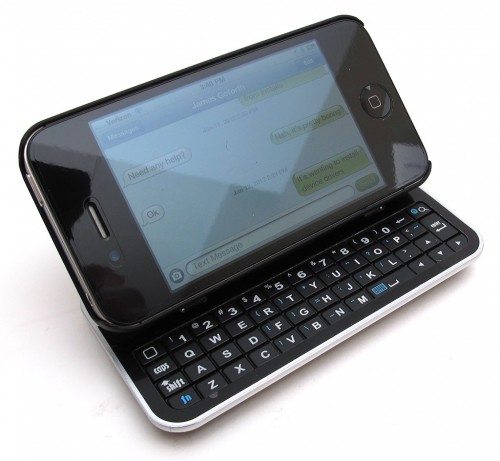 A feature which adds a little pizzaz to this case is the fact that keyboard case doubles as a stand. It is on a hinge that you can tilt up to make your iPhone look like a tiny laptop.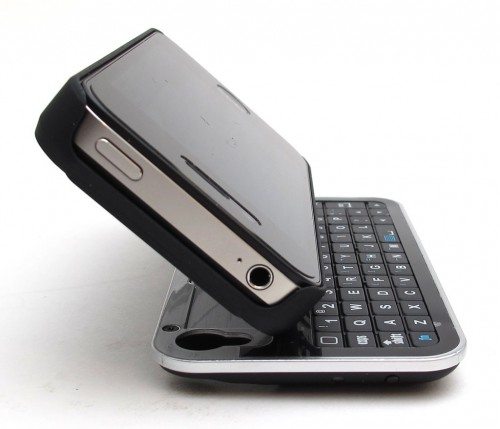 You can angle the iPhone like you see above or lift it all the way to 90 degrees.
I like the stand feature, but the keyboard, not so much. I've been using it off and on for a week or so and my nostalgic feelings for a physical keyboard wore off really quickly. For me, it felt harder to use this physical keyboard than the onscreen version. There are three main reasons, why I would not personally use this product. First of all, it's too bulky for my taste. It doubles the thickness of the iPhone. Secondly, double tapping the space bar does not automatically insert a period and then auto capitalize the next word like when you use the onscreen keyboard. And lastly, words do not auto correct when spelled incorrectly. These last two complaints are probably not the fault of this particular keyboard. It's been awhile since I've used one, but I'm guessing all Bluetooth keyboards perform the same. Someone correct me if I'm wrong. Regardless, it still annoys me. I never really hated the iPhone's onscreen keyboard in the first place, but now I appreciate it even more than I did before. That said, I still wouldn't mind having the ability to switch the onscreen keyboard with Swype or Swiftkey replacements. Oh yeah, that's only for Android. Drats 😉
Product Information
Price:
$39.99
Manufacturer:
CELLMACS
Requirements:
Pros:

Physical keyboard
Doubles as a stand
Backlit
Long battery life

Cons: