We use affiliate links. If you buy something through the links on this page, we may earn a commission at no cost to you. Learn more.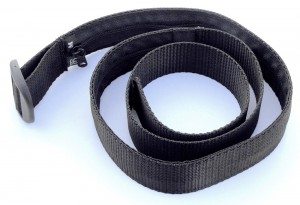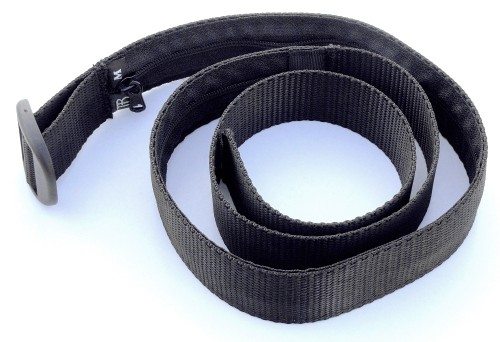 Tom Bihn is known for smartly-designed, well-built, made-in-USA travel bags. But their passion for "Portable Culture" extends to travel accessories as well. Tom Bihn recently introduced several new items to make your travels a bit easier, among them the Travel Money Belt. Onward!
Specs
From the Tom Bihn website:
Materials

: Webbing is 1.25″ (32mm) wide nylon webbing; buckle is plastic;  zipper is 20″ (500mm) #3.5 YKK coil zipper with plastic zipper slider

Sizes

: Extra Small fits waists 26″-28″, Small fits 30″-32″, Medium fits 34″-36″, Large fits 38″-40″, Extra Large fits 42″-44″

Colors

: Black

Location of Manufacture

: TOM BIHN Factory in Seattle, Washington, U.S.A.
Packaging
While Tom Bihn typically has some branding on their packaging, for this item it was pretty nondescript.  Just a simple padded envelope.  Thumbs up for lightweight and easy to open.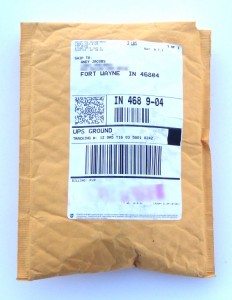 Unboxing…er…Unenveloping
The Belt had just one simple product tag sporting the wistfully nostalgic plane logo present on many of Tom Bihn's products.  I just slid the tag off and that was it.  Easy peasy.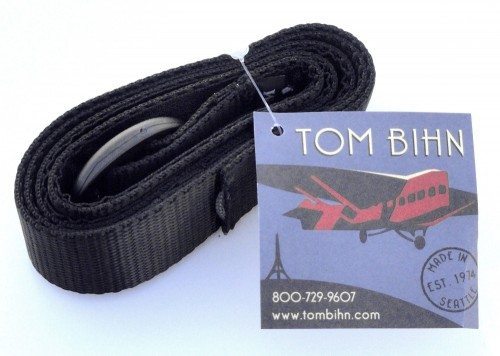 The Belt
The belt, like all of Tom Bihn's products, is simple but with just the intended features.  It's basically: belt, buckle and hidden zipper compartment.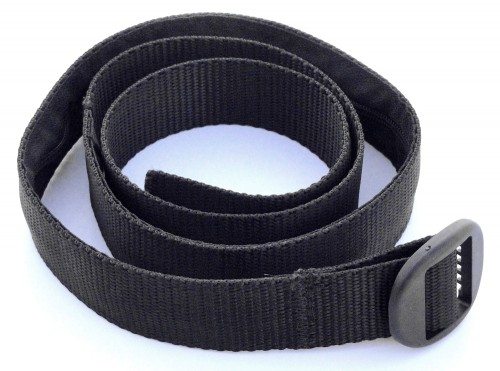 The belt is available in any color you want, as long as it's black.  Sorry, old joke, but it's true.  No worries to me—black goes with everything, right?  It's also nondescript, which is what you want in a hidden compartment belt.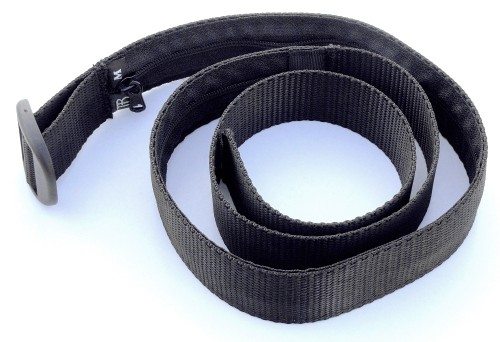 Never miss one of our posts again. Sent MON, WED, and FRI with the latest gadget reviews and news!
The buckle is straightforward, easy to use and adjustable (within its size range).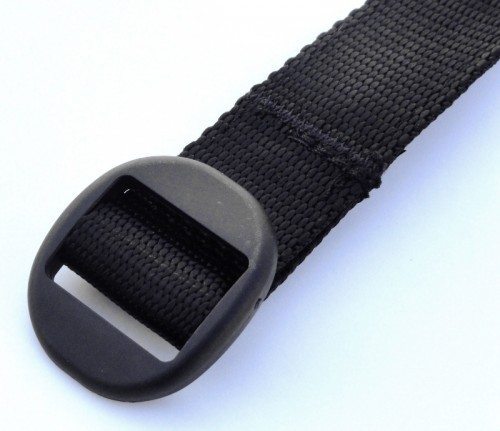 The opening of the hidden zipper compartment has two tiny tags.  One indicates the size, the other has a small Tom Bihn logo.  The zipper pull is tiny as well, but not so small that I couldn't grab and pull it easily.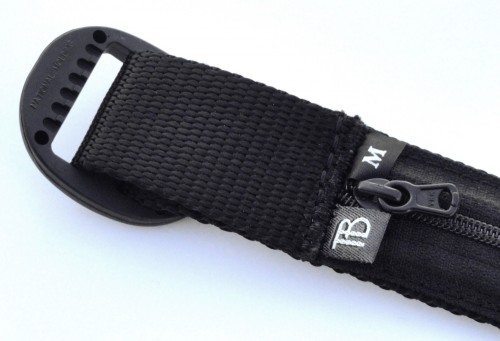 The Belt's hidden compartment can be used to hold things that you might need as backup or in an emergency while traveling.  Below, I've shown a $20 bill folded longways as just one example.  Others items might be important directions to a must-visit pub, a list of secret passwords or a copy of your passport.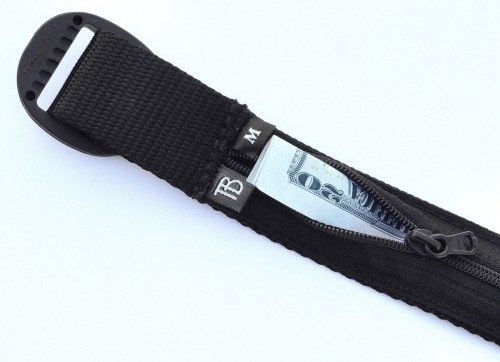 The only flaw I found on my Belt was on the free end.  The fibers of the nylon webbing had been melted together, presumably in an attempt to prevent fraying.  However, there was still some minor fraying at the tip that looked like it might progressively worsen if I ignored it.  I just took a lighter and re-melted the fibers at the tip.  Problem solved.  (DISCLAIMER: Do this at your own risk and if you do, please be careful.)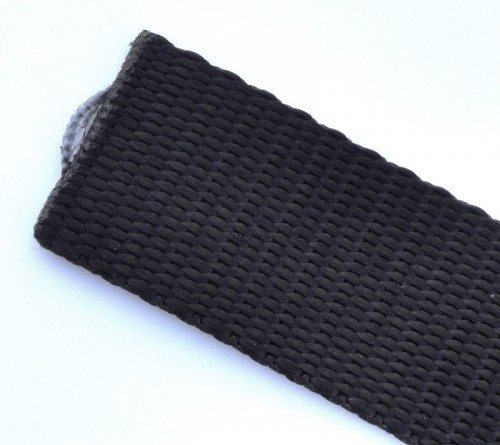 The hidden compartment is 20″ in length on all belt sizes.  This provides a fair amount of space into which you can stuff things, as long as the stuff you're stuffing is narrow, thin and bendy.  The Tom Bihn site claims that it can hold "up to 15 US $100 bills."  I should note that the belt and compartment are NOT waterproof or water-resistant.  This means that if you are hiking through an equatorial rain forest and perspiring profusely, get caught in a torrential downpour, or misstep and fall into a murky bog, the contents are very likely to get wet.

The buckle is a solid piece of plastic.  In fact, the entire belt—buckle, webbing, and zipper—are all non-metallic.  Per the Tom Bihn site, this means, "you can wear it through some airport security checkpoints (not Advanced Imaging Technology, though)."  However, in my travel experience, more and more airport security checkpoints are requiring travelers to simply remove their belt, period.  Combining this with the Advanced Imaging Technology situation could make a non-metallic belt less of a benefit in the future.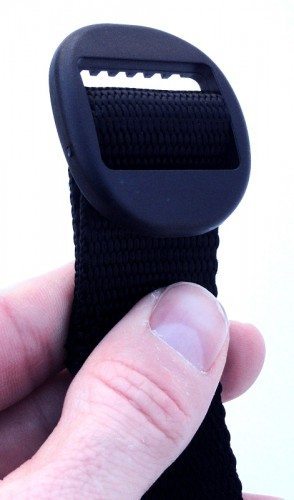 The belt is comfortable to wear.  I didn't even notice the zipper or mini zipper pull while wearing it.  Regarding sizing, I asked for a belt in size Medium, which is intended to fit waists size 34″ to 36″.  My waist measures just shy of 34″; however, the Medium belt seemed like it could have been a bit longer—there wasn't much excess as can be seen below.   I am dubious that it would fit anyone with a waist size up near 35″ or 36″.  One suggestion is that at 1.25″ wide, the belt could have been a bit wider.  This is just a personal preference as I'm not typically a wearer of narrower belts; however, a wider belt might allow a slightly larger items to be placed in the hidden compartment.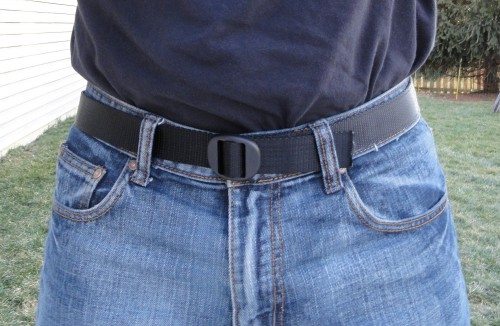 Conclusion
In classic Tom Bihn fashion, the Travel Money Belt is simple and straightforward.  It is built solidly of heavy nylon webbing with an adjustable plastic buckle and features a hidden, zippered compartment useful for storing spare cash or other items while traveling (but it won't protect against moisture).  The belt could be a bit wider for my personal taste, and the sizing is a bit questionable, but at $20 it is affordable, comfortable to wear and does its job—both holding hidden items and holding up your pants.
Update 03/26/2015
I wore this once or twice and then decided to cut several inches off of it and give it to my son.
Source: The sample for this review was provided by Tom Bihn. Please visit their site for more info.
Product Information
Price:
$20.00
Manufacturer:
Tom Bihn
Requirements:
Pros:

+ Solidly constructed
+ Simple to use
+ Comfortable to wear

Cons:

- Stated sizing may not be accurate