We use affiliate links. If you buy something through the links on this page, we may earn a commission at no cost to you. Learn more.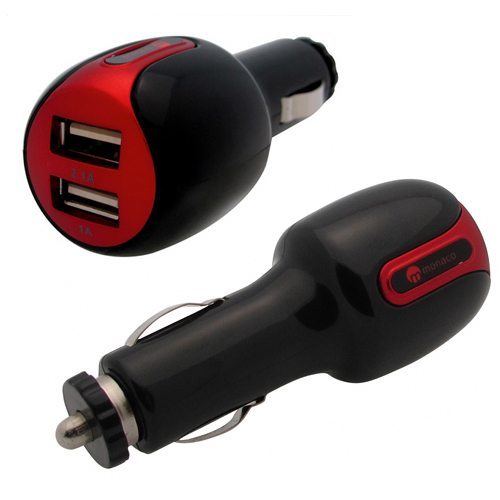 Extreme is right!  The Monaco Extreme Charge Car Power Adapter, simply put, is the best money you're going to spend for car charger.  And you're not going to spend that much. WirelessGround sent one of these chargers to The Gadgeteer for review, and you'll find that their price of $14.95 isn't going to break the bank. You can pay more and you will do worse.
If you're anything like me, you're running low on juice for ALL of your electronics.  You see, I'm not a nerd, I don't even play one on TV.  But I love them.  I love nerds, geeks, smarty pants…whatever you want to call them.  Some girls like rogues who speak in flowery (read: B.S) words.  I like a guy who can sing the Periodic Table of Elements to me.  What can I say…I'm weird like that.
But for all my quirks, I just don't recharge my toys with the same fervor as say…my husband the software engineer.  For him, everything gets plugged in at night before bed religiously.  Like brushing his teeth, he plugs in his laptop, tablet, phone, Sprint Overdrive…whatever…if it's electronic and he needs it to get 3 to 4G coverage, it's plugged in at night.   So you can imagine his consternation when I get into the car and my phone is dead or my laptop is powered at 15% or I just don't get that the Overdrive needs to charge.
The Monaco Extreme is the Bang for your Buck that you're looking for.  At 3.1 amps (2.1 and 1.0 respectively for the two USB outlets), you will charge and charge fast, and you can charge two devices at the same time.  If you're like me…you've got electronic devices running on fumes.  You want that second port.  You NEED that second port.
Your 2.1 AMP port is going to charge your tablets, iPads etc., while your 1.0 AMP port will charge smart phones, iPods, iPhones etc.  Totally compatible with just about everything.  "Compatible with the (but not limited to) Apple iPad, Apple iPad 2, Apple iPhone, Apple iPhone 3G, Apple iPhone 3GS, Apple iPhone 4, Apple iPhone 4 (White), Apple Verizon iPhone 4, Apple iPhone 4S, Motorola Xoom, Samsung Galaxy Tab, Samsung Galaxy Tab 7.0 Plus, Samsung Galaxy Tab 7.7, Samsung Galaxy Tab 8.9, Samsung Galaxy Tab 10.1 devices and other USB supported smartphones, tablets and devices."   No kidding.   It's sleek, it's sweet, it's inexpensive, and it just works.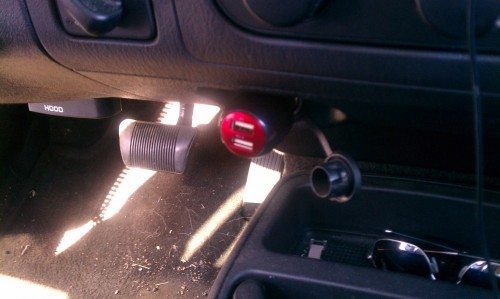 In the photo just above, notice my power outlet with the Monaco Extreme Car Charge Power Adapter plugged in. (And please look past the obvious need to vacuum my SUV.)   And let's face it, those of us who run TeleNav or other GPS applications from our smartphones know full well what a juice suck those apps are.  It helps to have a cool charger with 3.1 AMPS to power up your gear when you're mobile.
It's normally priced at $29.95 but theWireless Ground currently has them priced at 50% off.  I'd stock up.
Product Information
Price:
Normally $29.95, the website had them for 50% off at $14.95
Retailer:
WirelessGround
Requirements:
Pros:

Charges like a dream.
It's lightweight, it's fast, it's inexpensive and charges up electronics quickly.
Extremely versatile.

Cons: