We use affiliate links. If you buy something through the links on this page, we may earn a commission at no cost to you. Learn more.

How do you add a little flash to brushing your teeth?  Why, with a Firefly Toothbrush, that's how!
Getting kids to brush for the dentist-recommended two minutes has always been a challenge.  The Firefly Toothbrush lights up and blinks for one minute, making teeth brushing fun so kids will do it longer.
The premise is simple:  The Firefly Toothbrush contains a blinking LED in the handle that turns on once you squeeze the bottom.  What's more fun than things that light up?
The toothbrushes come in a wide variety of age ranges (4-24 mos, 2-4 years, 5-7 years, 8+ years) including character brushes, such as Hello Kitty, Hot Wheels, Barbie, Spider-Man.  You can actually test out the toothbrush blinking from the opening on the bottom of the package.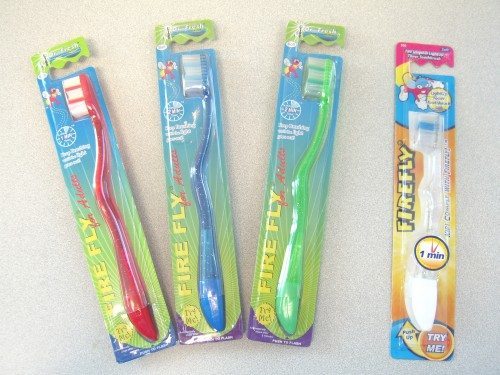 I was sent a small, non-character based assortment to try out.  Since I have a 5 year-old son, I thought I'd try out the smaller kid version, which measures just under 6 inches long.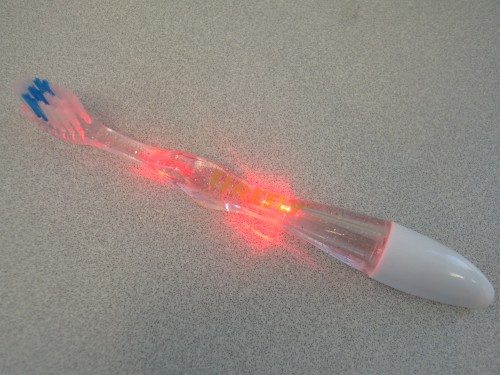 Once you turn it on, the LED starts flashing for one minute (or two, depending on model).  Because it's on a timer, kids can't "cheat" and turn it off again.  It also doesn't seem to reset the timer, either.  It just goes for one minute and turns off.  Did you start on your top teeth?  When the blinking stops, you work on the bottom row.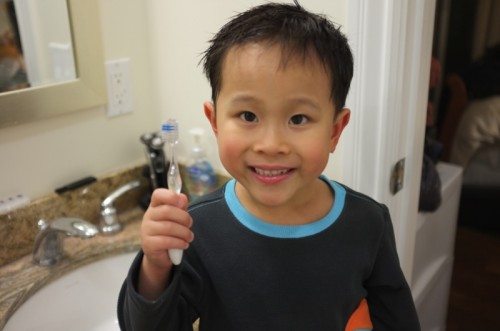 The toothbrush is designed for 200 uses, or 3 months, according to Firefly.  Just as well – the batteries in the handle are not replaceable.  I tried pulling the end cap off, but it seems if I did, I probably wouldn't be able to put it back together without damaging it.  Besides, if the batteries run out, it's probably time to replace your toothbrush anyway.
Product Information
| | |
| --- | --- |
| Price: | Starts at $1.49 MSRP, street price may vary |
| Manufacturer: | Firefly |
| Pros: | Clever LED light built into the handle encourages kids to brush. |
| Cons: | Can't replace batteries if they go out prematurely, or for you hacker types. |