We use affiliate links. If you buy something through the links on this page, we may earn a commission at no cost to you. Learn more.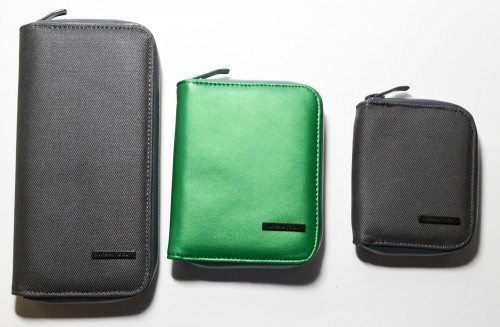 Urban Tool is an Austrian company that makes "stylish accessories for portable gadgets."  They also make small accessories like these wallets they sent to The Gadgeteer.  Let's give them a look.
Most of the pictures in this review, including the top photo, can be clicked for an enlarged view.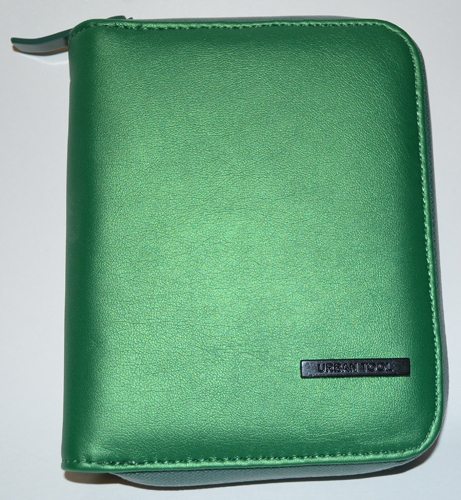 Urban Tool identifies these as Wallet 1 (smallest), Wallet 2 (medium), and Wallet 3 (largest).  Wallet 1 measures about 4.25″ X 3.5″ X 0.85″ thick; it weighs about 1 ounce.  Wallet 2 is about 5.0″ X 4.1″ X 0.85″ thick; it weighs about 1.7 ounces.  Wallet 3 is about 7.8″ X 3.75″ X 0.85″ thick; it weighs about 1.9 ounces.
The wallets are plain on the outside except for the metal Urban Tool badge located at a corner.  The wallets are made of either plastic coated 100% cotton denim (the two dark wallets) or 100% metallic PVC (the green one).  There are no pockets on the exterior of the wallets.  The two cotton wallets have a plastic coating on the fabric that should make it a bit more water resistant.  All three wallets have a very strong petrochemical smell that simply doesn't go away.  I'm not sure it's even less noticeable after two weeks than it was when I first removed them from their zippered plastic shipping bags.  It's a very unpleasant smell.
Each wallet comes in a variety of colors.  I received Wallet 1 and Wallet 3 in Denim Titanium and Wallet 2 in Peppermint PVC.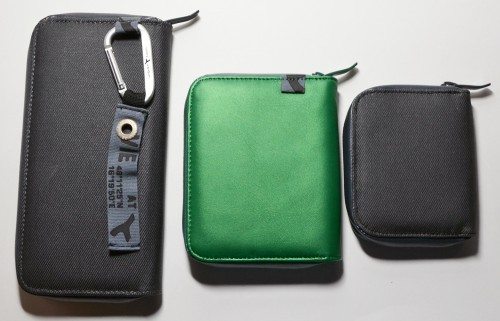 The back of the medium and the large wallets have little ribbon tabs sewn into the seam.  You can clip a carabiner here to hold your keys.  Wallet 3 comes with a carabiner that is embossed with the Urban Tool name and fitted with an Urban Tool ribbon tag.  Wallet 2 doesn't come with a carabiner.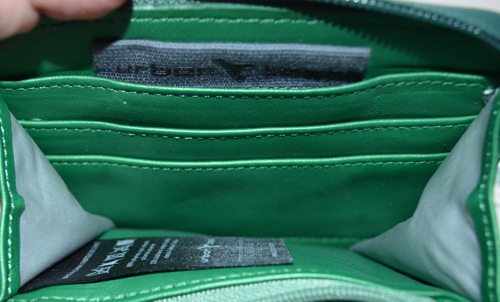 Inside, the wallets have a logo ribbon sewn onto one of the inside pockets.  They also have a care tag that says the wallets aren't washable nor dry-cleanable.

All three wallets zip closed.  The zippers are the water-resistant style that look like they were installed backwards with the teeth inside the wallet.  The outside has a plastic coating to prevent water from soaking through.  This should be sufficient to get you from the car to the house when it's raining, but don't think about swimming with the wallet in your pocket. 
  All three zippers have plastic teeth and metal pulls.  The zippers and pulls coordinate with the wallets' colors.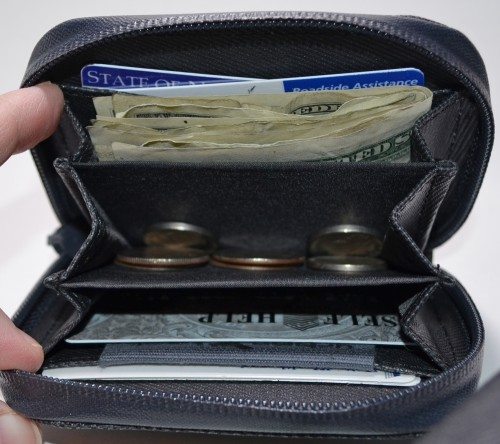 Wallet 1 is very small, with just enough room for a little money and a few cards.  I found I could put a couple of cards in each of the outermost slots.  It was a tight fit getting the cards in there, and I found I had to try to bend the zipper away from the corner to get the cards out.  There's a closed-bottom pouch sewn into the gusset that holds change.  The two pockets between the change pouch and the outer pockets can hold a couple more cards or some receipts.  This wallet should fit easily into your pockets or your purse.  Other than the smell, you'll hardly notice you have it with you.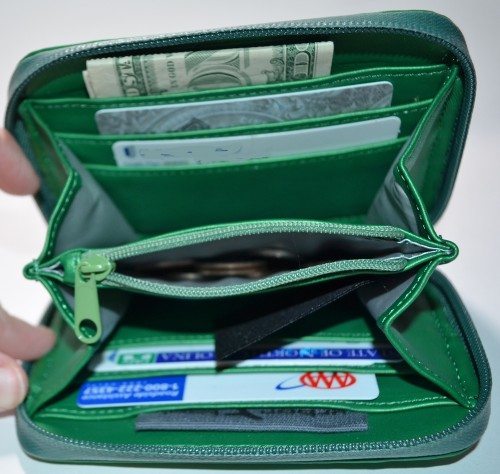 Wallet 2 is much roomier inside.  The pockets are longer than those in Wallet 1, and the cards are easier to get in and out.  There are three slots on each side.  The lower two are sized to hold cards and licenses, and the uppermost two are deep enough to hold some folded bills.  The coin pouch is zippered in this wallet.  The gusseting keeps things from falling out as you open the wallet, and it also forms a couple of extra pockets to hold more cards, receipts, or the like.  This wallet isn't big enough to hold my cellphone.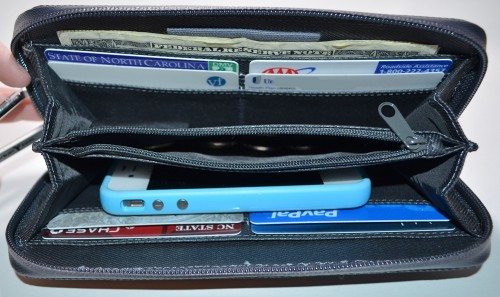 Wallet 3 is big enough to hold my iPhone 4, plus there's room for a checkbook (if you still use them).  There is a deep, full-length pocket that can hold cash along each side.  There are also four slots for cards on each side.  The zippered coin purse is sewn into the gusset, and there's plenty of room on each side for receipts, papers, a cellphone, checkbook, or the like.  With the included carabiner to attach your keys, you'll have everything you need for errands.  It's probably too big to fit in pants' pockets, and some men may not like the shape because it looks like a lot of women's wallets.
The Urban Tool Wallets are well-built and sturdy, so they should be able to carry your cards, cash, an even a cellphone in Wallet 3.  They come in a variety of colors and sizes, so men and women should be able to find one to fit their needs.  The only negative I see with these wallets is the strong, unpleasant smell.  Hopefully it will eventually dissipate.

Product Information
Price:
$22.00 - $30.00 from Amazon in the US
Manufacturer:
Urban Tool
Retailer:
Amazon in the US
Pros:

Variety of sizes, colors, and materials
Water-resistant zipper
Gusseted construction to prevent things from falling out
Wallet 3 is big enough to hold your phone and a checkbook

Cons: