We use affiliate links. If you buy something through the links on this page, we may earn a commission at no cost to you. Learn more.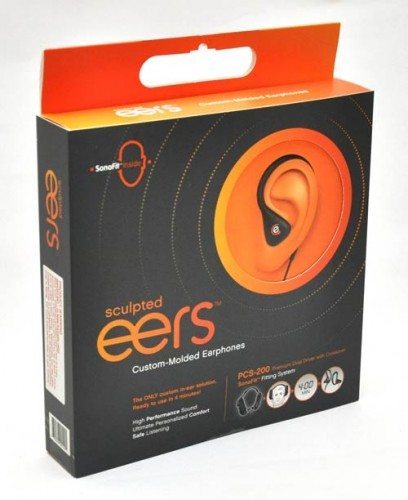 Over the past few years, I have had no less than three custom monitors created for me. All of which involved a separate trip to the audiologist to have specially-made molds of my ears created for the monitors to be made from. These visits had to be scheduled and involved a commute to have pink goo injected into my ear canal. The molds were then shipped and took many weeks of waiting for the monitors to be manufactured and shipped back to me.  This is a time-horizon potentially spanning months before actually having your custom fitted earbuds in your possession. sculpted eers have created a system that reduces the many week wait to a mere four minutes. They promise great sounding custom-fitted/molded earphones in less than thirty minutes, start to finish.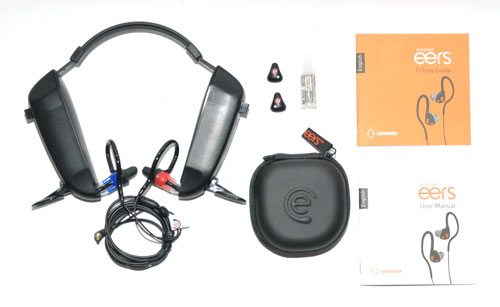 Package Contents:
SonoFit Fitting System
1 – Tube of Fitting Lubricant
2 – Earphone Faceplates
1 – Carrying Case
1 – User Manual
1 – Fitting Guide
Specifications:
Typical Weight – approx 15 g (0.53 oz)
Cable – 1.3 m (50 in.) kink-resistant
Connector – 3.5mm (1/8") gold-plated stereo jack
Typical nominal impedance – 90 ohms
Sensitivity – 106 dB SPL /146 mVrms @1 kHz
Maximum output level – 120 dB SPL
Frequency Response – 20 Hz – 20 kHz
sculpted eers manufactures two types of earbuds, the PCS-200 (which you see here) and the PCS-100 custom fitted earpieces. While they look basically the same, the PCS-200 have premium dual drivers with crossover and the PCS-100 have a single driver with enhanced bass.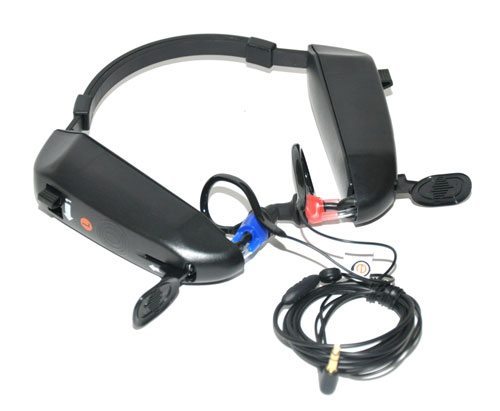 This interesting looking device is the SonoFit system created/designed in partnership with Sonomax. The SonoFit system produces custom fitted eartips without the assistance of an audiologist. That seems fine and dandy but is sadly a one shot deal. Once you begin this multiple step process, there is no turning back and you get, what you get…..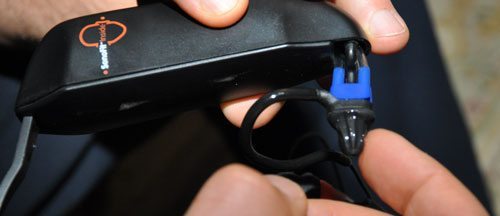 The first step in the process is to lubricate the eartips so that they may more easily move while they form to the inside of your ear. As you would expect, the SonoFit system includes a small bottle of oily liquid. The key is to spread a good amount evenly on both eartips.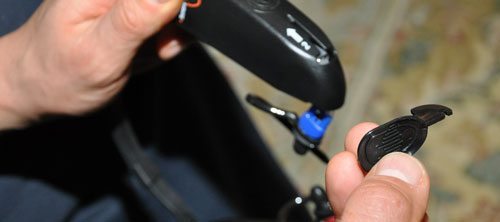 While I was carefully applying the lubrication, one of the switches fell off the system.
Never miss one of our posts again. Sent MON, WED, and FRI with the latest gadget reviews and news!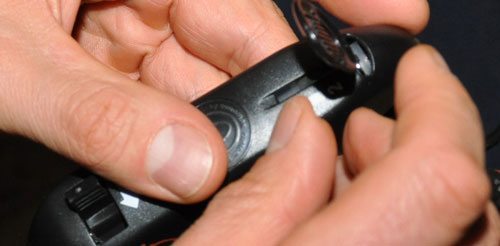 It was easy enough to put back in place but seemed a bit cheesy that it fell apart so readily.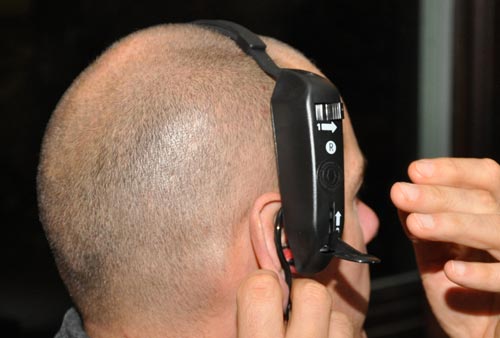 The next step is to actuate the #1 flipper switch on both earpieces and then place the SonoFit system on your head. The system needs to be precisely situated on your head. This is due to the fact the formation process locks everything into place, just as you want the finished earpieces to sit.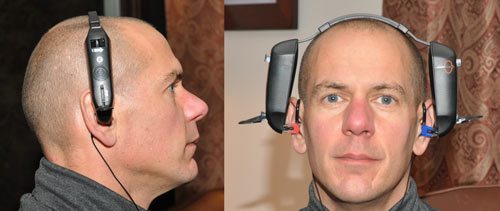 Once seated perfectly on your head and within your ears, you flip the second set of leavers and the process begins. You must remain still with your jaw loose. No talking or smiling. During the four minutes, there is definitely movement inside your ears as the eartips mold to the inner shape of ear canals.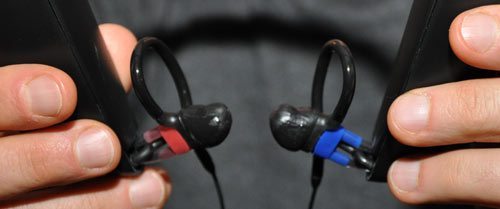 After the four minutes of transformation, you carefully remove the SonoFit assembly from your head. As you can see, the eartips have changed shape.
The next step is to remove the PCS-200 (now) custom-fitted earpieces from the SonoFit headset. This was the easiest, simplest part of the process. Once you clean off the eartips and connect the earphone faceplates, your new earbuds are supposed to be good to go……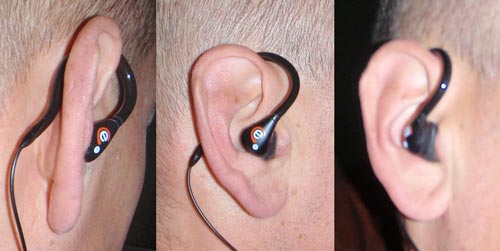 In regards to 'custom fitted', they do not fit my ears very well at all. They do not stay set within my ears, as they sit on the outside of my ear canal instead of in them. This leads to, at best, poor to mediocre sound quality since they do not set properly in my ears. The highs and mids are alright but most of the bass is totally lost.
When I force the eartips into my ears, the openings where the sound comes out is up against the wall of my ear and I cannot hear a thing. If I manipulated them right over the opening to my inner ear, they momentarily sounded very good. Once I removed the force holding them in place, they lose their seal and returned to sounding fair.

My theory behind this failure to form properly is due to the 90 degree turn my ear canal makes. This picture of my UE Pro 7's and JHAudio JH|5 ear monitors illustrate just how dramatic the turn is.
The crazy thing is, they fit the Gadgeteer Kid's ears better than mine. According to him, they sound very nice and feel good. So, at least, they will not go to waste.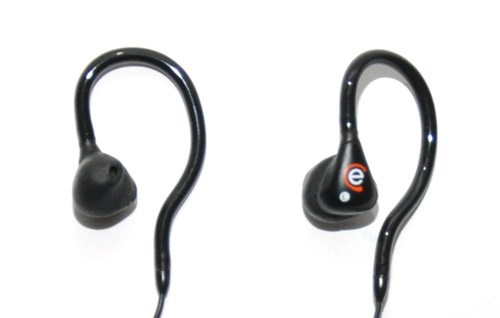 Form fitness aside, the earbuds themselves are well made but are definitely not professional, custom-made monitors either. They are made well enough, but to be painfully honest, there are better alternatives (that would be more or less a sure thing) at the $200-$300 price range.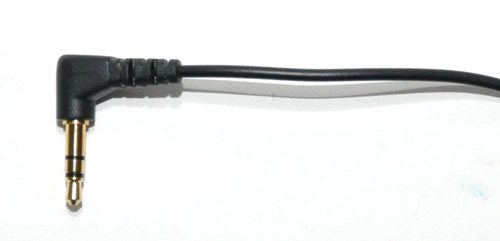 The cable is 1.3 m (50 in.) long and kink-resistant. The plug is gold plated and well enough constructed.
I find it very difficult to recommend any 'do-it-yourself' system that utterly failed me, especially when it costs between $200 (PCS-100) to $300 (PCS-200). If the SonoFit system had created me a form-fitted set of (great sounding) earbuds, I would say at $300 its a good deal considering the instant gratification of a custom-fit pair of earbuds in 4 minutes. However, since this is one-shot deal, as I stated above there are better options for the same or even less money.
Product Information
Price:
$299.99
Manufacturer:
sculpted eers
Pros:

- Well made earbuds
- Do-it-yourself custom made/fitted
- Instant gratification (30 mins)
- Good instructions
- Kink-resistant cord

Cons:

- One-shot deal
- Did not work for me
- Expensive