We use affiliate links. If you buy something through the links on this page, we may earn a commission at no cost to you. Learn more.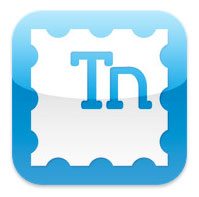 Touchnote is a free app for iOS devices that will allow you to create and send a postcard to anyone in the world. I'm not talking about an electronic postcard, but an actual printed card with a stamp on it. Let's check it out.
Note: Click the images in this review to see a larger view.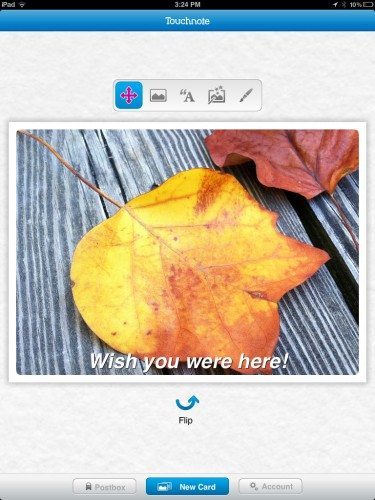 I tested Touchnote on my iPad 2, but it can be used on iPhones and an iPod Touch as well.
The interface is very easy to use as you can see in the image above. To personalize your card, you can choose an image from the photo library on your device, or from your Facebook photos. After you choose your image… you can only use one unfortunately… you can resize by pinching and zooming. You can also rotate the image, change it to black/white or sepia tones or even draw on it. There is also an option to add a text caption. All of these customization features are very easy to use. Unfortunately, they are too simple in my opinion. You can't move the text caption, can't specify the font, font size or color.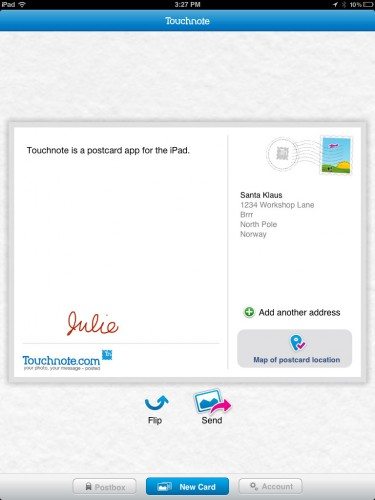 The options for customizing the back side of the card are limited as well. You can add your note, but do not have control over the the font, color or size of the text. You can sign your name with your choice of 12 colors including white… which is odd because it wouldn't even show up on the white background. The recipient's address can be selected from your existing address book on your device, or can be entered manually. There's even an option to have a small map added to the card to show where it came from. That's a nice little touch for vacation postcards.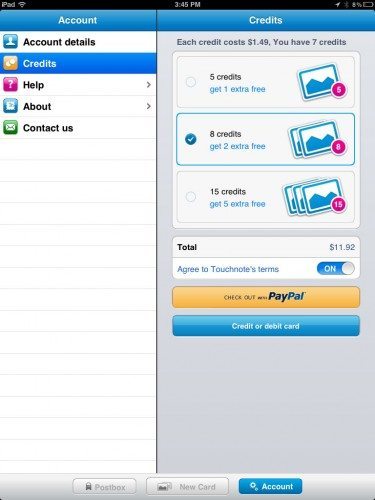 In order to send the cards, you'll need to purchase some credits through the app. You can do this using a credit / debit card or your PayPal account. A credit is $1.49, £1.49 or €1.49 and will allow you to send 1 card. If you purchase 5 credits, you'll get 1 extra credit free. Purchasing 8 credits will get you 2 extras and purchasing 15 credits will get you 5 extras for a total of 20 credits / postcards. The price really doesn't seem too expensive since postcards can cost up to a $1.00 or more and US postage to send a postcard is currently $.29
Never miss one of our posts again. Sent MON, WED, and FRI with the latest gadget reviews and news!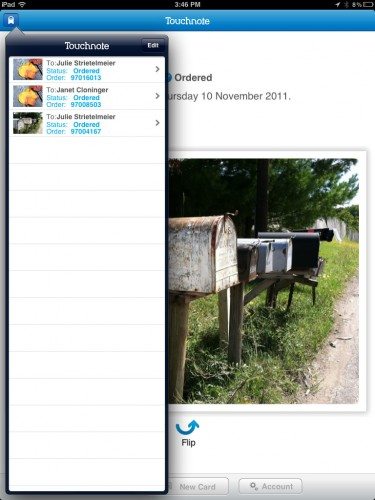 The app saves a history about the cards that you've created and sent. You also receive an email confirmation after ordering a card.
According to the app, cards are printed every weekday at 10am UK time and mailed 3hrs later that same day. Cards sent to US and UK address are supposed to arrive at their destinations in 1-4 days. Cards sent to other parts of the world can take longer depending on their local postal services. Of the three cards that I've sent (2 to myself and one to Janet in North Carolina), two arrived in 6 days (one of mine and Janet's). I've yet to receive the 3rd card that I sent to myself. I created it on 11/29. I'm guessing that I will receive it tomorrow on day 6.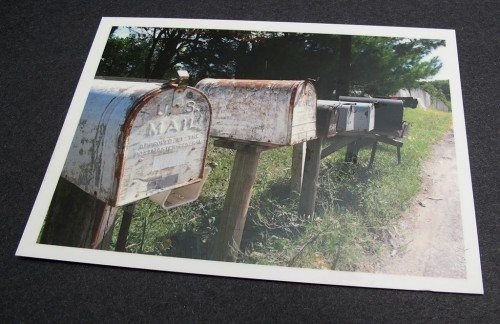 The cards are nice though. They are 6 x 4.25 inches and printed on glossy card stock. I wish the image could be printed edge to edge instead of leaving a white border. But the image is clear and the colors are nice.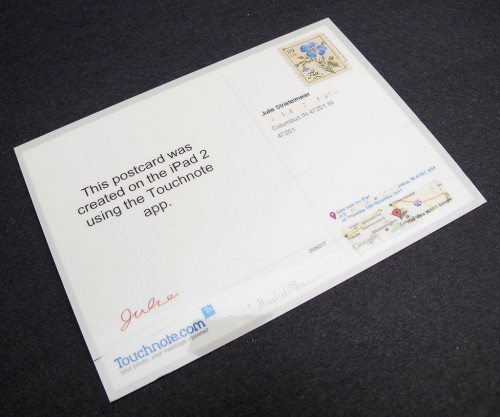 The back side is just as nice, but I did notice that the address on the map image was incorrect for my location (I've blurred out the addresses in the image above to protect the innocent).
I like this app, but wish it had more features and of course, I wish it that my postcards would arrive quicker to their destinations. I'm hoping that new features will be added as the application matures. It's still easy to use and very convenient to send a card right from your iPad without having to buy a physical postcard, find a stamp and then get off the couch to go put it in the mailbox. 🙂