We use affiliate links. If you buy something through the links on this page, we may earn a commission at no cost to you. Learn more.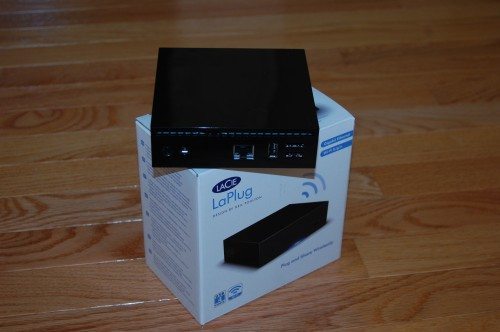 Doesn't everyone have a few USB Memory Sticks or a USB hard drive that they want to share their content with their family and friends?  Personally, I have a 500GB USB hard drive and a couple of 8GB Memory Sticks that I and my children constantly move from computer to computer to share content.   I have tried a couple of other proposed solutions, which I reviewed for The Gadgeteer.  None of the proposed solutions have panned out.  When I asked LaCie to review their latest addition to their portfolio of USB and NAS storage devices, the LaCie LaPlug, I had very high hopes that the product would deliver where others had failed.  The LaCie LaPlug is a tiny device that sits on your network and allows you to share up to four USB 2.0 devices with any computer on your network or the Internet, effectively building your own network attached storage device.  You will have to read on to find out if the LaCie LaPlug was able to satisfy my needs, or if it ended up in my Gadget Graveyard.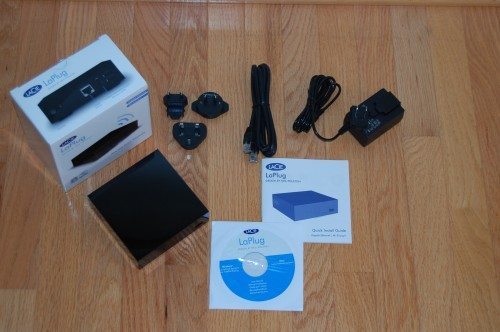 The packaging for the LaCie LaPlug is simplicity at its best, with two finger-pull out cardboard packages that contain the unit itself, power adapter, Ethernet cable, CD with software, instructions, and a few international power connectors.  This was a first in all of my reviews, a fully international-ready product right out of the box.  The team at LaCie decided to deliver a power adapter, aka power brick, that can have its power connector swapped out for the right one based on your global location.  A very nice touch that I am sure adds to the cost of the unit while making it available as a single part number globally.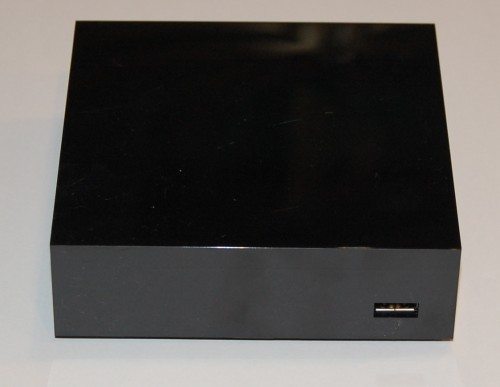 Measuring in at a tiny 119 x 119 x 37 mm / 4.7 x 4.7 x 1.5 in. and weighing 300 g /10.6 oz. the LaCie LaPlug is the size of several CD cases stacked one or top of each other.  With its small form factor I placed the LaCie LaPlug in my wiring closet to be closest to my router.  I know, some people like to show off their technology, while I prefer that my technology is hidden away.  The unit is finished in a glossy black plastic which makes it a bit of a fingerprint magnet, but it is not going to be handled often, save for the initial setup. I flipped the LaCie LaPlug over to see the bottom of the unit and saw something new and different; product certifications were embossed in the rubber feet of the unit.  I can tell that design is of critical important to the LaCie team and I, for one, appreciate the close attention to detail.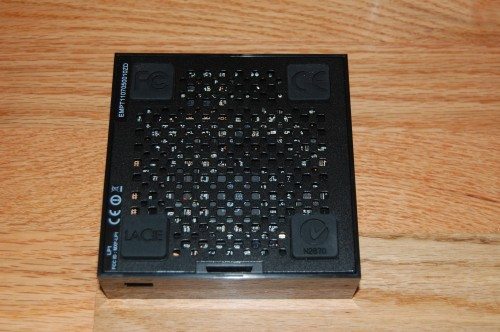 On the front (shown above) of the LaCie LaPlug is a single USB 2.0 port and a blue LED placed strategically under the unit that shows a blue glow reflecting off of the surface it is placed on when operational.  One can disable the light on the LaCie LaPlug through the web-based management console for the product, a nice feature for those that will place the LaCie LaPlug out of sight.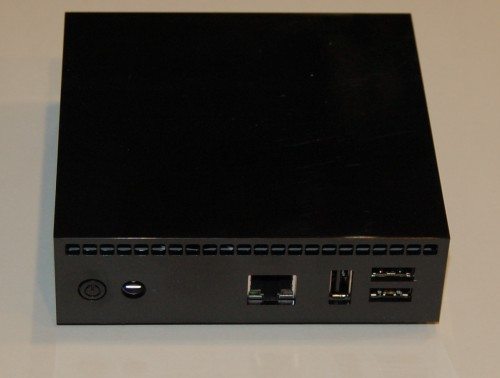 On the back of the unit there are several connections and the power switch.  The ports on the back of the unit include the following:
Three USB 2.0 ports
Ethernet (10/100/1000Mbits)
Power Connector
The USB 2.0 ports are arranged in a welcome configuration, with two stacked vertical on top of each other on the far right and a third flipped horizontally between the Ethernet jack and the two right side USB ports.  Again, the designers at LaCie understood the market and delivered a product that supports a number of USB devices while making it simple for the user to work with.  This level of design is something that the rest of the home media device producers could learn a thing or two from.  Some consumers might complain that LaCie did not include USB 3.0 ports, but, in today's market how many USB 3.0-compatible devices are available?  Adding to that is that they are expensive.  I picked up a 8GB USB 2.0 Memory Stick for $20 this past week as well as a 1TB USB 2.0 Hard Disk Drive for $80.
Internally, the LaCie LaPlug supports 802.11 b/g/n as a client only.  This is not a server in the traditional sense, but it does serve as a NAS server connected as a client to the wireless network.  I am not sure why LaCie delivered a wireless-n class client as the USB media sharing devices that do not have multiple disk drives or a significant amount of memory that serves as a cache are not able to deliver over 10Mbits performance and wireless-n is really overkill here.  With that said, wireless chipsets come by default supporting b/g/n so the team at LaCie probably only had this configuration as a choice for the LaPlug.  More on performance and why is it important later.
Testing the LaCie LaPlug involved connecting a variety of preformatted USB Memory Sticks and USB Hard Disk Drives.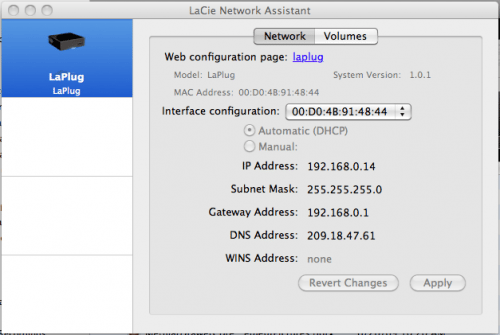 Management of the LaCie LaPlug is accomplished through the LaCie Network Assistant that installs from the LaCie-provided CD.  I tried both the Mac and Windows 7 applications and found them simple and intuitive to use – reminiscent of the Apple AirPort Extreme configuration tool.  On the Mac, the LaCie Network Assistant installs as a Toolbar item.
One can also manage the LaCie LaPlug using the web browser interface.  I could not find any good documentation on the LaCie website on how to manage the LaPlug using the web interface, but anyone familiar with any of the major branded network devices should be able to manage it quickly.  By default, the FTP and Media Services are disabled.  I always find it interesting that many companies provide their devices with the services disabled by default.  I have not figured out why as of yet, but I can make some assumptions with regard to performance of the device being degraded when it is running multiple pieces of software, but that would only be an assumption.  I enabled the media and FTP services so I could access my content on my USB Memory Stick that was soon to be connected to the LaCie LaPlug.
Once the LaCie LaPlug was installed on my network, using the default DHCP setting, and with a mount point established, I was able to view and share content on my 8GB Memory Stick.  The standard DHCP client will get an IP address and content to your network.  You need to go into the LaCie LaPlug web management console to set the Time Zone and other services to "on" or "off".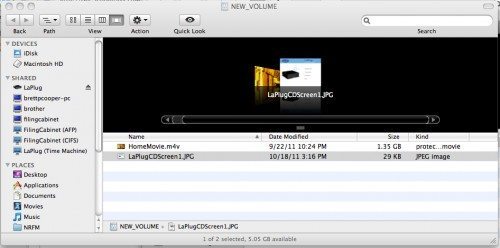 To start the testing I copied one of my 480p home movies to the LaCie LaPlug and then played it back on iTunes, both connected locally on my own network and remotely in a café close to me.  The performance and quality on my home network was very good – no sign of lag or phase issues, meaning for basic standard definition content the LaCie LaPlug could keep up.  At my local café  I could browse the content and play back the video, but it was a bit shaky at best.  I copied the file from the LaCie LaPlug to my local disk and a 700MB file took over an hour to download over the Internet.  This is pretty standard timing given the speed of the Internet connection that I was on.  The limiting factor in many of these tests is not only the speed of the network device, but the bandwidth available to the user on the Internet.  In the case of my testing at the café, I was limited to a 1Mbits connection.
My next test was adding a 1080p high definition video.  This is where the LaCie LaPlug faltered, or should I say, the USB Memory Stick coupled with the LaCie LaPlug faltered.  1080p content is pushing a 1920×1280 image at 24 frames per second across the network requiring a good deal of performance on the network device to be able to deliver and keep up the streaming.  My network at home is a 1000Mbits network composed of wired and wireless devices.  The wireless portion is dual band g and n wireless where I can push over 30Mbits over the wireless connection using my home Network Attached Storage device, which has four 1TB SATA drives in it.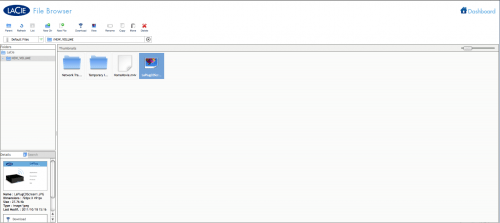 LaCie includes a simple web-based File Explorer that can be accessed on the local network, or via the Internet.  The look and feel is reminiscent of the PogoPlug powered Buffalo CloudStor that I reviewed on The Gadgeteer in August.  The first time I logged into the web browser-based management interface ,I had an alert waiting for me to upgrade the firmware, which I did without any issue.  There was a short period of downtime, which is to be expected.
Support for UPnP is included as well as iTunes Server support so the LaCie LaPlug can be used to stream content to any UPnP device on your network ,including many Blu-Ray players, xBox 360, PS3, and many other devices.  As well, the LaCie LaPlug can be used as a backup target for any standard backup software and Apple's own Time Machine.  (I may sound like I am standing on a soap box here, but backup your content often using whatever your favorite tool of choice is.  There is nothing worse than losing your precious memories or last year's tax returns.  Ok, I am getting off the soap box now and getting back to the review.)  Setting the Media Services to on requires one to setup a "Master Volume" on one of the LaCie LaPlug-connected USB Memory Sticks or USB Hard Disk Drives.  While not the most intuitive nor well-documented process, I figured it out in less than a minute by going between the LaCie Network Assistant and the web browser-based management console.  I would suggest to LaCie that they create a common tasks page on the LaCie Product and Support web pages that lists how to do these simple tasks to avoid any confusion on the part of the consumer.
I did not test the USB Printer Sharing capability of the LaCie LaPlug, but I expect it to perform well as USB printer sharing has become a science more than the art it was a short five years ago.
The LaCie LaPlug is going to avoid the gadget graveyard – getting the opportunity to live on as one of my daily-use gadgets.  The LaCie LaPlug is a simple and affordable way to share USB Memory Sticks and USB Hard Disk Drives with your friends, family, and colleagues.  What it misses in performance and detailed instructions it more than makes up for in the design and capabilities.

Product Information
Price:
$74.99
Manufacturer:
LaCie
Retailer:
LacieStorage.com
Requirements:

USB 2.0 memory stick or hard disk drive
WiFi-enabled router for wireless connectivity
Wired Ethernet (10/100/1000) from a switch or router
Latest version of Windows® XP, Windows Vista®, Windows 7/ Mac® OS X 10.5, 10.6 / Linux 2.6
Minimum free disk space: 600MB recommended - used to install LaCie Software
Web browsers: Internet Explorer® 7.0, Firefox® 3.0, Safari® 3.0, Chrome 2.0 or higher for viewing files

Pros:

Simple and affordable at $74.99 list price (Street price of less than $70)
Innovative design points including placement of USB 2.0 ports on the front and back
Support for any USB 2.0 device
Support for all major OS platforms, including Windows, Mac, and Linux
Quiet and compact - no fan noise and low power consumption
International-ready product for those that travel

Cons:

Slow access when compared to a multiple drive NAS device
Gloss black product is a magnet for fingerprints
Detailed instructions on how to enable services and sharing within the web browser-based management console