We use affiliate links. If you buy something through the links on this page, we may earn a commission at no cost to you. Learn more.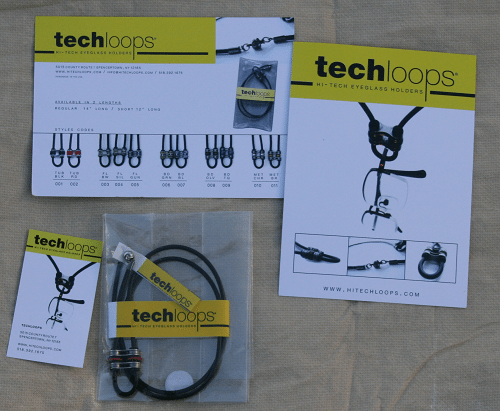 If you're like me, you have to keep two sets of eyeglasses handy: sunglasses and reading glasses.  I'm 45 ,and I had LASIK surgery last January.  Before LASIK, I wore contacts but since I had developed dry eye syndrome, I carried around my regular prescription glasses plus prescription sunglasses.  But there was always the problem of accessing the correct glasses and always, always fumbling around for them.  And while there are some eyeglass holders out there, none of them were really doing the job I needed them to do.  Fortunately, Hi Tech Loops eyeglass holders have solved my problems.
Life has been in a pain in the butt always digging through my handbag trying to find my damn glasses.   If my eyes weren't behaving, then I was wearing my eyeglasses and switching between them and my prescription sunglasses whenever I went indoors.  LASIK solved a number of problems but I still need reading glasses for anything up close.  That's due to my age.  I couldn't escape it.  It's just a fact of getting older.  And I need them pretty much all of the time.
It's ridiculous.  My eyesight will always be messed up.  Growing up, I was near sighted and couldn't see anything further than one foot in front of me without it being all blurred.   Because I wore contacts for so long and because… well, I'm just older now, I cannot wear the contacts.  My LASIK doctor presented me with two choices: " You can see up close and wear lenses for distance or see distance and wear lenses for up close.  You're over 40, you're going to be in reading glasses anyway."  Never having been able to see distance for a majority of my life, I chose the the second option and just resigned myself to having to fish around in my handbag for my reading glasses whenever I needed them.
I've tried every sort of eyeglass holder you can think of:  I've tried the long cord with the loops on each end that were supposed to attach to the ends of the eyeglass arms only to have one get stretched out and lose the grip on the arm.  I've tried pretty little pearly ones that broke the second you looked at them and I've even tried pins only to have the glasses slip out anytime I bent over.  I've tried the pretty necklaces with the circle only to have the glasses slip out of those.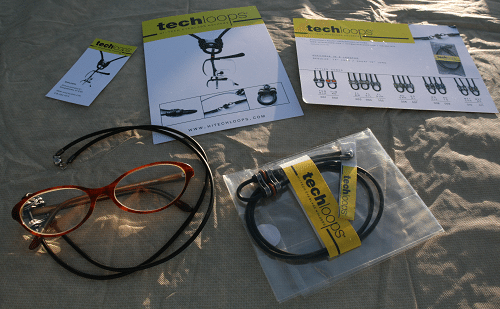 Hi Tech Loops eyeglass holders solves several of my issues with eyeglass holders. They're made of rubber tubing, beads, and stainless steel links. Hi Tech Loops are fashionable without looking ridiculous, they're sweat proof, and I don't have to worry about cold metal against my neck or breaking chains. And because of the layered loop design, I can hold more than one set of glasses on it.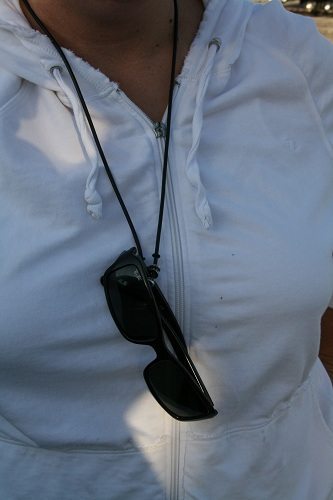 Heck, I even put an ID swipe card on it once so I wouldn't have to carry it around in my pocket.   It's comfortable too.  It's doesn't swing around my neck, it doesn't get caught on anything and it keeps my glasses where they need to be.  Half the time, I don't even realize I'm wearing it because it's so lightweight; something I can't say about other eyeglass holders.  That was a problem with the beady, pearly, necklace types… I'm not much of jewelry wearer and the weight of the necklace plus the glasses tended to annoy me.  I don't have this issue with the Hi Tech product. One of the best things I like is that fastener is not a typical necklace fastener; they're magnets and they hold better than any necklace fastener.
They come in two lengths: 14″ and 12″ and a variety of bead colors.  I love mine.  At $27.00 it's a bit pricey but it's handmade and it flat out beats anything else including the fancy schmancy beadwork holders I've bought at craft fairs.  Plus HiTech guarantees their work and they're very fair about their return policies.   These holders are unisex and great for everybody.
Product Information
Price:
$27.00
Manufacturer:
Hi Tech Loops
Pros:

HiTech loops are lightweight.
They fit great and fasten even better with the magnet fastener.
I almost never know I'm wearing them and they don't weight down like jeweled or heavily beaded eyeglass chains do.
They are handmade, they're versatile and HiTech Loops guarantees their work.

Cons:

At $27.00, they're a bit on the pricey side.