We use affiliate links. If you buy something through the links on this page, we may earn a commission at no cost to you. Learn more.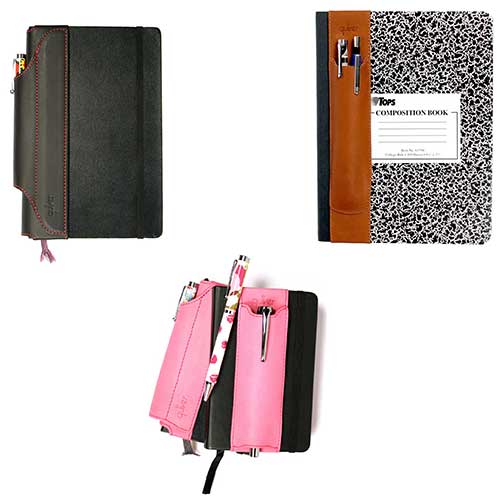 Quiver Pen Holders allow you to carry your favorite pens / pencils with the popular Moleskine notebooks / journals. They are one of my favorite geek accessories (see my review linked below in the related posts section). I'm happy to report that Quiver is offering several additions to their line of products that include new colors: pink leather in their pocket size one-pen and two-pen styles, moka chocolate brown with beige contrasting stitching in their large size one-pen style and black with red stitching in both large and pocket sizes in the one-pen style as well as the large size two-pen style.
They are also offering a new larger size: the XL Quivers in the two-pen style for the extra large format size notebooks made by Moleskine, Rhodia Large WebPlanner, ecosystem Large, the ubiquitous Tops Composition notebooks from school days and many Apple iPad covers (perfect for holding a stylus and pen), or a stylus and reading glasses for those of us older than 45 who need help reading on our iPad.