We use affiliate links. If you buy something through the links on this page, we may earn a commission at no cost to you. Learn more.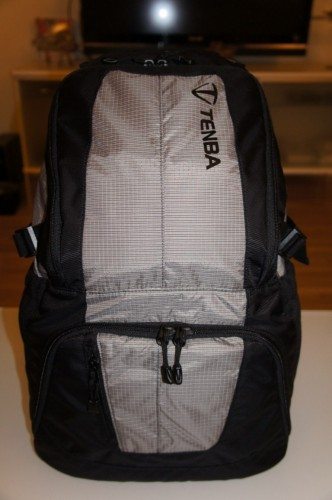 Recently, photography has been picking up popularity in both the amateur and professional sectors.  As an amateur photographer, I always love to carry my Sony NEX-5 DSLR around with me when I go out exploring NYC or traveling.  I wanted a bag that can protect my camera, lens, and accessories and also have room for some other things.  The Discovery Large Photo/Laptop Daypack from Tenba looked perfect for me.

Tenba's Discovery Large Photo/Laptop Daypack came in two colors – Black/Gray or Sage/Khaki.  I got the Black/Gray one to review.  My first reaction to the Discovery was that it was extremely light at 2.6 lb.  The Discovery has a water repellant nylon exterior, but it also comes with a  WeatherWrap cover for extra protection.
Outside Dimensions: 12.3W x 18H x 10.5D in.
Inside Dimensions: 9.5W x 8H x 8.5D in.
Laptop Compartment: 10W x 14.8H x 1D in. – Fits most laptops up to 15 inches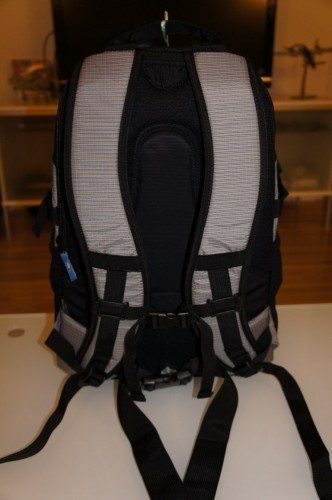 The Discovery comes with standard chest and waist straps.  It feels very comfortable to wear.  Also there's plenty of loops for accessories on the strap.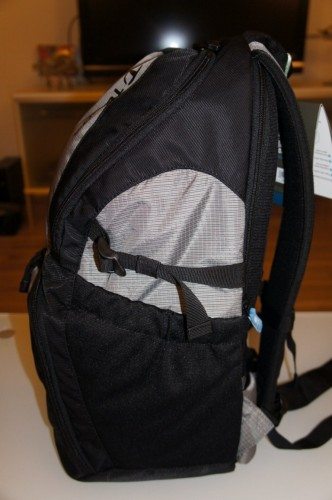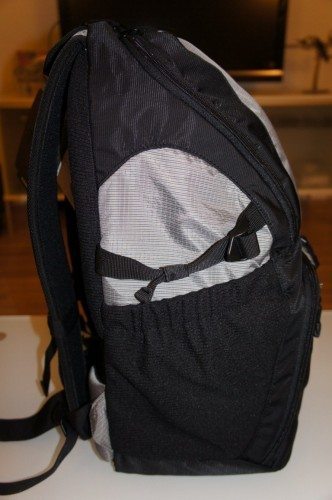 On both sides are compression straps to secure and stabilize the load.  There's also a large elasticized pocket on each side for water bottles or other accessories.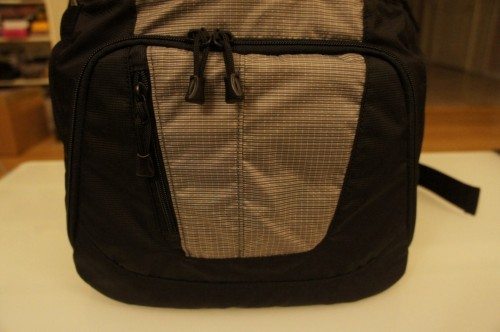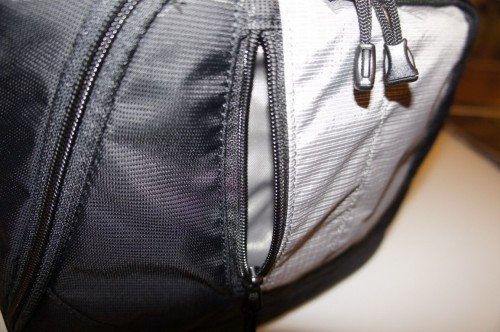 There's a small zipper pocket in the front for small items like your cell phone or wallet.  Personally, I won't put anything valuable in here.  I always worry about pickpockets and this pocket seems like such an easy target.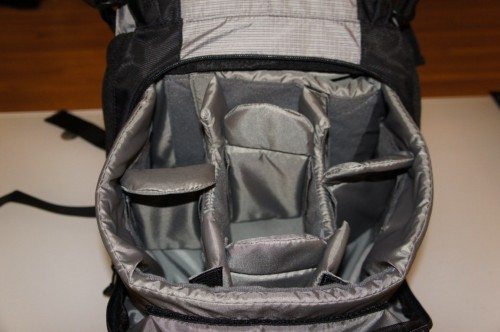 The main camera pocket is large.  It will fit 2 DSLR bodies along with 4-6 lenses or flash.  It's extremely padded and I won't worry at all if I dropped my bag.  The padding is all secured with Velcro, and the pieces are easily reconfigurable.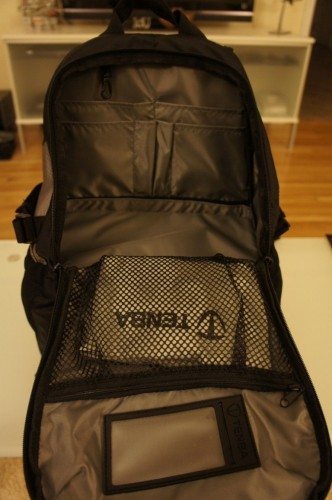 The top compartment flap opens outward to give full access.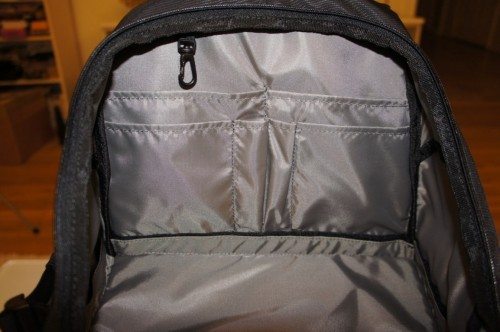 On the back wall of the top compartment are 4 pockets, 2 pen slots and a clip for your keys.  Personally, I wish they offered small zippered pockets on both sides of the top compartment for accessories like batteries or memory cards.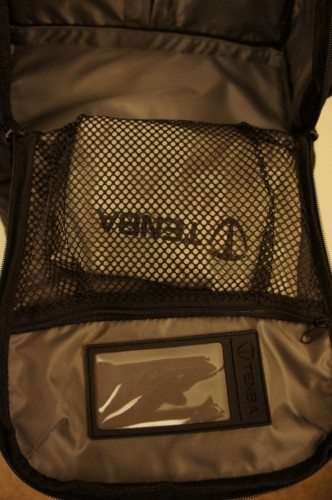 There's a medium sized mesh pocket and ID card holder located on the flap of the top compartment.  Tenba also included a WeatherWrap inside the mesh pocket.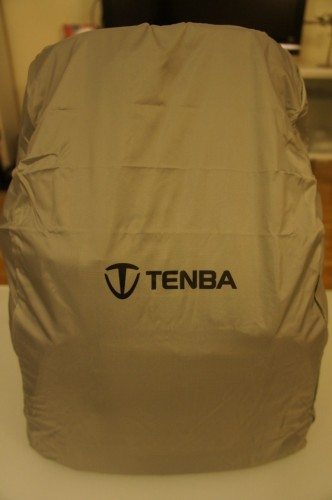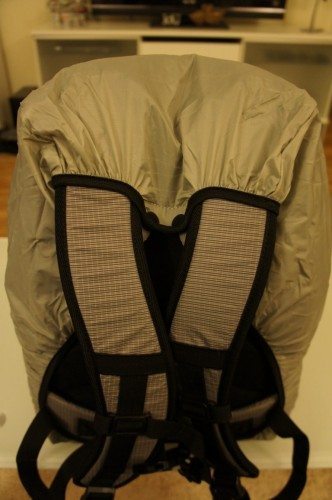 The WeatherWrap covers the front completely and partially covers the back.  It's secured by 2 snap-on buttons.  With the WeatherWrap on and secured by the snap-on buttons, there's no way in to the Discovery while you're wearing it.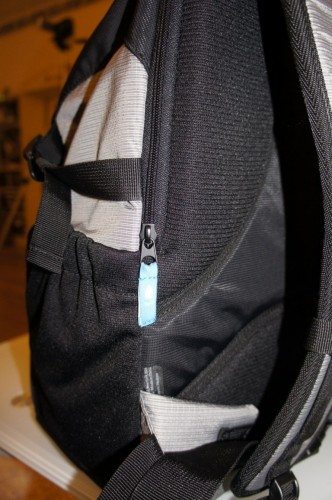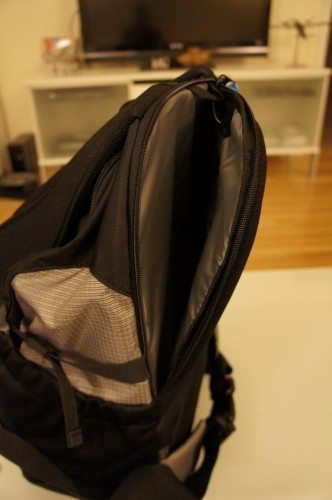 On the back side is a padded zippered pocket for either a 15" laptop or a hydration pack like a CamelBak.  Personally, I think it's a really tight fit for a laptop to go in there; it was compressing my MacBook a bit too much for my liking.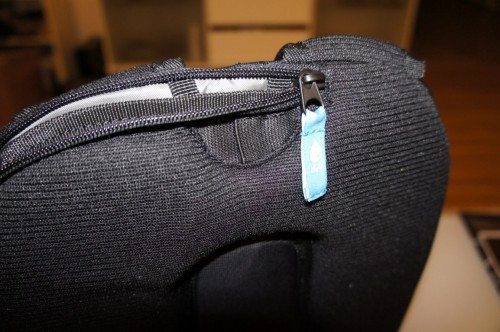 There's a elastic flap that you can snake the hydration tube through.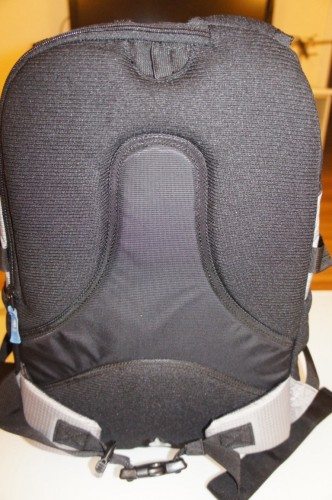 The back is nicely padded and extremely comfortable.
I wore the Tenba Discovery Daypack in three different scenarios:
1)  Business trip – I used the Discovery as a carry-on for the plane ride out to Los Angeles.  It fit my MacBook, DSLR, snacks, water bottle, a small notebook, pens and cell phone.  It went through the X-ray machine without TSA asking me to remove the laptop.  It worked great as a carry-on bag for when you're planning to bring a DSLR on your trips.
2)  Day trip in NYC – The Discovery was useful in protecting my DSLR while exploring the city.  It was extremely comfortable to wear it throughout the day.  Did some light shopping but not everything fits in the top compartment because of the limited height.
3)  Comic Con – Spent a day at the Comic Convention and it felt great wearing the Discovery.  It protected my DSLR and a netbook that I took with me.  The top compartment held my light jacket and a few items that I got there.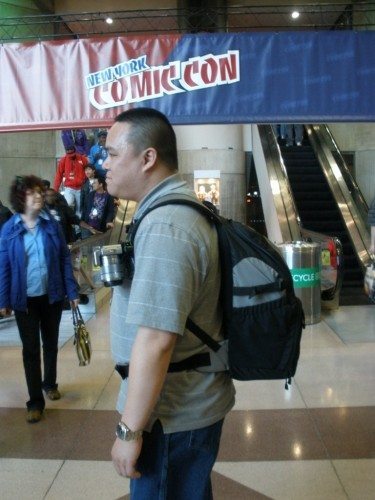 The Tenba Discovery costs $139.95 direct.  It's a really comfortable daypack and totally protects the DSLR.  I would highly recommend this for any photographer.
Product Information
Price:
$139.95
Manufacturer:
Tenba
Pros:

Comfortable
Light weight
Great protection
Includes WeatherWrap

Cons:

Tight-fitting laptop compartment.
Cannot wear when WeatherWrap is snapped on.
Top compartment might be a bit small, depending on usage.