We use affiliate links. If you buy something through the links on this page, we may earn a commission at no cost to you. Learn more.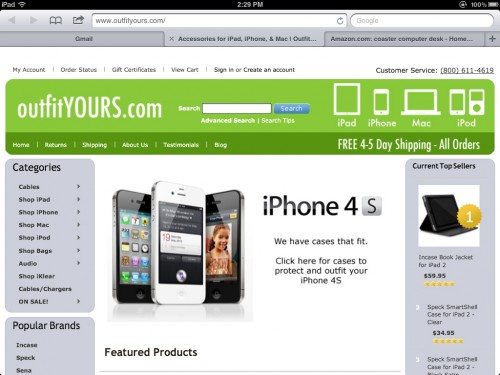 Apple products are gaining in popularity each passing day, and there are a lot of accessories manufacturers who want to capitalize on that popularity.  There are hundreds – if not thousands – of cases, cables, headphones, styluses, skins, and more designed for Apple laptops, iPhones, iPads, and iPods.  Finding quality accessories for your gadgets often means looking through the few offerings in your local retailers or digging through countless online sites looking for what you want.  Two brothers named Taylor and Thayne Davis, both Apple product owners themselves, realized there was a need for a single place where you can shop to outfit your Apple products with quality gear.  They created outfitYOURS.com, an online shopping site that's stocked with almost any product you could need for your Apple devices.  They are so sure of your shopping experience at outfitYOURS, Thayne asked The Gadgeteer to do some "secret shopping" at their site and report on our experience.  I was selected to go shopping.
There's a video on the outfitYOURS website in which Taylor describes the concept behind the store.  The brothers know there are a lot of cheap accessories on the market, because they too are Apple users and have searched for gear themselves.  They wanted to provide a shopping experience where every product you see is a quality product worthy of the purchase price.
They know the frustration of placing an order and then being notified that the product is back-ordered and you'll be receiving your order sometime after the 12th of Never.  They never drop-ship products.  They warehouse their own inventory, and as Taylor says in the video, you know the product is in stock if you can put it in your cart and checkout.  And because every product is in stock and you can reach an actual person at the customer service number, outfitYOURS employees can inspect the actual product to answer any questions you might have about it.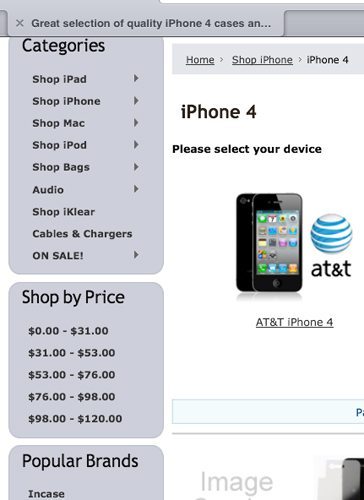 I went to the outfitYOURS website and started looking around.  Finding what you want is simple.  You can choose to shop all accessories for a given Apple product, for example the iPhone.  Hover over iPhone in the category list to then select which model of phone you have.  Or you can choose to shop by brand.  And, I had heard of all the brands they offer, except for two case manufacturers.  Once you've chosen your category, you can further filter results by price range so you don't have to waste time looking at products outside your budget.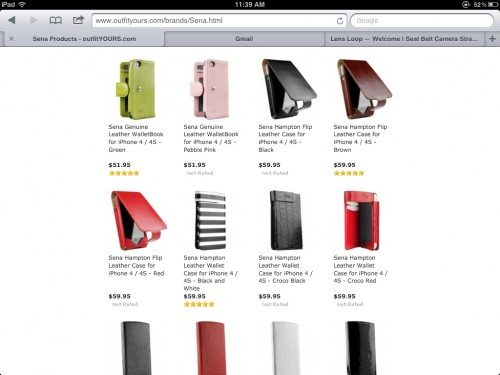 Stocking all these products themselves represents a large investment, so I thought they'd probably stock a limited number of styles from each manufacturer and a limited number of colors/variations for each product.   Searching through the Sena section showed me that they do offer a variety of styles, and a variety of colors for each style.  In addition to the more neutral browns and black, I saw lime green, orange, pink, sky blue, and even striped cases.  Each case I clicked on was available to put in my shopping cart, which means it was in stock and ready to ship.  outfitYOURS may not stock every single item by every single manufacturer they offer, but they have a varied selection that should let you find what you like.  They offer a variety of styles of cases, too.  You can get everything from a sedate black leather wallet case for your iPhone to a back cover with a colorful, blinged-out design.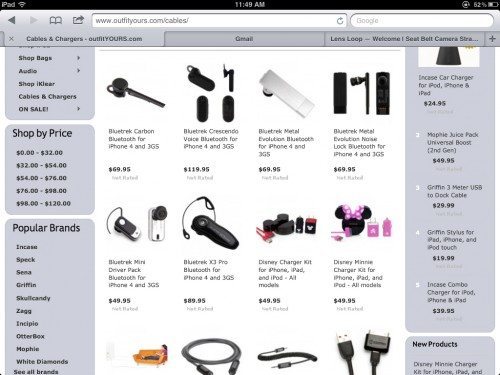 In addition to cases, outfitYOURS offers cables, gear bags and backpacks, Bluetooth headsets, speakers, screen cleaning kits and microfiber cloths, backup batteries, styluses, even credit card readers for your iPhone.  These were the sorts of accessories I expected to find.
They even have videos they created showing you features of some of the products.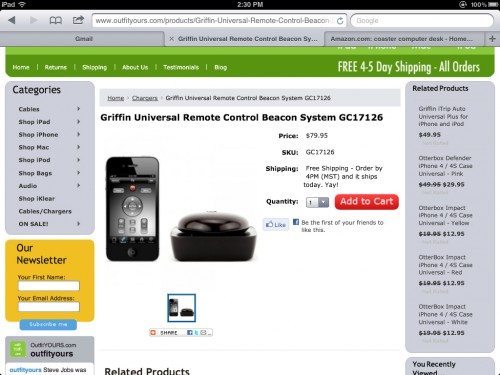 They also had something unexpected – the Griffin Universal Remote Control Beacon System.  I've reviewed more than my fair share of cases lately, so I decided I'd try something different and ordered the Beacon.  I added it to my cart and began the checkout process.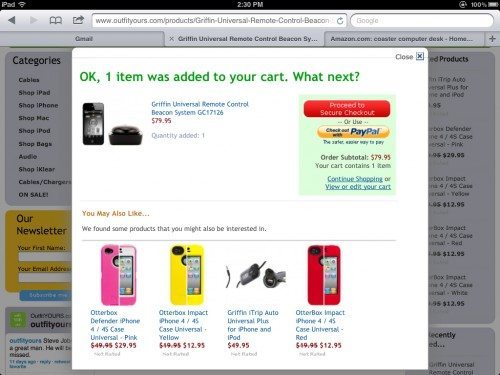 You can create an account with outfitYOURS to make checking out easier for future purchases, or you can check out as a guest.  I was pleased to see that you can also use Paypal;  I like using Paypal so I don't have my credit card information on dozens of online shopping sites.  I'm a little more likely to shop at a new place if they take Paypal.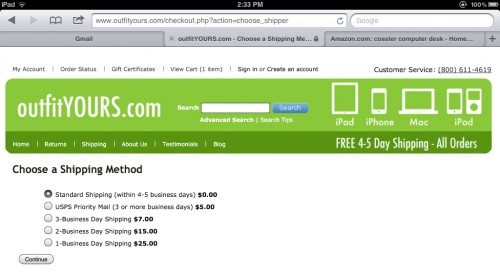 outfitYOURS says they use faster shipping methods so that you'll have your items quickly.  Standard shipping is free, and you'll notice it says 4-5 business days shipping, unlike some websites that use 7-10 business days methods.  Taylor said in his video that they ship the item the same day they receive the order, too.  I chose the standard shipping option.  I was also struck by how reasonable their express shipping rates are.  Some sites I've seen will charge $75 or $100 for overnight shipping, even for small items.  (Need I say that I do not shop with those vendors if I need something immediately?)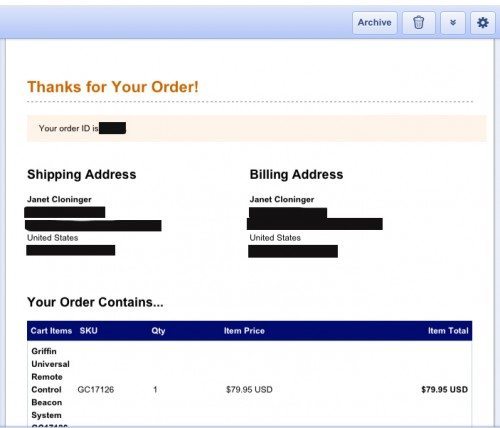 Within minutes of checking out, I received an email with my order confirmation.  I received another email a couple of hours later telling me my package had shipped.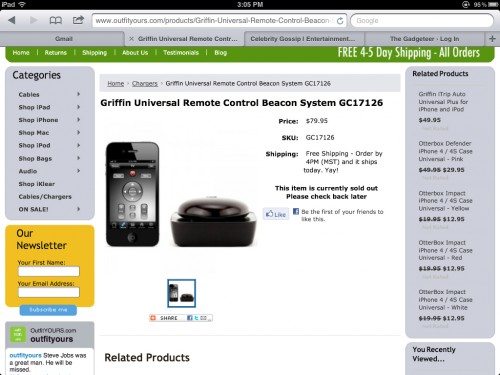 Right after I checked out, I went back to the Griffin Beacon page.  You can see that it has changed to "sold out", so the next shopper after me wouldn't order this only to be then told that it was back-ordered.  I checked this page a couple of times in the next couple of days, and the status of this product did quickly return to in stock and ready to ship.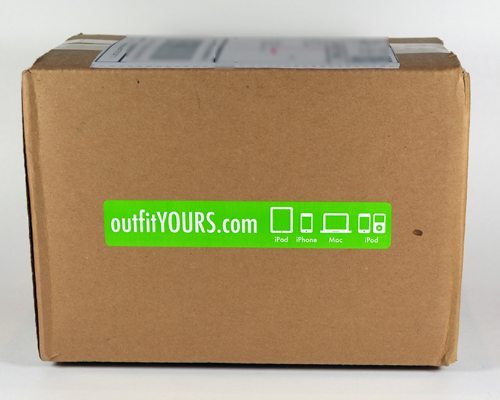 I waited for my package, but I didn't have long to wait.  The package was delivered via USPS Priority Mail two days after I placed my order.   That's pretty fast shipping from Utah to North Carolina.  The cardboard package was sturdy, and it was taped securely.  It had a green outfitYOURS sticker on the side.   The package arrived in great shape.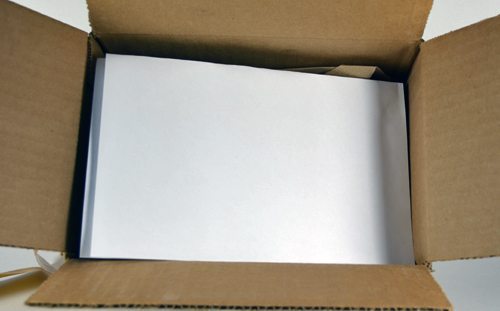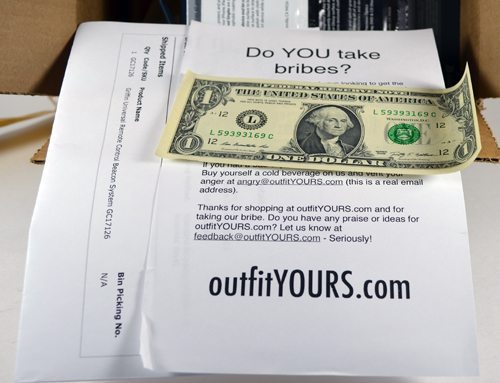 I opened it up from the bottom and started unloading the box.  Paperwork was on the very bottom.  In addition to the invoice, I found a $1 bill stapled to a "bribe".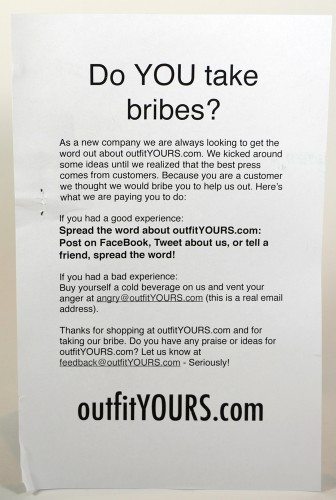 Turns out it wasn't a special bribe for reviewers 😉 – it's for any outfitYOURS customer.  It's an effective attention-grabber to ensure you notice the customer service contacts in case you have any problem with the ordering experience, shipment, or the products.  They ask you to buy yourself a cold drink and then contact them if you have any problems or questions.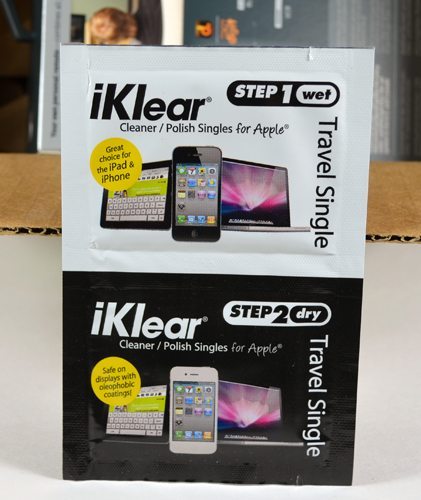 Next up was a sample pack of disposable screen cleaning cloths – something any Apple owner could use.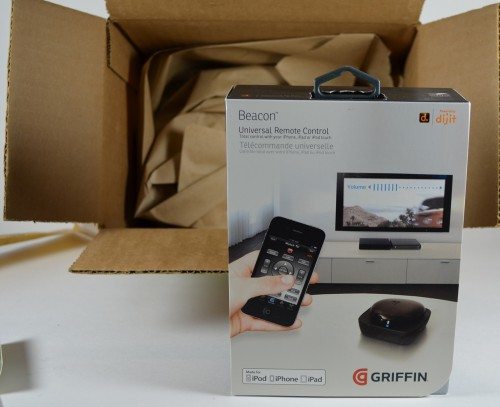 Last was my actual product followed by some crumpled brown paper.  But remember, I opened from the bottom.  The first thing you'd see opening from the top would be the cushioning paper, then your product.  The product package was all sealed up.  There was a little tear at the hanger on the top of the package, but that didn't look like it could have occurred in shipment.
All in all, a very easy and fast shopping experience from opening the website to opening my package!
While I working on this review, I realized I hadn't tried out their claim that I could call with questions and someone at outfitYOURS could grab the product to answer them.  A reader had left a comment on another Gadgeteer post today asking if an 11″ MacBook Air would fit into a particular Speck bag.  Luckily, outfitYOURS sells that exact Speck bag, so I decided to call and test their claims.  I first called a couple of minutes before 11:00 EST, and I got a recording asking me to leave a message or call back during business hours – only they didn't tell me what hours are business hours.  I waited a few minutes and called back after 11:00.  Taylor answered my call.  I didn't tell him who I was or my ulterior motive for calling – I simply asked if an 11″ MacBook Air would fit in the Speck iPad A-line bag.  Sure enough, he said "let me just grab one and do some measuring"!  In just a few seconds, he was back on the phone with the bag in hand. While he was measuring, he mentioned that they also offered that exact Speck bag sized for the 13″ MacBook Pro.  He quickly determined that the Air would be a little too long for the iPad version and again mentioned the 13″ Speck bag that would certainly fit the MacBook Air.  Taylor did exactly what outfitYOURS promised to do – grab something out of inventory and use it to answer my questions.
I liked shopping at outfitYOURS.com.  They have a varied selection of products for Apple laptops and mobile devices.  They offer quality products from vendors you've heard of before, and they have a selection that lets you find the style, color, and price-point you're looking for.  You can quickly see if a product is available, and I'm sure that outfitYOURS could let you know when they expect it back in if it happens to be out of stock at the moment.  My product was carefully packaged, and it arrived even sooner than promised.  And they are knowledgeable about the products they sell and can answer your questions to help you decide if a product is right for you.  The only thing I can suggest is to add their business hours to their phone message.
Oh, and be on the lookout for my review of the Griffin Universal Remote Beacon System soon.
Product Information
Price:
Varies, depending on product
Manufacturer:
Various
Retailer:
outfitYOURS
Requirements:

An Apple laptop, iPhone, iPad, or iPod

Pros:

Varied selection of products, styles, and colors
Name-brand products only
Quick, same-day shipping and careful packaging
Easy to tell what products are in stock and ready to ship

Cons: