We use affiliate links. If you buy something through the links on this page, we may earn a commission at no cost to you. Learn more.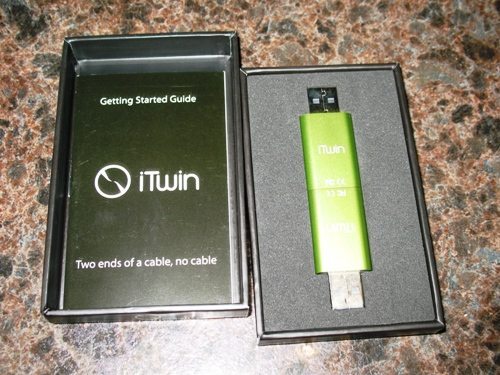 The iTwin, "two ends of a cable, no cable". The idea for iTwin came about with the belief that remote access to a second computer was found to often be too complicated for most users.  USB drives, on the other hand, are pretty simple to use for almost all users. They do have the pitfalls of not enough storage to share an entire computer hard drive or do not have enough security.  Thus, creation of iTwin.  Let's give it a closer look.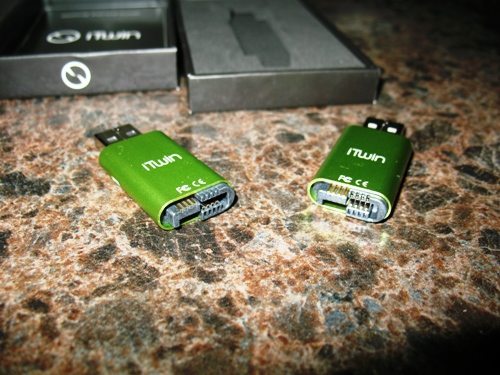 iTwin requires Microsoft Windows XP/Vista/7 (32 bit and 64 bit), broadband internet connection, and two online computers.  The iTwin website states that iTwin has an upgrade to be compatible with Mac too.  I have read that this is a beta version and support is so-so.  The latest version of the iTwin is fully compatible with OSX on Mac computers too. iTwin has limitless storage as a plug 'n' play USB device and allows you to easily store the contents of your computer's hard drive.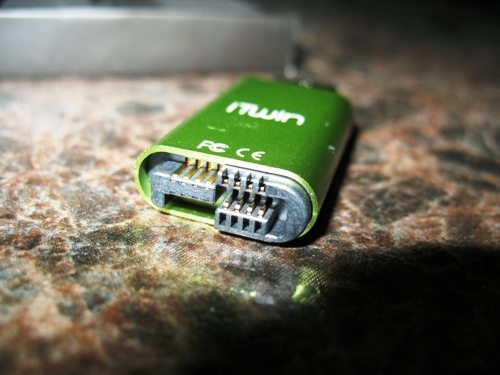 The iTwin has the two connecting ends, two USB ends, and there is an iTwin activity indicator that is illuminated when plugged into your computer.  The indicator lights are located on the sides of the two halves.   The light is blue when functioning normally and red if there is a problem.   The blue light flashes when data is being transferred.  It looks like a dual-ended USB flash drive when the halves are placed together.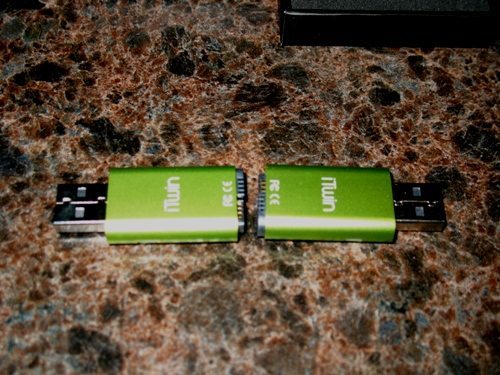 Installation of the iTwin is quite easy.  You do need admin access to install the software.  You need both halves connected together and plugged into an online computer.  After installing iTwin (software is contained in iTwin), you register your e-mail address and receive a message that will contain a unique code and URL that will allow you to remotely disable the connection between the two halves of the iTwin as a safety measure in the unfortunate event of losing one half.  This step is very important because you can not remotely disable the connection between the two halves if you do not register your e-mail address!  All data is accessed with AES-256 encryption, safer than cloud storage.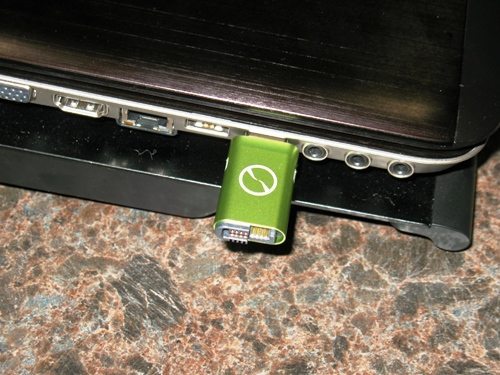 After registering and when the iTwin window appears, the two halves of the iTwin are "paired".  The two halves can find each other across the internet when plugged into any two online computers.  You can then take off one half of the iTwin and take it with you, anywhere in the world.  The local or host computer must be turned on and connected to the internet before plugging in the second half to your remote computer.  You can connect through almost any firewall or proxy.
iTwin allows you to remotely edit your files and folders.  Transfer speed is only limited by the speed of your own internet connection.  When I was going to add files to share, I kept getting prompted to install an upgrade.  I had to uninstall iTwin and then re-install for some reason and I selected to not do the upgrade.  I was then able to select my files to share off the host computer, which is my desktop, for viewing and editing with the other half plugged into my laptop.
The iTwin is a sharp-looking plug 'n' play device that has a suggested retail of $99. It has a 30 day money back guarantee and a 90 day warranty.  iTwin has secure end to end encryption and no other fees once the device has been purchased.  The only downfall with the iTwin is that you can only connect two online computers at one time and not more.  Learn more by going to the iTwin website.
Product Information
Price:
Manufacturer:
iTwin
Pros:

Compact
Ease to install software and access of shared files once they are chosen to be shared
Great security with AES-256 hardware-enabled encryption
Works with Windows XP, Vista, and 7
No limit to storage capacity
One time fee, no extra fees for subscription or extra storage space
You can remotely disable one half if it is lost
Optional to be password protected
Remote editing
Starting to be Mac friendly

Cons:

Only two online computers may be connected
Can only retrieve access files you have chosen to share
Requires admin access to install software so if you work at a company that does not allow you to be admin on your work computer, would not be able to use iTwin
Must have high speed internet access
Must enter e-mail to have option of remote disable code