We use affiliate links. If you buy something through the links on this page, we may earn a commission at no cost to you. Learn more.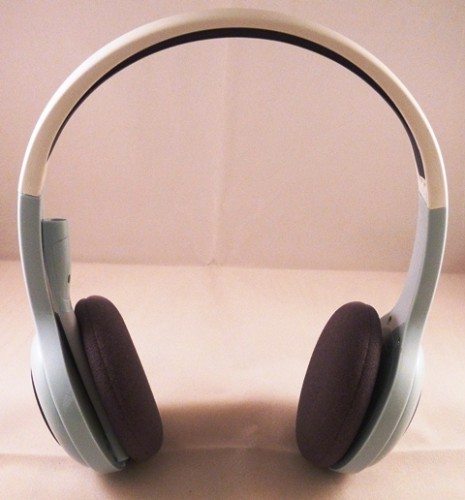 Logitech is one of the premier manufacturers of technology peripheral devices. They make some of the bestkeyboards, mice and their Harmony line of remote controls is fantastic. One of their newest products is the Logitech Wireless Headset. I've spent the last few days using the headset with a variety of devices and it has performed quite well.
While the headset was formally introduced as the "Logitech Wireless Headset for iPad" it works as audio headphones with every Bluetooth-enabled device I've tried. I actually found it a better PC/Mac peripheral than I did with mobile devices. I may not have been the only one to discover that as it appears that the Logitech marketing people have dropped the "for iPad" from the official name.
I did encounter one problem throughout my testing involving mobile devices and the microphone that relates to the wacky world of Bluetooth standards (or non-standards), protocols, stacks and drivers. I tested the headset with two Lenovo ThinkPad laptops (running Windows 7), an Apple Mac Mini (OSX Lion), Apple iPad (iOS 5.0), Apple iPod Touch 2G (iOS 4.21), Samsung Galaxy S WiFi 5.0 (Android 2.2.2), T-Mobile G2 phone (Android 2.3.4) and an Asus Transformer tablet (Android 3.2.1).
The Logitech Wireless Headset paired quickly with every device used for testing and the headphones worked well. The sound quality was good, better than I expected. The high-end was okay albeit a bit clipped, midrange not too bad, and while the lows were a bit lacking and a tad muddy at times the sound was very reasonable for this type of device.
Volume level was also okay, although even with full volume on both the source and the headphones I wasn't able to get things really "cranking". In all cases the sound quality was far superior to that produced by the internal speakers on the iPad, iPod Touch, and Android devices, but nowhere close to that of my Grado SR 225 or even my Grado SR 60 wired headphones. Logitech doesn't list the audio specifications for the headphones (frequency response, impedance, distortion, etc.), and if that's what is important to you I'd suggest looking elsewhere.
On the other hand, Ray Charles' "Georgia" sounded like Ray Charles, Queen's "Bohemian Rhapsody" sounded liked Freddie Mercury and Queen, Eric Burden and War's "Low Rider" sounded like Eric Burden, and Whitney Houston's "Didn't We Almost Have It All" sounded, well, like what Whitney Houston used to sound like. I listened to several hours of random music (classical, rap, country, pop, and rock) and throughout I found the sound to be good and not tiring.
I'm not an audiophile and my ears have been through way too many concerts where the amplifiers were cranked to 12. So, as with any review of a speaker/headphone if that's really important you need to try a pair and listen for yourself.
I was also pleasantly surprised by how comfortable the headphones were. When I pulled them from the box I thought they were a bit cheap feeling and stiff. They're very light (3 ¾ ounces/105 grams), made of plastic and are the "supra-aural" style (foam earmuff). After several hours though they still hadn't become bothersome to wear, perhaps a benefit of their low weight. The headphones adjust with a "ratchet-style" slider and fit over my large melon as well as my wife's much prettier head. They were even usable on my six-year-old's head although they're really sized more for teens through adults.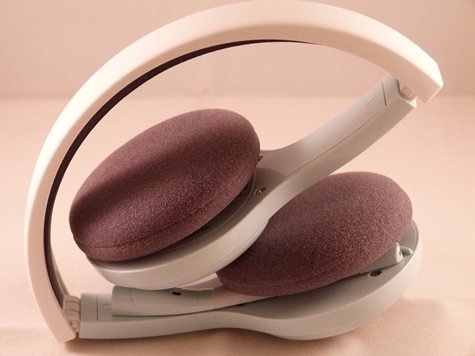 I also put them through a bit of stress test, folding and unfolding, stressing and twisting them and didn't hear any "creaks" or groans nor was there any signs (visual or auditory) of damage. It would be nice if Logitech included a second set of foam ear pads as I have no doubt their lifespan is going to be limited.
Battery life is stated to be approximately six hours. While I didn't run a dedicated battery test my experience gives me no reason to doubt that number. Charging the lithium-ion battery is done with a USB cable (included). I was able to charge the headset from a computer or any phone charger that had a micro-USB connector. The device charges quite quickly. The headphones do not come with their own charger, just a cable.
The headset will remember pairings with up to eight devices, but will only connect with one device at a time. The first time you pair the headset you just turn it on and its ready to connect, after that it's a typical "Vulcan" button press procedure (hold mute and volume up until the power light blinks rapidly) to initiate the process. This isn't difficult, but it does mean you have to remember which keys start pairing.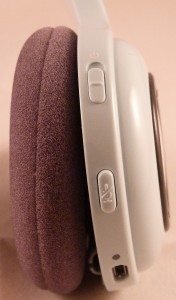 So far all good stuff for the Logitech Wireless Headset.  I then began testing the microphone functionality. As I stated earlier, I don't think many are going to buy this headset purely for its audio qualities. You buy this because you want a headset (headphones and a microphone). This means you should be able to use this with applications like Skype, FaceTime, standard phone calls, game oriented communication like Ventrillo or dictation/voice recognition apps like Vlingo (I don't have an iPhone 4S to test Siri), Dragon Dictation and, of course, audio recording.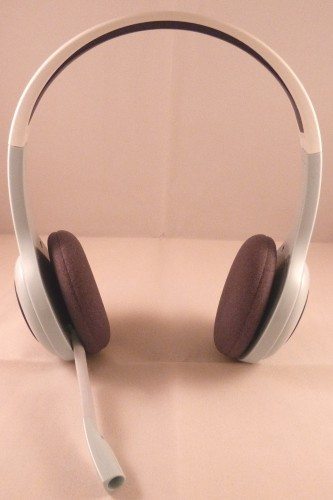 The "boom" noise-cancelling microphone is attached to the right earpiece (not reversible) and rotates down to run along the right side of your face. Much like the headphones, if you're planning on heading into a recording studio to belt out an aria you've got the wrong device, but they did a good job with standard speech and didn't do badly at ignoring background noise. Everyone I called with Skype using the device agreed that they could hear me clearly. Most commented that while the audio quality was fine they would have preferred I hire someone more pleasant to perform the testing (I get no respect).
I was able to successfully use the device on the Windows and Mac machines for any software that needed a microphone. The problem came into play when I started trying to do with the same with the iPad, iPod, and Android devices. Once again, I don't believe this is the fault of the headset at all. It's a problem inherent with the Bluetooth technology and implementation within these devices. I'll list some of the devices and the issues I had. I believe the problems are going to be different depending on the device you're using, what version of its operating system you have and the application you're trying to use.
iPod Touch 2G: This iPod Touch doesn't include a built-in microphone like later versions, but it is possible to use applications like Skype if you plug a standard headset in (like the iPhone earbud/microphone). Unfortunately, when I tried a few apps like Skype and Voice Recorder neither of them recognized the microphone on the device.
iPad 1G: Pretty much the same results here although it was harder to tell as the iPad does have a built-in microphone. After isolating myself (standing in the bathroom while the iPad was in my office) with the headphones on I was convinced that neither Skype, NetTalk, Glee (game), Dragon Dictation, Vlingo or Voice Recorder was recognizing the microphone on the headset.
Android Devices: My experience here was a little better, but that's only because it's possible to download apps that specifically look for a Bluetooth-enabled microphone and then will work with it.  I was able to get the microphone to work with apps like Bluetooth Recorder. Skype would only use the device's internal microphone. Vlingo not only didn't seem to pick anything up from the headset's microphone it became unresponsive until I shut it off. Google Voice Search seemed to listen to both the internal microphone and the headset, the same goes for SwiftKey's vocal input.
When paired with my Android-based T-Mobile G2 phone the headset did work properly. To answer an incoming call you press the mute button, disconnecting was accomplished by holding mute for three seconds. I couldn't find any button that would allow me to initiate voice recognition on my phone. It also served as a media headphone allowing me to listen to the audio from Pandora, Netflix, Crackle, etc. As with the iOS and other Android devices I had problems using the microphone with some apps.
Logitech states that the headset will work for FaceTime calls with the iPhone 4+ iPod Touch 4G and the iPad 2. I would suggest that unless an app specifically tells you it works with the specific Bluetooth microphone that you have don't expect it too. The Bluetooth drivers that are available for Windows and MacOSX won't have any problem working with the headset.
The documentation included with the headset is really quite minimal. It's a Bluetooth headset so it really shouldn't need all that much more than pairing/connecting information, but during my testing I noticed the power/status light in several different modes and while some were mentioned there are still some that were a mystery. I'd also like to know how to reset the headset to factory condition and remove all previous pairings.
All in all, the Logitech Wireless Headset is a nice, relatively inexpensive product ($69 MSRP) that does what it says it will do and quite a bit more relatively well. It's not a great set of audio headphones, but it's not bad. It's not a great microphone, but if you're working with a PC it's more than adequate for gaming, VOIP, voice commands, online conversations and the like. It's lightweight, and comfortable to wear for long periods. The battery life, standard micro-USB charging port, and ability to fold up make it a solid choice for travelers.
Update 10/27/2011: It has been about a week and I've used the headset off and on with a 2011 Mac Mini. After a few days the headset stopped connecting with the Mac Mini and re-pairing the device wasn't helping. There wasn't much help available in the Logitech forums on this headset aside from one rep suggesting that it wouldn't work with anything but the iPad or iPhone. I decided to try deleting the device entirely from the Bluetooth settings on the Mac and completely repairing and that seems to have worked. If you just try to re-pair without deleting the old profile the Mac states that it will delete and re-pair, but its possible that isn't happening. I then went back and re-tested it with a number of my other devices and all went well. I'm not sure if the loss of connectivity is a Mac Mini Bluetooth issue (The Mini is running the new 4.0 version of Bluetooth) or an issue with the headset. I will update this review if I have any further issues or discover what may have caused the problem in the first place.

Product Information
Price:
$69.95
Manufacturer:
Logitech
Retailer:
Presale through Logitech Now, most major retailers soon.
Requirements:

For stereo audio playback:
iPad 2
iPad
iPhone (3G and later)
iPod touch (2nd generation and later)
Tablets, smartphones and other devices that support Bluetooth® wireless audio profile [Advanced Audio Distribution Profile (A2DP)]
For FaceTime® calls:
iPad 2
iPhone 4
iPod touch (4th generation)
For voice calls:
iPhone (all generations)
Other phones that support Bluetooth Hands-Free Profile (HFP 1.5)
Bluetooth enabled Windows and Macintosh PCs.

Pros:

Lightweight
Comfortable
Six-hour battery life
Standard micro-USB charging port
Audio quality (for this type of device)
Noise-cancelling microphone

Cons:

Microphone compatibility with some mobile apps (Bluetooth issue)
Lack of spare foam headphone covers
Documentation could be better especially in describing what the various status light modes mean.