We use affiliate links. If you buy something through the links on this page, we may earn a commission at no cost to you. Learn more.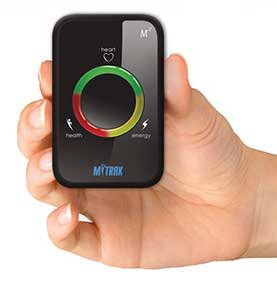 I'm starting to notice a trend lately… In the last few months, there have been 4 similar $100 fitness gadgets announced. We reviewed the Fitbit (link below in the related posts list), then there was the NewYu, then the Striiv and now the MYTRAK. They all have some type of display that shows your daily activity level (or lack there of). As you walk, workout, etc, the display will change to motivate you to continue. The MYTRAK uses a circular display that starts out Red and changes to Green as you progress. It tracks the intensity, frequency, and duration of your physical activity and shows how many calories you've burned and need to burn to reach your goals. It also shows you how you are doing in each of three
key fitness areas: Heart, Energy, and Health. The MYTRAK can interface with a Polar heart rate strap, but one isn't required. You can purchase the MYTRAK for $99.95. Do you think these gadgets are motivational? Which of the ones I mentioned would you choose?