We use affiliate links. If you buy something through the links on this page, we may earn a commission at no cost to you. Learn more.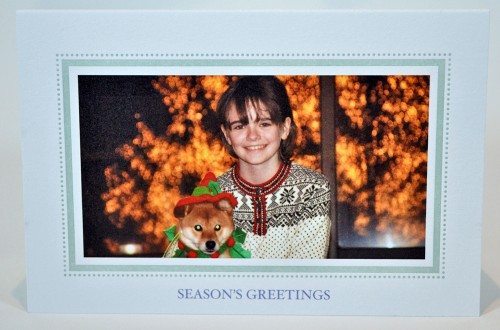 When I reviewed the Apple Cards app, I was disappointed to receive a card missing the letterpress design elements I had selected. Someone at Apple read the review, and they launched an investigation into why I had received the wrong design.  Someone at the printer checked my order file and determined it was okay.  Apparently, my card had just been the victim of a glitch in this new process.  They reprinted my card for free, and I wanted you to see how the card I designed with the Apple Cards iPhone/iPod App actually looks.  Click on the above image for a larger view, and click through to see more views.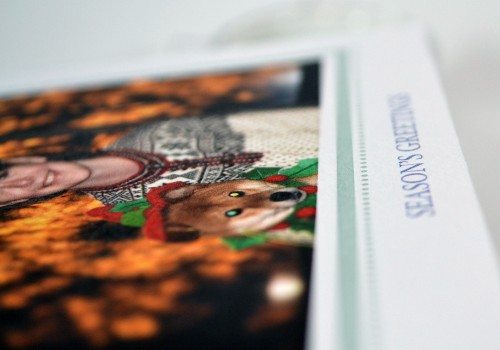 You can see in the top picture that I received the border around the photo.  This border is embossed into the card.  In the above image, you can almost see the indentation of the design. (Click it for a larger view.)  The photo printing was just as sharp and clear this time as with the first card.  I can see details in Rachel's sweater, and I can see the stitches on Teddy's holly leaves.  The "Season's Greetings" is just printed on, not embossed.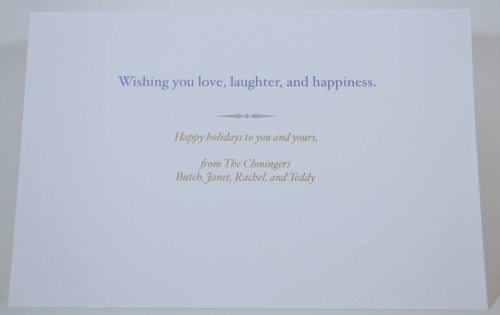 The interior is missing the border – which wasn't part of the design I had selected – and has the flourish between the greeting and the signature – which was part of the design I selected.  The flourish is letterpressed, so it is embossed into the card.  None of the printing inside the card is embossed.  Again, this image can be clicked for a larger view.
I think the card is attractive and well-printed.  It's certainly worth the $2.99 purchase price.  I still wish I had more designs from which to choose.  I'd also like an expanded color gamut so I could have some pink and yellow on baby cards and some red and green on Christmas cards.
Some people will say that having the signature printed on and having someone else mail the card is too impersonal.  Perhaps, but all my friends and family know what a geek I am, and I think they would appreciate getting these cards from me.  I'm impressed by the quality of the card, and by Apple's attention to working the kinks out of their new system.  I'm sorry to report that I still did not receive the promised delivery notification, though.