We use affiliate links. If you buy something through the links on this page, we may earn a commission at no cost to you. Learn more.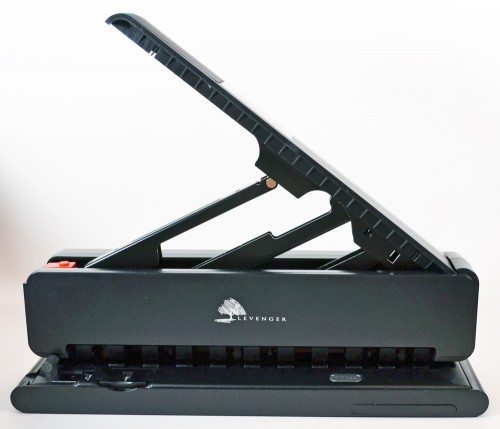 No matter how much I use my gadgets, I could never give up my paper and writing implements.  I've always loved school and office supplies, and I was in heaven when I discovered Levenger and their beautiful notebooks, rich papers, and beautiful pens.  Levenger's Circa system notebooks are perhaps best described as the best of ring-bound notebooks married to the best of spiral bound notebooks.  With Circa notebooks, you can rearrange pages inside your notebook, remove them, replace them, or even add pages to them like ring-bound notebooks.  But instead of three holes, the papers are punched with many holes, like spiral-bound notebooks.  Punching these little mushroom-shaped holes requires a special punch, and Levenger has sold a desk punch and a portable punch for years now.  They have just introduced their heavy-duty Leverage Punch, and I was very happy to have the chance to try it out when Levenger offered one to The Gadgeteer.
Most pictures, including the top one, can be clicked for a larger view.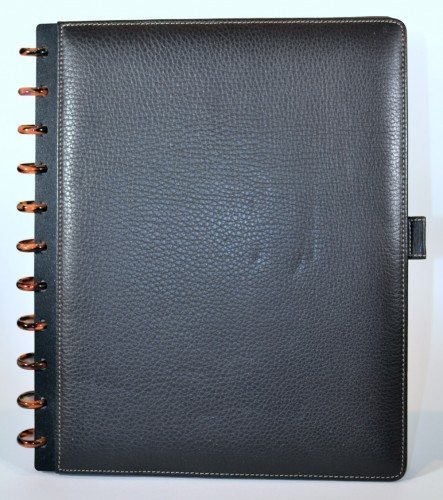 First, a little more about the notebooks.  Here's a picture of my letter-sized Levenger Circa notebook in Bomber leather with special Kyoto rings.  These plastic rings replace the wire spiral.  The notebooks are available in a variety of styles – zippered or open, leather, cloth, or plastic, letter, junior, and even index-card holders.  The can be rich and expensive-looking and right at home in the boardroom, or they can be inexpensive, lightweight, and utilitarian for taking notes in class.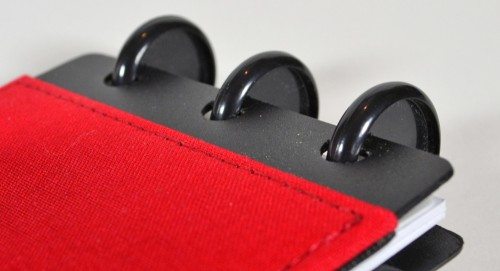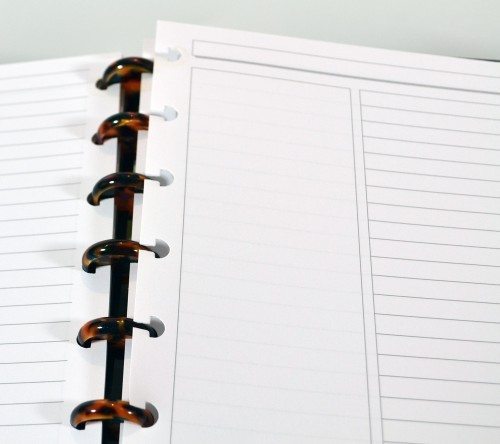 The Circa rings are the secret to the system.  These plastic disks, shown here in the standard black, have a raised rim.  You can easily lift the papers off these rings, then reinsert them at another place in the notebook.  You can add paper as needed to replenish your notebooks, and Levenger sells Circa paper in a variety of styles for these notebooks.  But sometimes you'd like to add meeting notes or a class syllabus to your notebook.  Or maybe you'd like to make some really impressive-looking meeting handouts with translucent plastic covers, Circa rings, and your own printed papers.  You'll need a punch for that.
As I mentioned earlier, Levenger has sold punches for years.  I've owned the desk punch for years, and it works very well.  I can punch papers for any size notebook or index cards for my Circa PDA notebook (red, shown above).  You can imagine it takes a lot of force to punch all those oddly-shaped holes.  I can easily punch 3-4 sheets of copier paper or 1-2 pieces of card stock or index cards at a time, and that normally works well for me.  What if you needed to create 40 50-page Circa notebooks to hand out at tomorrow's meeting?  You'll be doing a lot of punching at 4 pages per punch with the Desk Punch.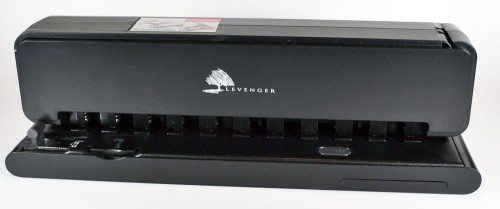 Levenger's Circa Leverage Punch is a heavy-duty version of the desk punch.  The Leverage is designed to punch through 15 sheets of copier paper at once.  The Leverage is about 13″ long X 3.75″ wide X 3.75″ tall when closed, as shown above.  It weighs 4.6 pounds, but it's not intended to be thrown in your gear bag, anyway.  Opened for business, it's about 10.6″ tall (shown in lead picture).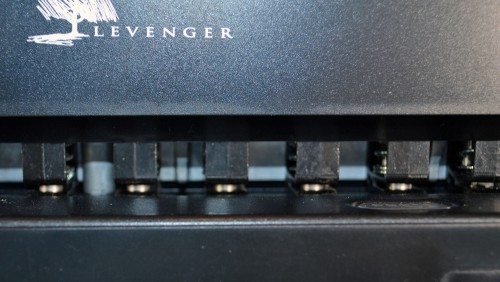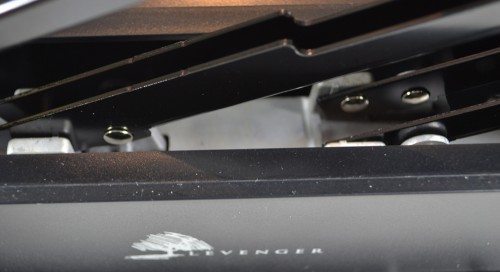 The exterior is made of a heavy, black plastic.  The punching mechanism is made of metal.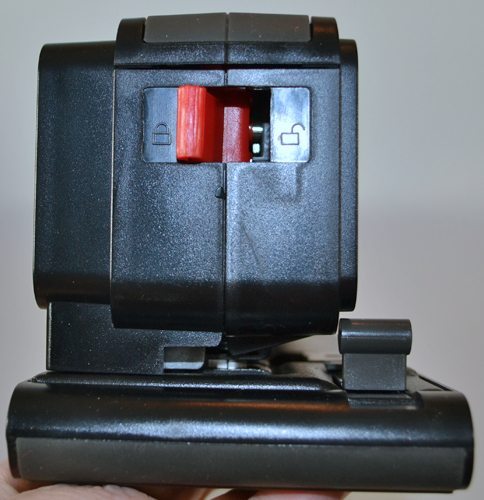 Unlock the red button on the end to deploy the punching lever.  Use the paper selector on the front of the Leverage to choose the size paper you'll be punching.  You can punch paper for any size Levenger notebook:  letter (8.5″ X 11″), junior (5.5″ X 8.5″), compact (3.75″ X 6.75″), PDA (3″ X 5″ index cards), or Micro PDA (2″ X 3.5″ business-card size).  Slide the paper under the plastic "teeth" until it stops against the back.  The side of the paper should be against the end of the metal adjustment bar, as shown in the photo below.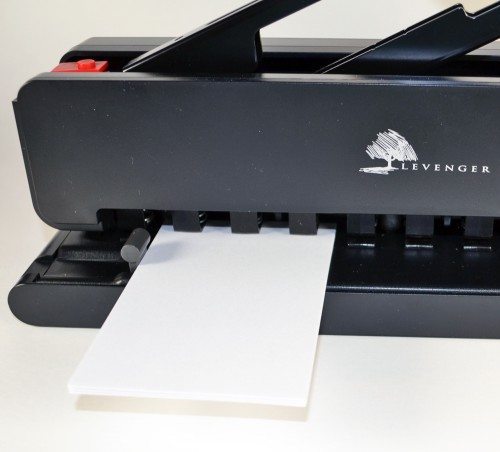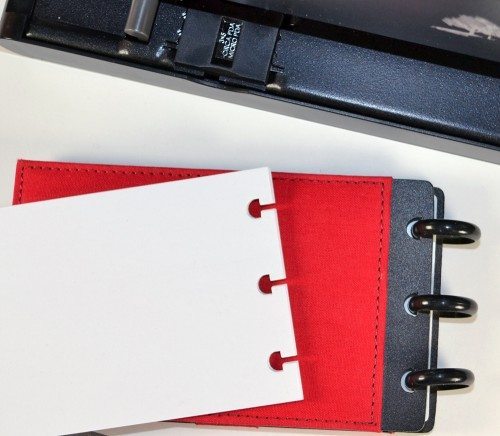 I tried punching some cheap index cards I had purchased at the local office supply store and some of the thicker index cards I had purchased from Levenger.  This size requires the fewest holes, so they should be easiest to punch.  Both cards punched easily, and I was able to punch 7 cards at once of either stock.  The holes were smooth and even.  I had to stand and lean into the lever as I pressed down on it, but it was easy to punch through the stack of paper.  The cards I punched fit into my Levenger PDA cover perfectly.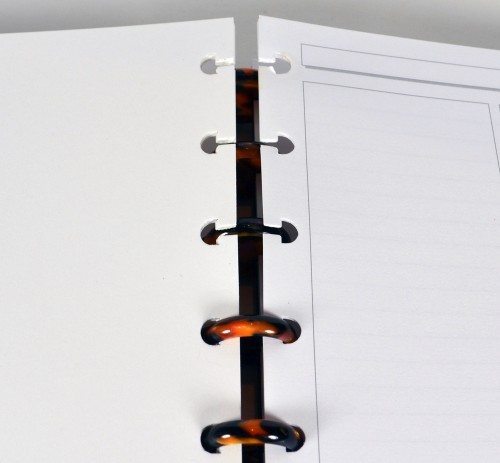 I next tried punching letter-sized papers.  Because these papers require all 11 of the mushroom-shaped cutters, it should take the most force to punch this size.  I first tried using 24-pound printing paper.  I was able to punch 15 sheets of this paper at once, and it did require a bit more effort than punching the smaller index cards.  The holes were all cut perfectly.  I also tried 65-pound cover stock.  Again, it required more force, but I was able to punch perfect holes through 6 sheets of the cover stock at once.  These papers fit perfectly into my Circa Bomber-leather notebook.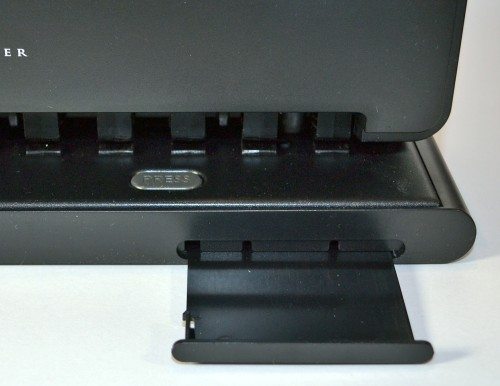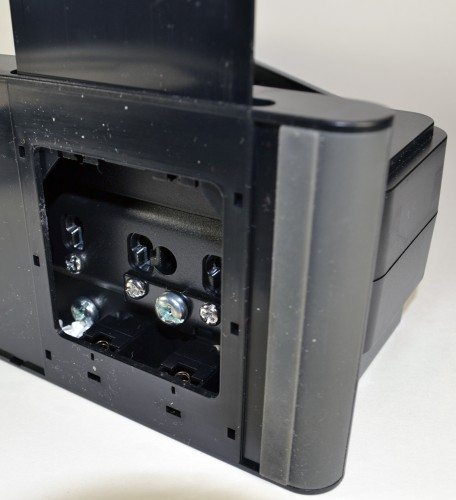 Of course, punching holes in paper creates a lot of little pieces of scrap.  The bottom of the Leverage Punch contains all the scraps.  Press the silver button on the top of the Leverage to open a door in the bottom so you can shake all the scraps into the garbage can.
I find the Levenger Circa Leverage Punch to be well-designed and well-made.  It folds up compactly for storage.  It punches papers for Circa notebooks just as well as the Circa desk punch I've used for years, but it's capable of punching through 4-5 times as many pages at once as the desk punch.  If you use Circa notebooks, you'll find the Leverage Punch invaluable for cutting through large quantities of paper very quickly.  You'll even be able to punch your own plastic notebook covers with the Leverage.  It's expensive at $139, but it will pay for itself in time savings if you make a lot of Circa notebooks.
Product Information
Price:
$139
Manufacturer:
Levenger
Pros:

Heavy-duty and cuts through 15 sheets of 24-pound printer paper at once
Works for every size Circa notebook
Will be ideal for punching large amounts of paper for meeting handouts, brochures, etc.

Cons:

Probably too expensive for a person who only needs to punch the occasional sheet of paper