We use affiliate links. If you buy something through the links on this page, we may earn a commission at no cost to you. Learn more.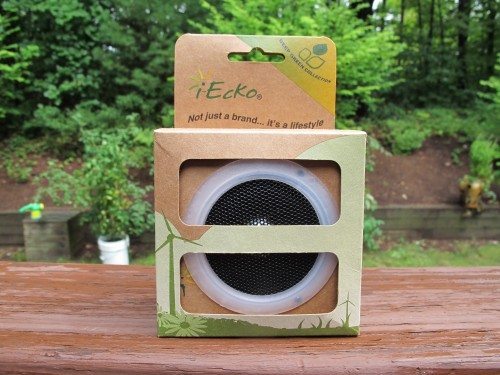 No one has ever mistaken me for an environmentalist, however, I drive a hybrid car; my previous car ran on E85; I replaced most of my light bulbs with CFLs and I sort my trash for recycling.  I do these things, not because it makes me feel good.  I do them because it saves me money.  Hence, when I was offered the opportunity to review the i-Ecko speakers I knew I would use the same approach to this environmentally friendly product.
The folks at i-Ecko are promoting a lifestyle.  They have other products in their eco-friendly line, including USB flash drives and an mp3 player.  All are purported to not cause any harm to the environment.  They're all made in China.
Features of the speakers from the web site:
Made From Recycled Materials and Sustainable Natural Fibers
Easily Assembled
Compatible with all iPods and MP3 Players
Folds Flat For Convenient Storage and Portability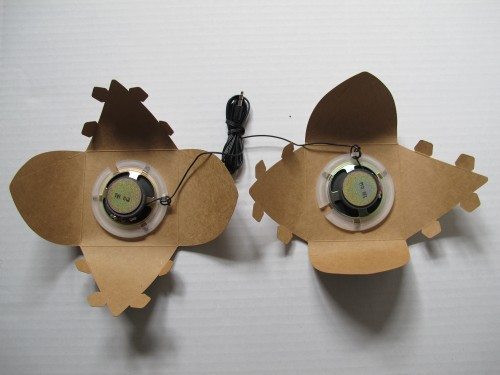 Here's what the speakers look like after they're taken out of the box and before they are assembled.   Assembly consists of some folding and then inserting tabs into precut slots in the cardboard.  Patience is required or the tabs can be torn off.  I also found it advantageous to use the back of a spoon to make the folds.  If they're not crisp, you'll have problems inserting the tabs.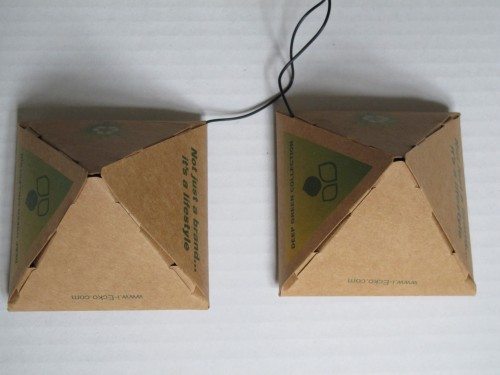 Here's what you wind up with.  If you care about the writing on the speakers being in an upright orientation, make sure you route the speaker wire out the correct corner.  It doesn't route naturally to the right spot.  Being the first time I assembled the speakers it took me about 15 minutes.  Subsequent assemblies took less time which is good, but could be a problem.  Everytime I took it apart and reassembled, the slots in the cardboard became larger.  Over time I might need some type of tape to hold the speakers together.
Never miss one of our posts again. Sent MON, WED, and FRI with the latest gadget reviews and news!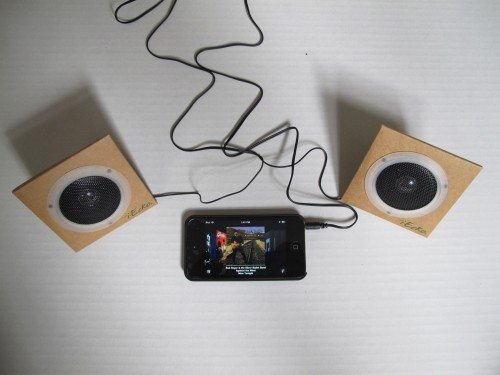 Now for the subjective part.  I hooked up my iPod Touch and cranked the volume to max.  I didn't hear any distortion nor any bass, but then again the loudness was very low.  I tried playing different tracks from Nickleback to the Fleetwoods and found it hard to hear unless I was no more than 5 feet away.  These things are not powered, so I guess you can't expect much.  I also got the same results using two Creative players and an RCA player.
To insure I wasn't being overly critical, I brought the speakers to a family gathering and demonstrated them.  The common complaint was that the volume was very low and several people questioned why you would buy these when you could get better sound out of a cheap set of earphones for the same or less money.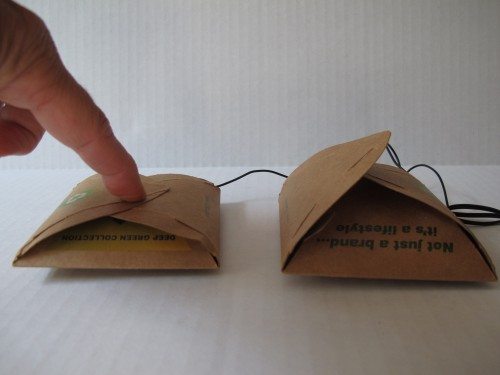 Lastly, the box they came in states the "speakers fold out flat for storage and can be transported with ease".  I guess that statement depends on your definition of flat.  The above photo shows the smallest I could get the speakers.  They fit very nicely in the box they came in, but they still take up a lot more space than a set of earphones.
I can't get too excited about the i-Ecko speakers.  Perhaps people who consider the green factor more important than the performance of the speakers would be interested.  Now I have to figure out how to dispose of them.  Do I put them in the paper, plastic or metal recycle bin?
Product Information
| | |
| --- | --- |
| Price: | $11.99 |
| Manufacturer: | i-Ecko |
| Retailer: | Amazon.com |
| Requirements: | |
| Pros: | |
| Cons: | |