We use affiliate links. If you buy something through the links on this page, we may earn a commission at no cost to you. Learn more.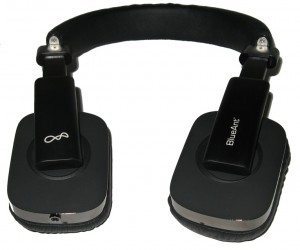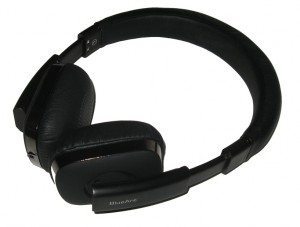 BlueAnt's recently introduced the Embrace headphones, and they've graciously sent a pair for the Gadgeteer to review this week. These are BlueAnt's first non-Bluetooth headphones, using a standard 1/8″ connector, and designed with a focus on sound quality and comfort. They also come with two cables, one regular cable and another with an iPod/iPhone/iPad controller & microphone. Read on to find out how BlueAnt's newest headphones stack up.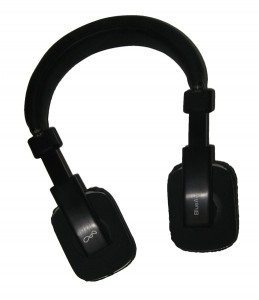 The Embrace headphones move away from BlueAnt's ubiquitous bluetooth wireless on their other products and instead concentrate on comfort and sound quality. They're also well constructed, and have features to make them a bit more portable. Plus they come with a nice leather carry pouch. Designed with 'True to Life' sound technology for accurate sound reproduction, they're also sturdy while still being comfortable and relatively lightweight. The brushed aluminum hardware contains two custom tuned 40mm drivers covered with comfy leather ear pads. These leather ear pads do an excellent job of passive noise suppression, lowering outside noise significantly while the big drivers are specially designed to reproduce the full sound range- Aiming for reproducing music neutrally without bias.
Besides sounding great out of the box, it felt like the design lets the EQ do a better job shaping the sound to your liking; You can scorch your eardrums with highs or jelly your brain with deep bass without having to contend with the headphones inherent sound bias. I ended up disabling the EQ and iTunes' native 'sound enhancement after experimenting because these headphones do an excellent job of reproducing sound; BlueAnt doesn't call them studio monitors, but even so I thought they were very close.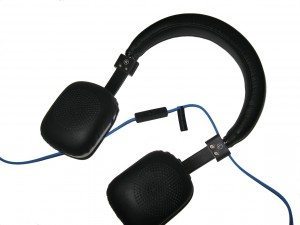 The look of the Embrace headphones slick: black and modern. The two included cables are either blue for iDevices or black for the straight-through cable. The blue cable adds a little tasteful color to the design. For portability, the headphone ends rotate flat, making the package flatter and easier to carry, while a dual-headed cable disconnects and fits into a pocket inside the carry case so there is nothing to bend or break off. The all-black coloring is only broken by dark-tinted chrome rings around each of the earpieces, where the cable plugs into the bottom of the left headphone's ring, and silver writing on the sides – Overall a very tasteful blend of materials. And the soft leather that covers each earpiece also covers the band across the top, with padding to keep the top of your head happy.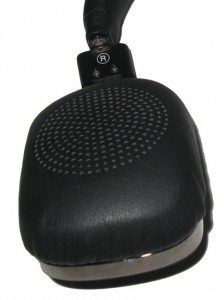 The modern and clean look of the headphones is backed by equally sophisticated sonics that I mentioned briefly above; 'True-To-Life' sound is what BlueAnt calls the flat frequency response of the Embrace headphones. So many audio products are employing methods to boost bass response that listening to music through the embrace headphones is like a breath of fresh air. It's clean, crisp, and brings out more detail than I've become used to. Listening to a guitar piece on the Embrace after using another mid-range pair of popular headphones was like having a filter removed; I could hear fingers moving on the strings and a much wider 3d image that was missing from the other headphones while using the same EQ settings (which was set to Off in iTunes, along with the Sound Enhancer).
But this isn't to say the Embrace headphones can't reproduce deep bass as well – Not the case at all – The bass just wasn't overwhelming. I was able to get the same super-bass effect by manipulating the EQ, but I  really enjoyed hearing the subtle sounds that made listening to music with the Embrace headphones so much… better. And that was really the point; You could shape the music any way you like using an EQ, but the headphones themselves were neutral. Hearing well engineered recordings, in a lossless format (ALAC), really made these headphones shine.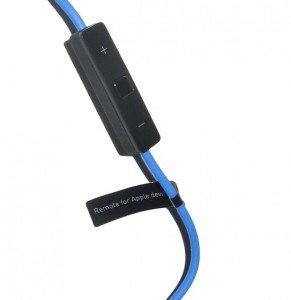 The addition of iPhone/iPod/iPad controls and a microphone is a definite convenience. At first I thought "how often would I be listening to these and still need to use the phone?". Especially since they are headphones and not earbuds or earphones. But in fact my primary music-playing device is the iPhone, so I was bound to get a couple calls while listening to music. With the noise isolating leather ear pads cutting out a good amount of background noise, and the 40mm drivers reproducing a caller's voice so clearly I could easily hear compression artifacts. And the microphone is ok, it does about the same job as the standard Apple earbuds, it's clear and does an adequate job but isn't significantly better than other options. I started actively putting these on to make long calls or conference calls, the comfort and ease of listening was worth it.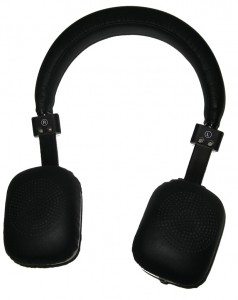 If you can't tell already, I'm totally pleased with the Embrace headphones. They're well made with aluminum stalks so they feel like they won't break easily, plus have the folding design with a cable that unplugs rather than being bent or broken off, so they should be easy to travel with. The soft leather on the top and earpads feels great and does a very good job of isolating noise while keeping your ears comfortable. But more importantly the Embrace headphones sound great; Crystal clear sound with no overemphasis of bass or treble, but with enough power where you can tweak the bass to turn your brain to jelly if you desire it. The greatest advantage is the Embrace's ability to reproduce sound faithfully which brings out detail I've been missing, with an impressively wide soundstage that sounds almost like a 3D effect. If you're looking for headphones in the 200-300 range, definitely give these a look; They sound great, and the added iDevice features make them a slam-dunk for iPod, iPhone, iPad music aficionados.
Never miss one of our posts again. Sent MON, WED, and FRI with the latest gadget reviews and news!
Product Information
Price:
$200
Manufacturer:
BlueAnt
Retailer:
BlueAnt Online Store
Requirements:

1/8" Audio Jack - iPhone/iPod/iPad to use included remote & microphone

Pros:

Quality Design
Clear, neutral, faithful audio reproduction
Folds slightly for easier carrying
Comfortable

Cons:

none- I really liked the Embrace headphones!