We use affiliate links. If you buy something through the links on this page, we may earn a commission at no cost to you. Learn more.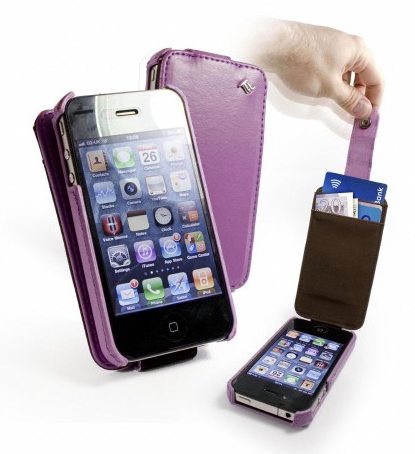 Tuf-Luv has a line of smartphone cases for iPhone 4, Samsung Galaxy S2, and various HTC phones that incorporate an easy-to-use wallet.  The phone is held securely in the Tuff-Grip molded case with custom cutouts for your phone.  The front flap of the In-Genius case has two card pockets.  To make sure your bank card is always easy to access, the closure strap also doubles as a pull-tab to quickly lift out that card.  The cases are available in faux leather or genuine leather, in black and in a variety of colors.  Read the attached press release (after the jump) to see if there's an In-Genius case to fit your phone.
The In-Genius Case ™ from Tuff-Luv.  Simple but brilliant; a slim line smartphone
case that includes space for cards and cash with instant Pull-tab access.
Surrey, U.K.  – August 30, 2011 – This week Tuff-Luv Cases launch their latest case design for; Apple iPhone 4, HTC & Samsung Smart phones, available to order from www.tuff-luv.com/genius.   The In-Genius Case™ ​has been designed to simply reduce the number of items consumers carry with them, through everyday life.
With the In-Genius Case™​ consumers can keep bank cards and cash with their phone, making sure they never leave their wallet or purse at home.  These two security pockets have been installed onto the inside of the phone case for added peace of mind.  In addition to these two card slots, Tuff-Luv has improved upon the current market offerings by installing a Pull-tab into the smartphone case.
The sturdy Pull-tab strap doubles as a clasp to keep the case closed when the phone is not being used.  The Pull-tab can also be gently pulled to remove the contents of the card slot, meaning owners can still make their payments quickly and smoothly.  Everything they need when leaving, out the door for the day, all in one case.  In-Genius!
Tuff-Luv's In-Genius Case™ ​ is available in a variety of materials and colors for Apple iPhone 4, Samsung Galaxy S2, as well as the following HTC Smart Phones; ChaCha, Desire HD, Evo, Mozart,
Sensation & Wildfire S.
The new In-Genius Case™ ​will allow smart phone users to:
·         Keep all their essentials together, in one place (no need for a wallet or purse)
·         Quickly access their bank card using the Pull-tab feature
·         Store a second bank card, ID or cash.
·         Utilise the Tuff-Grip form factor ensuring the phone stays in their hand, no slips
·         Use the custom cut-outs to get the most from their phones functionality
·         Choose from a range of materials and colours to suit their taste
·         Have total confidence in their purchase with our LIFETIME GUARANTEE!
Despite the speculation that the iPhone 5 will soon arrive, Tuff-Luv decided it would be unfair to hold back great design back from the thousands of people who already have the iPhone 4.  There are already some revisions in production for the iPhone 5, which ill be ready and waiting for the release.
"We're really pleased to offer this latest innovation for our Smartphone cases" commented Chris Rogers, designer of the In-Genius Case™.  "We try to make people's lives a little bit easier, by designing solutions that help them in their daily lives.  With the In-Genius Case we've done just that."
Pricing and Availability
In-Genius Case™ is available now, in the following materials and colours, prices start from £24.99