We use affiliate links. If you buy something through the links on this page, we may earn a commission at no cost to you. Learn more.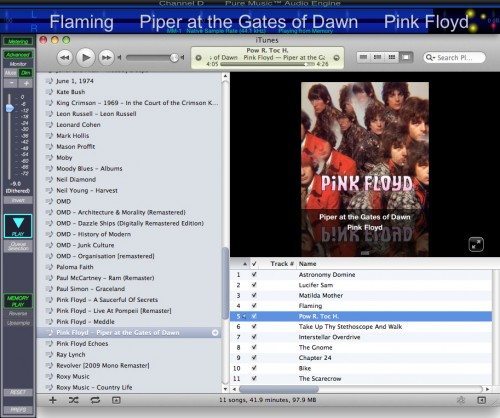 Here's a question for you: If you are less than satisfied with how your favorite music sounds using iTunes on a Mac, where would you first look for a solution? Better speakers? A DAC (digital audio converter)? Soundcard? Higher resolution files? While all of these possible choices will usually improve the audio, chances are you didn't think of a software solution, such as an iTunes plugin. Well, maybe you should think about Channel D's Pure Music before you spend hundreds of dollars on new hardware.
I have used Pure Music for a couple of months now and I am still trying to get my head around all it can do. If I was writing an audiophile review, I could bring out sampling conversion charts, waveform data and all kinds of audio geekery to make a point. But The Gadgeteer is not that kind of site and frankly, it would bore the heck out of 99% of anyone reading this.
For instance, taken from Channel D's website, here's an edited list of some of what Pure Music can do:
Supports Apple Remote App for iPad/iPhone/iPod Touch
Automatic sample rate switching
Gapless track playback and Memory Play
Adjustable Dithered Volume Control
Supports CoreAudio / DACs / Audio Interfaces.
Supports all iTunes Compatible Audio File Formats
Plays tracks from networked volumes
Optional REAL-TIME 64-bit upsampling
CoreAudio Device HOG Mode support
Internal Audio Device Selection and Setup (or use Apple Audio MIDI Setup)
Up to 384 kHz sample rate
Supports AudioUnit Audio processing plug-ins (parametric EQs, etc.)
Uncompressed audio streaming support (up to 384 kHz and up to four separate connections)
64-bit Adjustable 2/3/4-way Crossover with time alignment and minimum phase filters
Our own proven, optimized algorithms – not built from a patchwork of "open source" software
Native FLAC playback
Optional FLAC file conversion and downsampling
… pure audio geek heaven and that's not even everything.
So in this review, I am going to concentrate on why I think Pure Music is important and why you might consider it if you listen to your music using iTunes, have a Mac (sorry PC people) and can appreciate the quality of Apple Lossless over a 128kbit MP3 file. If you either can't hear the difference or don't really care, then PureMusic will be a waste of money. However those who prefer to play music files in only the highest bit rates possible and can store those massive files on multi-gigabyte hard drives or iPods will appreciate what Pure Music can do.
First, let me be honest. Pure Music is not an OMG! piece of software. Better headphones or speakers will provide that kind of dramatic improvement. In fact, when I first tried Pure Music, I heard improvement, but I began to wonder what all the fuss was about. I only realized what I was missing when I didn't use it. I sensed that the music was less "there." It's hard to visualize: When Pure Music is used, it's like a layer of aural gauze has been lifted from the sound. Songs appear more transparent and open and you hear more clarity and definition. Everything just sounds more focused.Pure Music is bbased on Channel D's famous Pure Vinyl software that edits and archives analog LPs into high resolution digital files.
According to Channel D, Pure Music achieves this by totally taking over the playback of iTunes songs. Consequently, iTunes becomes just a database for music files letting Pure Music do its magic. It can upsample song files which can help the songs sound less digital and more organic.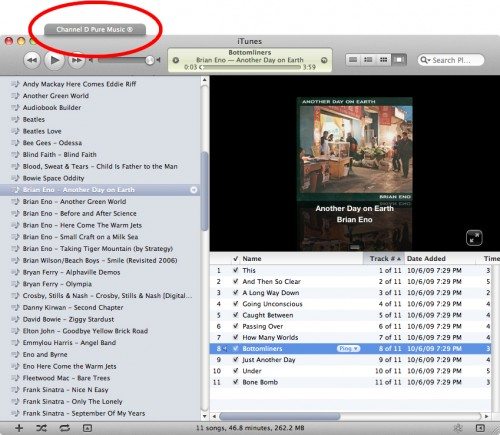 As software, Pure Music exhibits some irritating quirks. If the iTunes window is close to the bottom of the monitor screen (where I usually keep it), then part of the plugin is off screen. I have to drag iTunes away from the monitor's edge to view the whole plugin, since Pure Music sticks to the edges of the iTunes window. It's not a major deal, but it bugs me. Now, there is a Hide music server control choice which creates a small button that attaches to the iTunes window – sort of. If I drag around the iTunes mini-player window on my desktop, that tiny button follows behind and only snaps to the window after I stop dragging. Another quirk is that Pure Music insists on placing the iTunes window at the front of your monitor with every song change regardless of what else is on your screen. It just pops right on top of everything, even if you've selected Hide in the iTunes prefs. Also, Pure Music won't hide itself from the screen at all, no matter what you do. It's just there.
Visually, Pure Music looks – well, let's just say it has a great personality! It wraps itself around the upper left corner of the iTunes window showing all the necessary buttons along with some options. However, it looks visually nothing like iTunes or anything else Apple for that matter. I would have preferred an iTunes-like brushed aluminum face, or a similar look. The color scheme and buttons look like something out of Windows 95. But you know what? Once you get used to all the quirks and that Retro95 look, it's the audio improvement that really matters.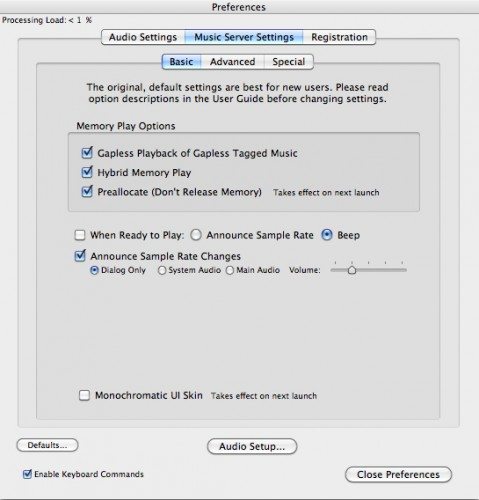 As I said earlier, Pure Music seems to lift an aural gauze from the music. Vocals feel more intimate. Cymbals shimmer a bit more. The bass kicks more without becoming  overpowering. In fact, I think that's part of the magic: Nothing is enhanced or improved at the expense of anything else. Everything just sounds … more better. Let me say that this can be achieved using Pure Music "out of the box" with no customizing done at all. If you are a knowledgeable audio-head, Pure Music does give you infinite settings and choices for that ultimate in tweaking. I'm not going to get into that for this review. There are other, more detailed reviews out there for reding and Channel D's own website delves into what Pure Music is capable of in excruciating detail. I will recommend that at first, just use the plugin as it is. You can always tweak it later once you become more comfortable with it.
I have been using Pure Music with my iMac and a pair B&W MM-1 speakers which come with a built-in digital audio convertor (DAC). I think this DAC is necessary as the iMac's soundcard is just awful. And even using the fantastic MM-1 speakers, Pure Music makes it sound better.
I have been reacquainting myself with Pink Floyd's first album from 1967, "The Piper at the Gates of Dawn." If your knowledge of Pink Floyd begins with "Dark Side of the Moon," then this album can be a shocker. It is nothing like later Pink Floyd. Founder Syd Barrett was a major influence on the band's early sound. So what you have is quirky, weird, psychedelic pop that just happens to be recorded very well. Listening to these songs using Pure Music brings out detail that I hadn't noticed before. Note however that this detail is only noticed when you are paying attention. Play the album while doing other things, and those improvements will be much harder to appreciate.
Which brings up an unexpected aspect to Pure Music. In the old days of vinyl records, albums were almost events. You brought the album home and would listen to it from beginning to end, sometimes with friends. There was little talking and you paid close attention. Much of today's music is more disposable commodity than art. If you listen to music on the go or as background, then Pure Music is a waste. Using Pure Music has forced me sit down, stop whatever I was doing and just listen. I had almost forgotten what a pleasure it is to play an album from start to finish with no shuffling! Only then did I truly appreciate what Pure Music does.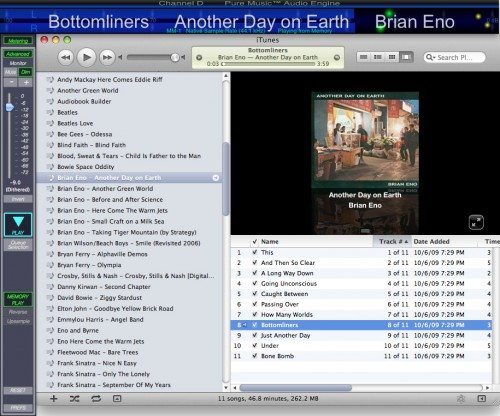 Another complete album that benefited from Pure Music was Brian Eno's "Just Another Day on Earth." There is so much subtle stuff going on here that with Pure Music, the songs took on another dimension. There are layers upon layers that I was able to differentiate. Although the album is sometimes laden with extreme bass that can easily overwhelm lesser speakers. But Pure Music tames the bass when it gets out of hand., making it more an integral part of the songs rather than letting the bass fight for the lead. Listening to this album became an absolute treat, all over again.
With its ability to extract the best from high resolution music files, Pure Music – especially paired with a decent digital audio convertor and decent speakers – can make your Mac sound as good or better than a high-end CD player costing hundreds or thousands of dollars. That alone makes Pure Music a bargain.
There is a full working 15-day Pure Music demo available for download here.

Product Information
Price:
$129 US
Manufacturer:
Channel D
Retailer:
Channel D
Requirements:
Pros:

Just makes your music sound better
Brings out hidden details in music
Easy to use and allows infinite tweaks if desired

Cons:

Expensive
Improvements are subtle, but will be missed when turned off.
Interface looks old