We use affiliate links. If you buy something through the links on this page, we may earn a commission at no cost to you. Learn more.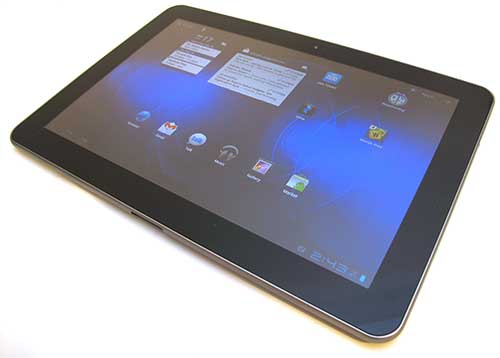 Back in December of last year, I had the opportunity to review Samsung's first Android tablet, the Galaxy Tab 7″. I liked it well enough, but ended my review saying that I really wanted an iPad sized Android tablet because a 10″ screen is the sweet spot for me. Since that time I've reviewed a handful of other Android tablets, both big (iPad sized) and small. The Motorola Xoom running Honeycomb came the closest to making me want to shell out my own cash for one, but I kept dragging my feet on making the purchase. Now it's 8 months later and there are quite a few 10″ sized Android tablets running the latest and greatest version of the OS (Honeycomb). Verizon was kind enough to send me the Samsung Galaxy Tab 10.1 4G LTE to try. Am I tempted to buy one for myself? Let's see.
Note: Click the images in this review to see a larger view.
Hardware Specifications
Processor: AP (nVidia T20, Dual Core Cortex A9, 1GHz) + CMC220(LTE) + VIA CBP 7.1
Memory: 16GB or 32GB internal –actual formatted capacity will be less
Operating System: Android 3.1 (Honeycomb)
Network: Verizon 4G LTE/3G and Wi–Fi (802.11 a/b/g/n)
Display: 10.1" 1280×800 WXGA 16M PLS TFT screen
Camera: 3.0MP rear–facing camera w/auto–focus and flash, 2.0MP front–facing camera for video conferencing
Bluetooth: v2.1 + EDR
Battery: Usage time up to 12 hrs OR Standby time up to 400 hrs
Dimensions: 10.10"x6.90"x0.34"
Weight: 1.25 lbs
Hardware Tour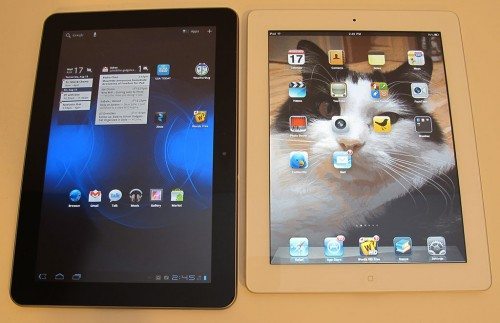 Out of the 10″ sized tablets currently on the market, the Samsung Galaxy Tab 10.1 is probably the most iPad like as far as looks go. It's thin, sexy and even weighs a little less than the iPad 2.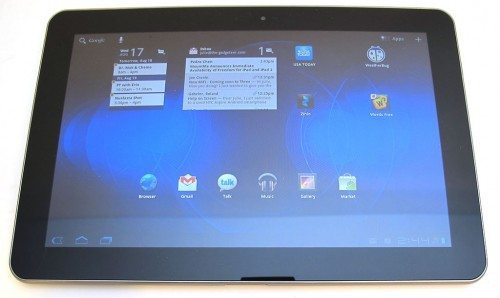 The tablet has a brushed grey shell with rounded corners. The casing looks like metal, but it's plastic as far as I can tell. Even so, it has a very nice feel to it and it's really attractive.
The front of the device is taken up entirely by the 10.1 display. There are no buttons, just a Black bezel around the screen with the front facing camera on top.
Never miss one of our posts again. Sent MON, WED, and FRI with the latest gadget reviews and news!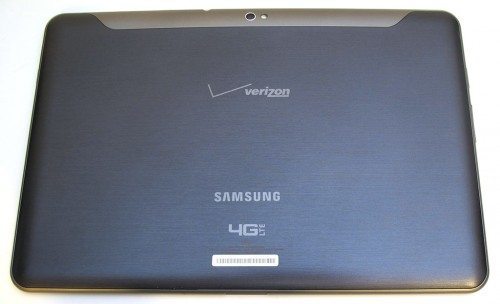 On the back, there's the main camera and LED flash.

On the left side of the tablet, you'll find a speaker grill (there's another one the opposite side), power / wake button and volume button.
Listening to music and audio through this tablet is enjoyable. Max volume isn't deafening, but the quality of the audio through the side firing speakers is much better than I expected.

The earphone jack and 4G SIM card slot are located along the top edge.

The docking / charge connector and microphone are found on the bottom edge.
The Galaxy Tab 10.1 feels really solid and doesn't creak, crack or rattle when I perform my patented squeeze test on it. Except for the fact that it has a plastic shell instead of a metal back like the iPad 2, it feels every bit as good in hand. The texture of the back gives it a better grip than the iPad too.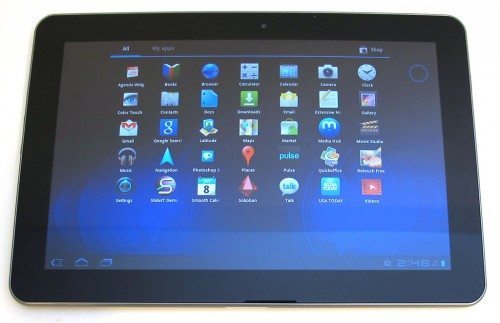 Samsung is known for the AMOLED displays in their smartphones, but unfortunately this tablet doesn't have such a display – probably because AMOLED displays aren't yet available in this size. Even so, the display is bright, crisp and easy to read, with a wide viewing angle. I have no complaints about it at all when it comes to visibility.
Watching video through the included Media Hub application (sorry, no Netflix…) is very enjoyable with the large display.
As far as touch sensitivity, this display feels responsive. However, I have noticed some issues in various apps where my taps are sometimes ignored, but I think this is due to some software glitches and not the display itself.
Camera
The camera built into this tablet takes mediocre pictures. Indoors they are a bit grainy… but outdoors they fare better. Of course I don't see anyone using a 10 inch tablet as a camera, so this isn't a make it or break it feature. Here are a couple sample images (cick to see the full-size):
I do like that you can tap on an area in the viewfinder to focus on. That's a feature of iOS that I've always liked and I'm glad to see it here too.
System Performance and Battery Life
The Samsung Galaxy Tab 10.1 is a snappy performer. Apps launch and lists scroll quickly. Using WiFi to watch movie previews through the included Media Hub app is smooth with no hiccups.
Using 3G (we don't have 4G in my area) has been a decent experience too. Not having to worry if there is free WiFi available makes it very convenient. Of course, you have to pay for that convenience. Monthly data plan rates will set you back 2GB $30, 5GB $50, 10GB $80 per month.
I've been impressed with battery life while I've been testing this tablet. I don't have any real data to share, but I've been able to use the tablet for a few days between charges. Battery life seems to be on par with my iPad 2.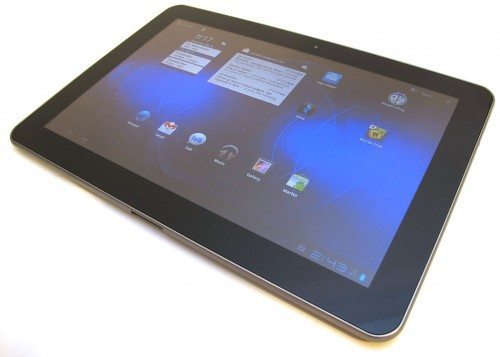 Software
This tablet is thankfully NOT loaded up with a bunch of junk applications that you'll wish you could delete. In addition to the normal suite of apps like the Calendar, Contacts, Gmail, Browser, Calculator, Market, Music, Camera, Clock, Maps, and Talk, you also get Quickoffice, Movie Studio, Media Hub and a GPS Navigator.
One of the first things I tried to find after getting this tablet setup was a swype style keyboard. I've been using Swype on my Droid X and love it. I ended up installing the demo version of an app called SlideIT, which works pretty well. I wish I could have this type of keyboard on my iPhone/iPad <sniff>
Some of you hate it when I compare the iPad to an Android tablet, but I can't help it. The iPad is a standard that I hold similar gadgets up to because I like it so well. That said, there are several things that this particular Android tablet beats the pants off the iPad:
You don't have to sign into the market every time you download a new app
Home screen widgets
Flash support in the stock browser
Swype and similar alternative keyboards
Bluetooth mouse support
I'd like to note that the last item in the list above is pretty important to me if I need to use this tablet as a laptop replacement. I'm happy to report that I was able to pair a Bluetooth keyboard AND mouse with this tablet at the same time. When you pair a mouse with the tablet, an arrow cursor appears on the display and you can move it around exactly like you do on your laptop.
I'd love to be able to use this tablet (or an iPad) as a laptop replacement when needed. Although the Samsung Galaxy Tab 10.1 comes pretty close to being able to do so, it still fails – for me. I say "for me" because I'd want to use it to do blogging work through The Gadgeteer's WordPress admin interface. It has some issues with being able to upload images and editing posts. It can be done, but it takes too much effort to make it easy and enjoyable.
But using the Samsung Galaxy Tab 10.1 strictly as a tablet is a very good experience. It works well for emailing, surfing, playing games, watching movies, etc. I really enjoyed my 2 weeks with this device and really don't want to send it back to Verizon… That said, I probably won't buy one for myself because of the fact that I can't quite use it as a laptop replacement for blogging. If someone would ask me which tablet I'd buy between the iPad 2 and the Samsung Galaxy Tab 10.1, I'd have a hard time giving them an answer because I love both devices. I'd like to take the apps and accessories for the iPad and add them to the ability to add desktop widgets and view Flash content with the Android and create my own Frankentablet. Sadly I can't…
Bottom Line
If you want an Android tablet that is thin, sexy and weighs very little, the Samsung Galaxy Tab 10.1 is a good choice. It's a little pricey when you figure in the 4G data plan, but you can get this tablet in a WiFi only version…
So tell me, what is your favorite Android tablet right now and why?
Product Information
| | |
| --- | --- |
| Price: | (16GB) $529.99 w/2yr contract, $699.99 w/o contract, (32GB) $629.99 w/2yr contract, $799.99 w/o contract, Dataplan also required |
| Manufacturer: | Samsung |
| Retailer: | Verizon Wireless |