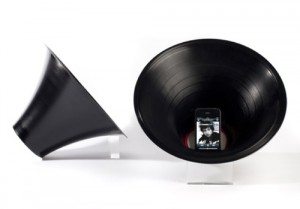 Got your vinyl stored away in boxes somewhere?  Grab out the best (or worst) record and revive its sound (well kinda).
London Designer Paul Cocksedge molds old 12″ records into a smartphone amplifier, working on the same principles as the gramaphones of old.
Paul will be heating and molding old LP's at an Exhibition called "Change the Record" at the Roundhouse in London on the 27th of August.
People are encouraged to bring their own 12″ records to see them transformed into a unique objects.