We use affiliate links. If you buy something through the links on this page, we may earn a commission at no cost to you. Learn more.
LED flashlights continue to amaze me. I've been using them for half a decade now, and they are still getting better – more light from fewer diodes and smaller power requirements, for longer times. The WorkStar 220 from Maxxeon is no exception.
Filling almost the same form factor as penlights of old, it's powered by three AAAA batteries, and has a push-button switch on the bottom. That's where the similarities end, however. Rather than showing you a patient's tonsils, or the serial number on the back of the tower computer under your desk, this baby will highlight your new puppy half-way across your yard on a moonless night. Think I'm kidding? Take a look at these two pictures, taken just seconds apart.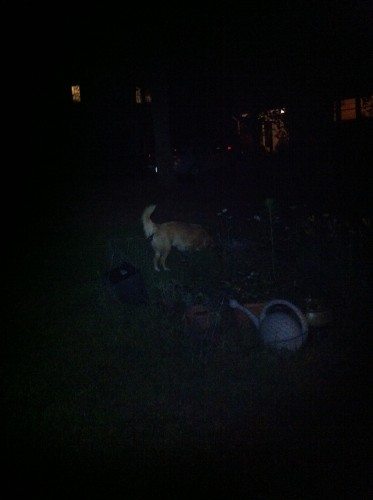 The square light on the left is our neighbor's window, and the light on the right is the carport light. The reflectors of several cars are shown in the second photo, in addition to a fenced herb garden, sprinkling can, and one of the dogs. It's not as dramatic with your daylight vision and computer monitor burning into your retinas, but at midnight, trying to find pitfalls and runaways, it makes a lot of difference!
Let's compare the WorkStar 220 to the light I have been using, a Coleman unit with no model number. It takes 3 AAA batteries, and has a magnifying lens, yet look at the difference in the light. Maxxeon is the further light back.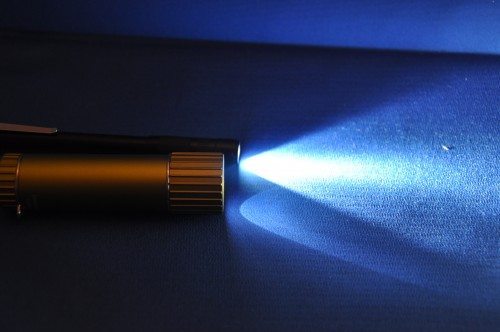 The unit itself has a metal barrel with a knurled grip at either end. The switch on the end is a push-button, that has cross-hatching for positive action, and will give a flash on a half-push, or lock on with a full push.
The reflector behind the LED on the opposite end is dimpled, in order to even out the light distribution.
The light produced is not only bright, but color-true and even. Many small penlights have good illumination, but their fields of view are uneven, or there are hotspots within the lit-up areas that are brighter than others. This causes some things to be in shadows that are not really there. The field lit from the WorkStar 220 is fairly evenly distributed, as well as far-reaching. It's not as bright or even as the
WorkStar 1400
I reviewed a while ago, but at $30, rather than $140, it's quite nice.
I have been using it on late-night walks with our new puppy for several weeks now, and have been amazed at how much detail is pulled out from the gloomy depths of shadows. While AAAA batteries are not the most common types, they are still available in many hardware stores and office supply houses. Getting this much light in a pencil-thin package cannot be done without this type battery, however, without moving to a custom or rechargeable battery, which would more than likely raise the price. So, while this is my one drawback, it's not a huge one. I've been using the cells same in another light for a few years, and have never had trouble finding them.
Product Information
Price:
$29.99
Manufacturer:
Maxxeon
Retailer:
available in many stores, online and IRL.
Requirements:
Pros:

Bright, even light
Small, sturdy package

Cons:

Batteries are not in every store