We use affiliate links. If you buy something through the links on this page, we may earn a commission at no cost to you. Learn more.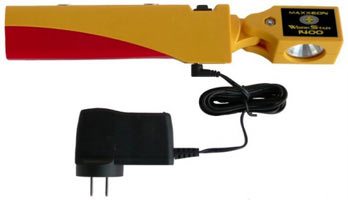 Some of my time at work is spent under desks, behind stacks of network gear, and fishing around for cables in the plenum of an office or data center. A good flashlight is not hard to find, and I have several LED-equipped models, but they all suffer the same flaws. They are rounded, slender, and rigid. They're fine for holding in your hand and looking down the barrel to what's being illuminated, but when you try to do real, two-handed work, most of them wind up being held in my teeth, resting on a desk or the floor, or being taped to a rack post.
Enter the Maxxeon WorkStar 1400. This yellow and red chunky bar has a head that rotates 350º, while also pivoting 180º perpendicular to the body. And it will do both of these movements at once.
It is also equipped with rare Earth magnets that hold it's weight fully, while blocking the recessed on-off rocker switch from being accidentally changed. And, as a finishing touch, there's a retractable plastic hook that pulls out of a recess in the flat base. It's also rechargeable, and the batteries can be replaced.
While those features make one take notice, it's not until you switch it on that you are fully in awe of this torch: it projects the most even, perfectly balanced, and wide ellipse of light that I have ever seen in a portable handheld unit. Not only does it show the true colors of what you aim it toward, but there are no "hot spots", no fuzzy edges, and no reflector marks. With many flashlights, if someone's holding a light for you and they're a little cold, bored, or just highly caffeinated, the work you're trying to do under the light will look like a strobe show. With the WorkStar, they would have to purposely move the light off the work for you to notice – it is that uniform.
Being bright and uniform, however, doesn't give it the throw (distance) that you'd want in a general-purpose flashlight. While it's perfect for lighting a general area – say a campsite table or a tent – it's not something you're going to find useful to spotlight that "something" that goes bump in the night out in the woods. Of course, it will easily blind whatever it is, but you'll not see it until it's within 20 feet or so! While some may see this as a negative, that's not what this unit is for. It's designed to give you a uniform, easy-on-the-eyes work light, which it does, no-holds-barred.
So, given that it's a great light, rechargeable, and can be stuck to or hung from loads of places to assist you in your dark-lightening needs, what are the negatives? First, this thing is spectacularly ugly. The most common color is sort of a dark mustard yellow. There's a swath of red on the base and the swivel head looks like a robot's elbow. Second, the head really needs a way to be secured. I'm worried that if I tossed this in my tool box, trunk, or glove box, the joint would be compromised from rolling around. And third, the lens, while recessed about a quarter inch, would be scratched or broken in the places I'd want to store it. The thing just cries out for a sleeve or hard case or something to protect that delicate-looking mechanism and lens. (It's ABS plastic, so I don't think it would actually break, but you feel like it could, and that's enough.)
I mentioned that it is rechargeable. Unfortunately, you can't tell whether it needs to be charged until you plug in the adapter and see the red LED on the power adapter – there is no indicator for power remaining on the unit itself. And nothing during the charging process tells you how far along you are. You're just "Charging" from 0% to 99%, then you're "Ready." Lastly, the power brick that recharges it is 3 inches wide, but set perpendicular to the blades of the two-pronged plug. On most power strips, it's going to have to be on one end, or it will cover two other jacks. And the round plug backing probably means you're not going to be able to use the adjacent plug, even if it's on the end of the power strip. So, unless you use just a wall outlet, or have a power strip with widely-spaced jacks, the adapter will cover 2-4 jacks.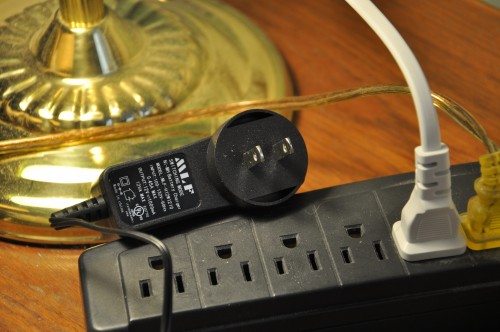 So, fine, it's ugly, looks like it may break, has an irritatingly large charger, but is highly functional — let's get it anyway, right?. Be ready to part with a wad of cash, then, because this puppy is $140, and $10 for shipping, minimum. As much as I like this light, I don't think I could pay that much for it, even if the company was buying. For furnace repair folks, those who work under cars for long periods, network techs, or roadside assistance workers (EMTs as well), it would be awesome, but you'd have to use it all day every day to justify the price, in my opinion.
I wanted to give this five stars, but as I used it and started seeing all those little things about it, I brought it down a half-star. Then, I checked the price on the website and was shocked. I give it three and a half out of five stars. If it was under $100, I'd add another star back, but for a plastic-bodied device, with all the little negative details mentioned above, it's got to stay at three and a half.
Product Information
Price:
$140.00
Manufacturer:
Maxxeon
Pros:

Bright, even, color-correct light
Rechargeable
Easily repositioned
Can be placed in infinite places

Cons:

Expensive
Frustrating adapter/power issues
Seems fragile/breakable (needs case)
Ugly