We use affiliate links. If you buy something through the links on this page, we may earn a commission at no cost to you. Learn more.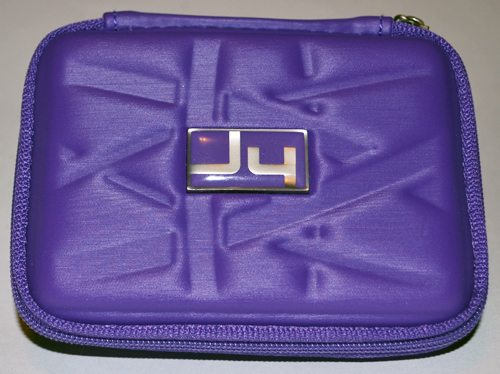 Back in the 70s, American Tourister had a commercial showing a piece of their luggage being thrown about by a gorilla to demonstrate how tough their product was.  Here at the Cloninger household, we have a similar test for earbuds.  We throw them in our teenage daughter's room.  So far, none have emerged intact – those delicate little wires can't hold up long with her.  I was very interested to try the J4 Rugged Metal Earphones when JLab Audio offered a pair to The Gadgeteer for review.  They sound strong, but how do they sound?
Specifications
Drive unit: 8mm
Frequency response: 20-20,000Hz
Impedance: 16ohm +/- 15%
Sensitivity (at 1KHz): 90 +/- 3dB
Max. Power: 3mW
Channel balance: <5% at 1mW 1KHz
Cord length: 50.75 inches
Plug type: 3.5" diameter stereo gold plug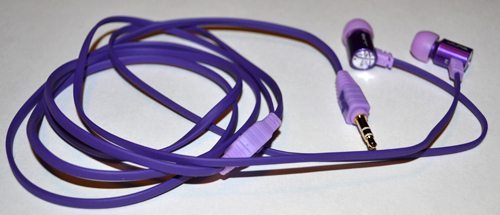 The JBuds J4 earphones have a heavy-duty aluminum housing.  Instead of delicate little round cables, the J4 have heavy, wide, flat cables with Kevlar reinforcement.  There's heavy, flexible plastic reinforcement at the attachment points for the plug and earbuds, and a heavy-duty flexible plastic splitter where the individual earbud cables split from the main cable.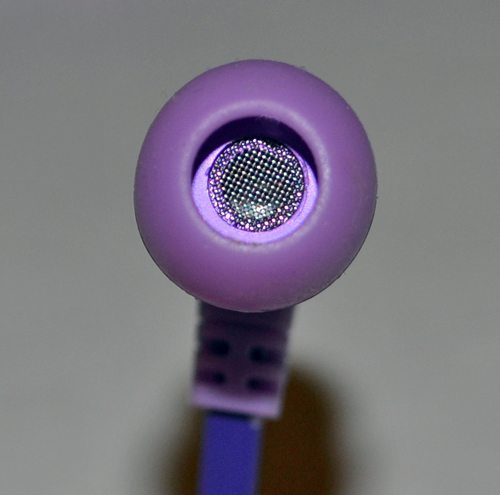 The earbuds are available in all black, gunmetal/light gray, red/black, blue/yellow, and purple/light purple.  Two models are available, either with or without a microphone for use with phones.  I received the purple earbuds without a microphone.  You can see from the pictures that the aluminum bodies and the cables are darker purple; the eartips and plastic reinforcement are lighter purple.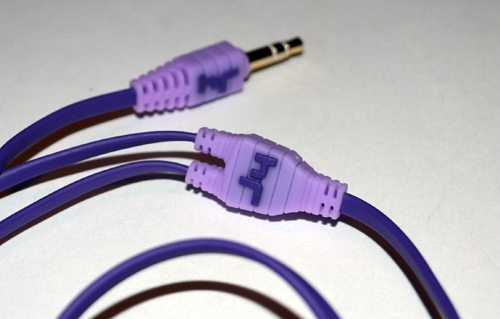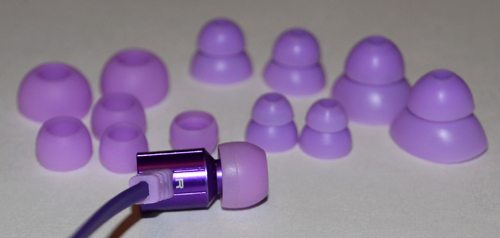 The earbuds are branded with the JLab name on the aluminum earbuds and with "J4" on the plastic splitter and 3.5mm plug.  The bottoms of the earbuds are labeled "L" and "R", so you'll know which one fits in each ear.
The J4 earbuds have a 3.5mm plug, and they will work for any MP3 player, phone, computer, tablet, or any audio device with a 3.5mm jack.  I successfully used them with my iPad 2, iPhone 4, iPod touch, iPod nano, and my laptop.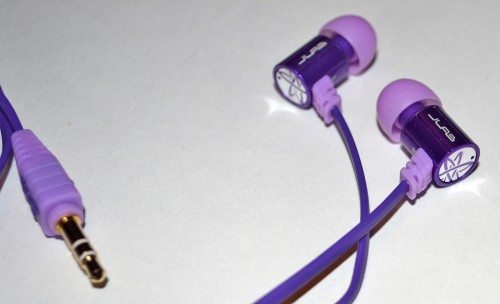 You'll notice in the pictures that the 3.5mm plug has a stepped-down collar just at the base of the metal plug.  This collar allows it to fit even when your device is in a case.  The bumper case I have on my iPhone 4 is thick enough that some earbuds don't completely connect, but the J4s plugged in securely.  They also worked well with the HyperShop HyperShield back cover that I have on my iPad 2.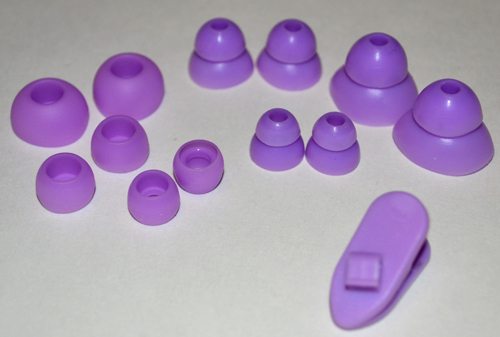 These earbuds come with the largest selection of eartips I've ever gotten before.  They come with a pair of medium single-flange tips installed.  They also have XS, S, and L single-flange tips and XS/S, S/M, L/XL double-flange tips.  With all these choices, most everyone should be able to find a comfortable fit.  I found the S/M double flange or the S single-flange tips fit tightest into my ears, but I don't like having the earbuds pressed too far into my ear canals.  I know that a tighter fit results in better sound quality, but I prefer the looser fit to protect my hearing.
Never miss one of our posts again. Sent MON, WED, and FRI with the latest gadget reviews and news!
I listened to a wide variety of music on my computer, my phone, and my two iPods.  Everything from AD/DC to Warren Zevon, classical to Disturbed – it all sounded good.  Voices sounded rich and clear.  I could hear a lot of detail in the music, and I could even feel some of the deeper notes vibrating in my head.  I don't listen at extraordinarily loud volumes, so it wasn't just the sheer noise level I felt.  I could hear Israel Kamakawiwo'ole breathing during "Somewhere Over the Rainbow".  I could hear background sounds well enough that it sounded like I was in the pub with Jon Anderson.
I sometimes watch programming on the TWCable TV app on my iPad 2.  I usually use the external speaker on the iPad 2, and I never realized how anemic that speaker is until after I listened to several hours of programming with the J4 earbuds.  I could hear more details at a much lower volume through the earbuds than I ever could hear with the iPad 2's external speaker.
JLab Audio doesn't say that the J4 earbuds are noise cancelling, but they do muffle ambient noises.  I use the Push for Gmail app on my iPad 2 that plays a sound when I receive an email.  This sound is loud enough to be heard throughout my small house.  I had my iPad 2 laying in my lap while listening to music with the J4 earbuds and my iPod touch.  I didn't hear the Gmail announcement at all.  You'll probably need to keep your sound a bit lower than normal if you wear these while walking or jogging on the street.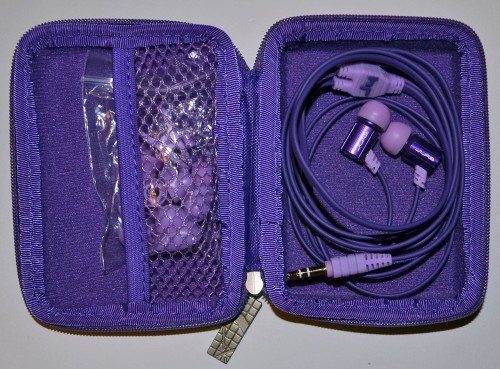 There's a clip if you like to attach the cable to your clothing.  I never use those things, and I didn't need it with the J4s.  Even when the cables moved, I never heard any noise or static from the movement.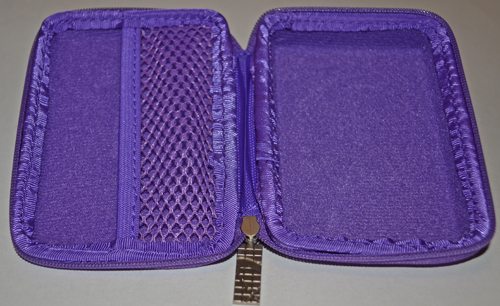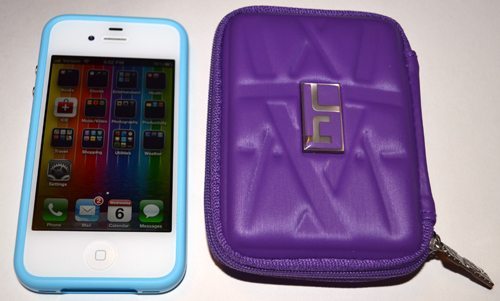 The J4 earbuds come with a very sturdy, very protective EVA case.  I find this case to be both too big and too small.  The case measures about 4.25" X 3.25" X 1".  You can see it is thicker than my iPhone 4 in the bumper case.  JLab Audio says you can fit your iPod shuffle or nano in there, and there is more than enough room for either of those (or both) plus the earbuds and all the eartips.  (I currently have my nano, a set of earbuds, and three sets of extra eartips in a pouch that's 3" X 3" X 0.75".  It's not as protective as the J4 case, but it certainly fits in my purse much better.)  I'm sure there are a lot of other MP3 players that would fit in there, but it's too short for the iPod touch and about an inch too short for the iPhone 4 in the bumper.  That's a shame, because it would make a great case for Rachel's iPhone and the J4 earbuds.
I think the JLab Audio JBuds J4 Rugged Metal Earphones sound great.  I think you'd be hard-pressed to find something that sounds better for the price.  I like that there's a variety of colors – from staid black to wild-and-crazy – to fit most everyone's taste.  The variety of eartips should give most everyone a great fit.  The case is the only thing I'd change.  It needs to be a bit bigger or a lot smaller.  I don't see how you could go wrong with the J4s.  Now, I'm going to go toss these into Rachel's room and see if the Kevlar makes them teenager-proof…
Product Information
Price:
$89.95; on sale now for $39.95
Manufacturer:
JLab Audio
Retailer:
JLab Audio
Requirements:

Phone, tablet, MP3 player, or other audio device with a 3.5mm connector

Pros:

Sturdy, tangle-resistant cables
Cables are reinforced with Kevlar
Connection points are reinforced with flexible plastic guards
Sound is great
Protective case

Cons:

Case is a bit too large for just headphones and not large enough for many MP3 players and phones