We use affiliate links. If you buy something through the links on this page, we may earn a commission at no cost to you. Learn more.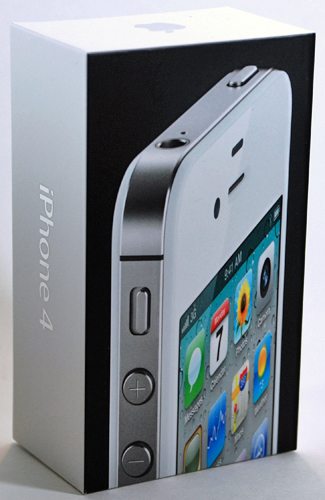 Apple's iPhone 4 has been out for a while now, and Julie did a great review of the AT&T black iPhone 4 when it was released.  Unfortunately, I'm a Verizon customer and had to wait through months of rumors before the iPhone 4 was available for us.  I was so close to my contract end, and therefore eligible for reduced-price phone upgrades, that I felt I had to wait a few months more.  My patience paid off, because the white iPhone 4 was released while I was waiting.  Finally my renewal time arrived, and I went in search of a white iPhone 4.  Luckily my Verizon store had them in stock!
Most of the photos in this review can be clicked for an enlarged view.
In the Box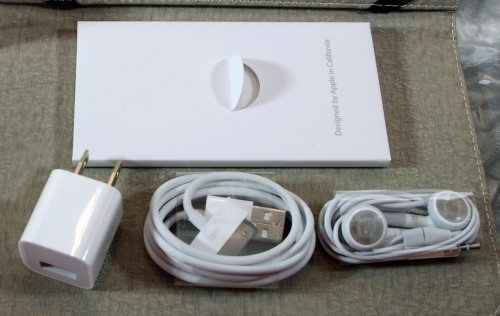 iPhone 4
Apple Earphones with Remote and Mic (frequency response 20-20000Hz, 32 ohms impedance)
Dock Connector to USB Cable
USB Power Adapter
Documentation
Technical Specifications
Operating System: iOS 4
Memory: 16GB or 32GB versions available
Display: 3.5-inch (diagonal) widescreen Multi-Touch retina display, 960-by-640-pixel resolution at 326 ppi, 800:1 contrast ratio (typical)
CDMA:  CDMA EV-DO Rev. A (800, 1900 MHz)
802.11b/g/n Wi-Fi (802.11n 2.4GHz only)
Bluetooth 2.1 + EDR wireless technology
Digital Camera: 5.0MP, Video recording, HD (720p) up to 30 frames per second with audio
Battery: Rechargeable lithium-ion, Talk time: up to 7 hours on 3G, standby time: up to 300 hours
Internet use: up to 6 hours on 3G, up to 10 hours on Wi-Fi
Video playback: Up to 10 hours
Audio playback: Up to 40 hours
Size: 4.5 x 2.31 x 0.37 in (115.2 x 58.6 x 9.3 mm)
Weight: 4.8 ounces (137 grams)
Hardware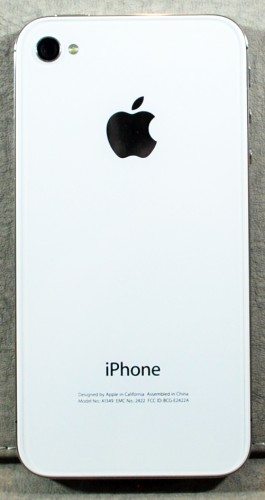 Just like the black model, the white iPhone 4 has a glass front and back and a stainless steel metal banding around the sides.  Its shape is very like the original iPad. Perhaps because of the size and weight of the iPad, I found that shape a little uncomfortable to hold, but I think it works really well for the much smaller iPhone 4.  It's very comfortable in hand.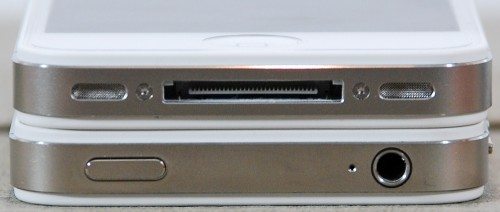 The sleep/wake button, microphone, and headphone jack are at the top of the iPhone 4.  Two speaker grills and the docking connector are on the bottom.

The left side (as you look at the screen) has the ringer mute button and two volume adjustment buttons.  The volume buttons are easy to find and adjust even while you're on a call.  The other side has no controls or connectors.
The sides are where you'll see differences between the AT&T and Verizon models.  I don't have an AT&T model available to photograph, but you can use Julie's photos to compare the sides.  The AT&T model has a black line near the bottom of the side with the volume buttons.  This is the location of the antenna, and this was the supposed reason for the "death grip" antenna problems reported when the iPhone 4 was first released.  Apple moved the antenna for the Verizon model.  You'll see my iPhone 4 has two black lines: one at the bottom where the AT&T's antenna was and another above the mute button.  This top line is the location for the Verizon antenna.  Unless you hold your phone differently from most people, your hand shouldn't touch the antenna and cause any problems.   This new antenna location moved the mute and volume buttons down just a bit.  You may find that some iPhone 4 cases won't work for the Verizon model because of the moved buttons.  The AT&T has a SIM card slot on the right side.  Verizon models don't have removable SIM cards, so there is nothing on the right side of the Verizon phone.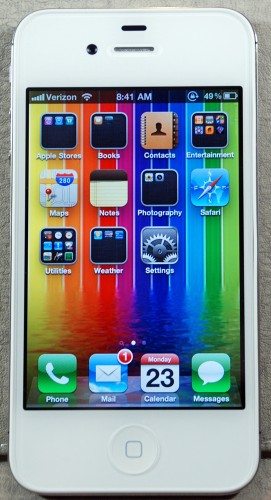 The front of the iPhone 4  has the phone speaker, a front-facing camera, and the ambient light sensor at the top and the Home button at the bottom.  The front-facing VGA camera is used for FaceTime video calling.
I assume the ambient light sensor is in the black lozenge-shaped area above the speaker, because I don't see a telltale smudge like you can see on the white iPad 2.   The iPhone 4 also has a proximity sensor, apparently also located in the black lozenge.  This proximity sensor turns off the screen while the phone is pressed to your face during a call.  My husband had a lot of problems with this sensor when he first got his phone.  There was nothing wrong with the sensor – he just didn't want to put his face on the glass screen.  He held the phone away from his face, which left the screen on and the virtual phone buttons active.  Because he couldn't hold the phone perfectly still, he was constantly bumping buttons with his cheek.  Once he resigned himself to having to get his screen dirty, he no longer beeps throughout a call.
Cameras

The back of the phone has a silver mirrored Apple on the back.  It also has the back camera and flash.  This camera takes 5MP still pictures or 720p HD video at up to 30 frames/sec with audio.  The back camera has digital zoom, but I found it makes the pictures blurry.  It shares a wonderful feature with the back camera on the iPad 2.  When taking still pictures, simply tap an area on the screen to have the camera focus on that area and adjust the exposure based on the lighting in that area.  The built-in flash, which the iPad 2 lacks, improves pictures taken in low lighting.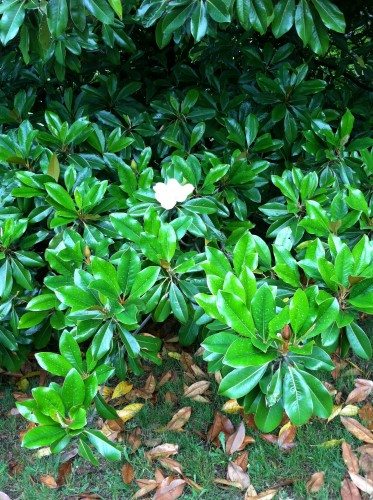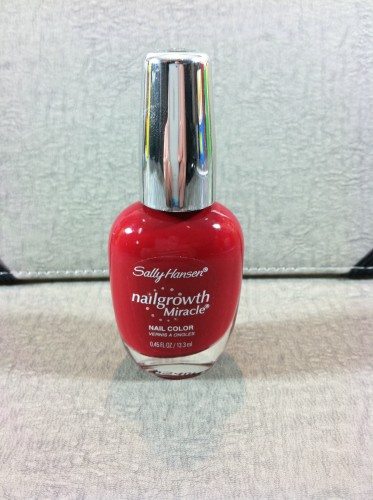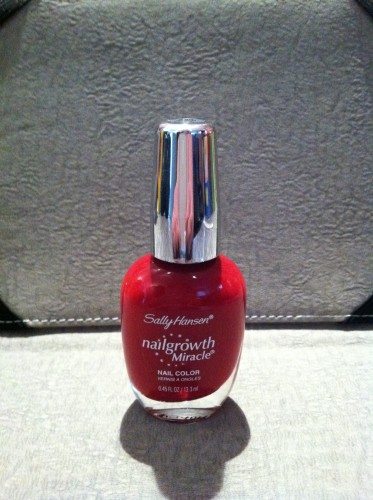 I've included pictures taken with my iPhone 4 back camera showing a picture taken outdoors, one taken indoors with the studio lighting I use for taking pictures for reviews, and one with no studio lighting and using the built-in flash.  I find the pictures taken by the iPhone 4 are superior to those taken by the iPad 2 in similar situations.  You can check my iPad 2 review to compare the cameras.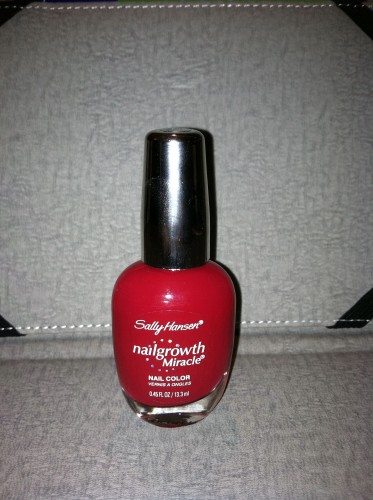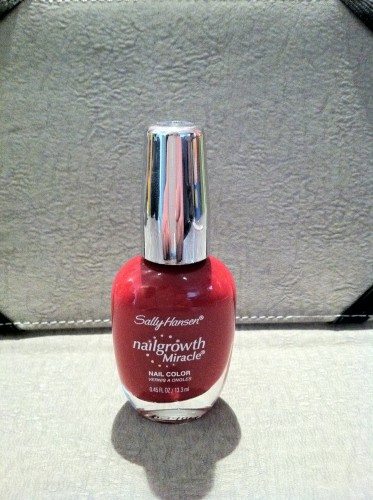 The iPhone 4's back camera is also capable of taking HDR (high dynamic range) photos.  HDR imaging is a means of better representing the differences between the darker and lighter areas.  To create the HDR photo, the camera merges three exposures into a final image:  a standard exposure, one under-exposure, and one over-exposure.  In HDR mode, the camera saves two photos; one is the image as taken with standard exposure, and the other is the HDR image.  I have included two images that illustrate this.  The first photo shows the image taken by the camera in the automatic mode; the second is the HDR image taken at the same time.  Notice how much brighter the HDR image is and how much more detail you can see when compared to the standard image.
Retina Display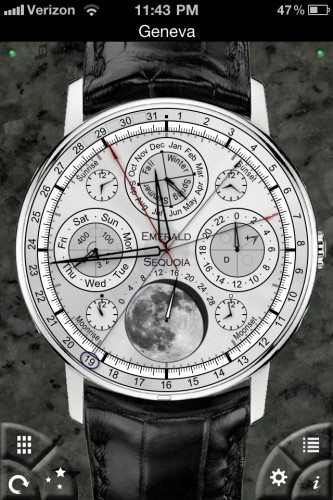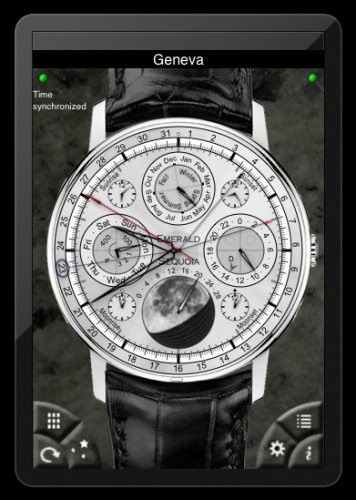 Of course, the iPhone 4 has Apple's touted Retina Display.  I had never seen this display until I got my iPhone 4.  I said in the iPad 2 review that I didn't care that the iPad 2 didn't have Retina Display.  Foolish me!  The iPhone 4 screen is so incredibly sharp and clear that you have to see it yourself to appreciate it.  I cannot see the slightest hint of a pixel on that screen no matter how closely I look.  My aging eyes can read even the tiniest font in iBooks.  I can even see details and read words on the almost-microscopic icons that are in folders on the Home screen!  I picked up my iPad 2 after spending time playing with my iPhone 4, and I had a 2001: A Space Odyssey reaction:  "my god, it's full of pixels!"  The iPad 2's screen is a big letdown after seeing the Retina Display.
I don't know how well you'll be able to see it, but I've enclosed screen captures from the Emerald Chronometer app (an iPhone app) from my iPhone and my iPad 2.  I hope you'll be able to see how much sharper the iPhone 4 image is.  The iPhone 4 capture hasn't been edited; the iPad 2 was only cropped to removed most of the surrounding black screen area.
Apps
I still don't want to put music on my phone, so my 16GB iPhone 4 has plenty of room for my apps.  I was able to easily set up the mail program with my Gmail account.  The calendar and contacts are synced with another Gmail account shared with my husband to keep the family calendar.  I haven't had any problems using any apps.
Sound
The sound from the little speakers is clear.  It's loud enough to make watching videos without earphones possible, and the speakers work well when using the iPhone 4 as a speakerphone.  I have found that some included ringtones aren't loud enough for me to hear my phone in its case inside my purse.  That was just an excuse for me to make myself a couple of loud ringtones from songs, but it is something to be aware of when setting up your phone.
Call Quality
But this is a phone, so what about call quality?  I've always found that Verizon service is very reliable.  We very seldom have a dropped call, and I usually have strong signals in our area.  My calls often sounded a little muffled or static-y, though.  Since we got rid of our landline and use only our cell phones, I finally noticed I had a LOT of problems with delays during calls.  This resulted in one of us talking over the other during a call.  I found this very irritating; I hated looking so rude when I wasn't trying to be.  I was almost to the point where I wanted to say "over" when I was through talking and ready to listen.  I don't have this problem at all with the iPhone 4.  Calls are clear – no static, no muffling.  I don't have the sound delay, either, so I'm not talking over everybody any more.  Obviously my old phone caused those problems.  I'm very pleased with call quality with the iPhone 4.
Battery Life
I tend to get about 3 days on a charge.  Most of the time, I'm connected to my home's WiFi network, and I have location services on, Bluetooth off.  I have my screen set at a little below the middle of the brightness scale.  I've checked emails, surfed only a little, and played some Bejeweled.  However, I haven't had one of my marathon calls with my friend Leah, yet.  I'm sure the battery will drain much more quickly during one of our standard 3-hour calls.  (Update:  I had a 4 hour, 3 minute call with Leah on a freshly charged iPhone with 100% charge.  After the call, I had a 39% charge left.)
Talking and Surfing Simultaneously
Not being able to surf while talking is considered by many to be a big strike against the CDMA Verizon phone.  However, it IS possible to surf and talk simultaneously – under certain circumstances.  I have been able to successfully surf and talk on a call when I am connected to the internet via WiFi.  It works like a charm!   You still can't do both when you connect to the internet via 3G, though.  This limitation isn't a deal-breaker for me;  I've been a happy Verizon customer for many years and don't want to change providers for this one thing.
Apple's Bumper Case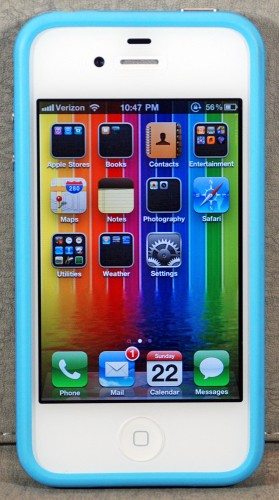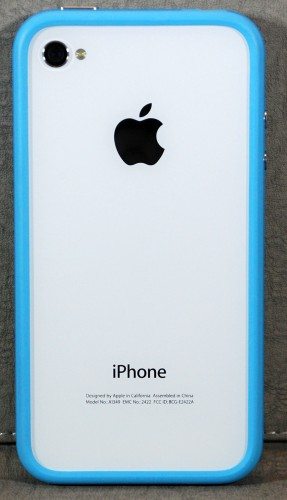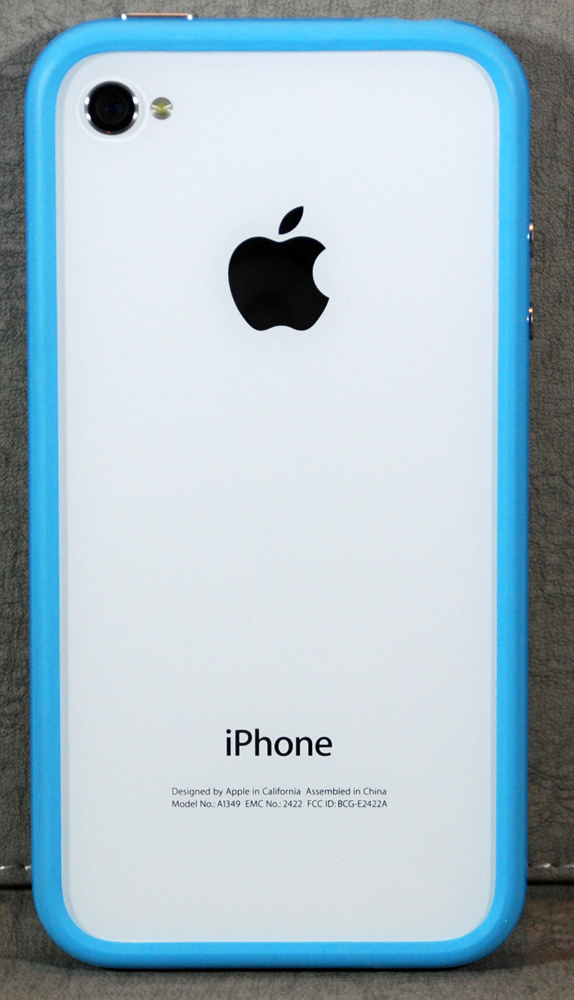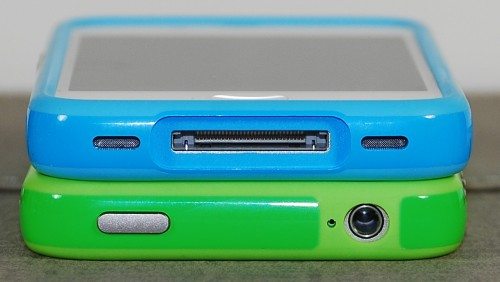 I know that the Bumper Case doesn't offer any protection to the glass back or screen, and the Verizon model doesn't need it to keep your hand from touching the antenna.  I've always liked the way the Bumper Case looked, so I bought one for my iPhone 4.  They are over-priced, as many Apple accessories seem to be, but I couldn't help myself.  I got the blue one to match my Smart Cover for my iPad 2;  you'll notice from the pictures that my husband got the green one to match his Smart Cover.  The Bumper is smooth and comfortable to hold.  It has cutouts for the mute button, docking connector, headphone jack, top microphone, and the speaker grills.  It takes a bit more effort to use the mute button, but the other openings work well.  The sleep/wake button and the volume buttons are covered with metal buttons.  I haven't had any problems using these buttons while the iPhone 4 is in the Bumper Case.  I do have Zaggskins for the front and back glass on order.  I think this will be the perfect combination for protecting my iPhone 4.
Conclusion
I'm very pleased with my iPhone 4.  I've always liked Verizon's reliability, and it seems my old feature phone caused my only problems with call quality.  Calls are clear, and I haven't had a single dropped call since I got the iPhone 4 – not that I had many before, though.  The Retina Display is fabulous for tired, old eyes.  Apps run well, and I've been able to easily sync the calendar, contacts, and mail programs with my Gmail accounts.  I'm a happy camper!
Product Information
Price:
$199.99 for 16GB or $299.99 for 32GB phone, plus a 2-year contract with Verizon
Manufacturer:
Apple
Retailer:
Verizon Wireless
Requirements:

Mac computer (OS X v10.5.8 or later) or Windows PC (Windows 7; Windows Vista; or Windows XP Home or Professional with Service Pack 3 or later)
USB 2.0 port
iTunes 10.1 or later
iTunes store account
Internet access

Pros:

Beautiful screen with Retina Display
Great call quality on Verizon's network
Can use the thousands of apps in the iTunes app store

Cons:

Can't surf and talk at the same time unless connected to the internet via WiFi